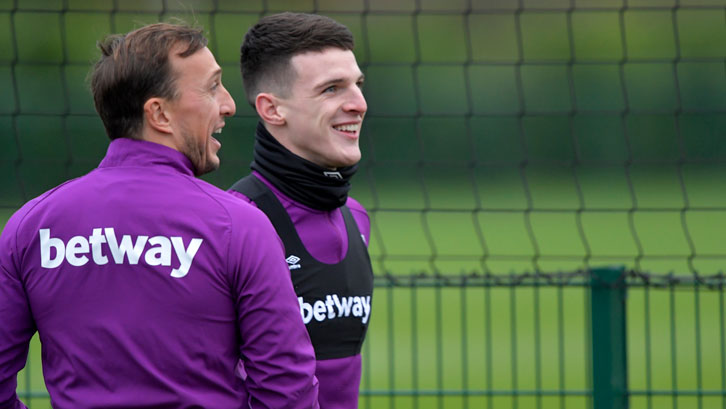 David Moyes says homegrown stars Declan Rice and Mark Noble are leading by example by striving to keep West Ham United in the Premier League.
The Academy of Football graduates have made more starts – an ever-present 26 and 23 respectively – than any of their teammates, while Rice leads the way in a host of statistical categories, including touches, passes made, pass-completion percentage, tackles and interceptions.
Both players also speak regularly of their deep passion for the Club and its supporters, and Moyes says their approach is exactly what is needed to keep the Irons up.
What we really want is a nice up and coming team with potential to get better, with hunger to improve as individuals

David Moyes
"What we really want is a nice up and coming team with potential to get better, with hunger to improve as individuals," said the manager. "But then we need people to take it on and show what it means, and Mark Noble is a great example of someone who can show exactly what the Club does, how we work."
While Noble's experience is priceless, Moyes says Rice has taken on his own leadership role, too.
"Declan is improving, he's getting better, he's learning," the Scot observed, speaking ahead of Monday's trip to leaders Liverpool. "When you're in the team and you're a young player it's not easy, but you get judged very quickly. I think Declan is one of the players we are looking to be our main player and that's why he's getting selected for England.
"He's now someone who is physically much better than during my first spell here – he's much quicker, much stronger, and he has a better understanding.
"I think he's learning the leadership side of it under Mark Noble. He was a quiet boy when I first came to the Club, but he's developing a good personality. He's got a lot of things to do better but as a young boy he's doing very well."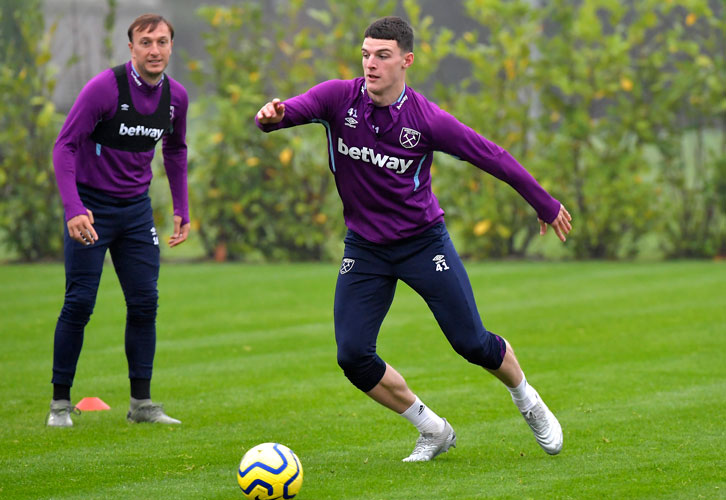 Moyes says Rice's determination to work on his game each and every day, and his desire and hunger to be the very best player he can be, will rub off on his teammates, despite his own tender age and relative inexperience – the No41 will make his 99th first-team appearance in Claret and Blue if he plays at Anfield.
"So many of the young boys these days are looking to be improved by coaches but quite often it's your own self-development as a player," he continued, adding that captain Noble's influence has aided his young teammate's progress and improvement. "You have to develop yourself, you have to understand, you have to pick things up very quickly and not always rely on you coaches to be your guide.
"Many of the great players got into a team and had to find their own way to do things. Declan's doing that himself. He is self-developing – and he's doing an awful lot of things which prove why he's getting into Gareth Southgate's England squads.
"There are bits of his game which we are hoping he'll improve with time, with development. But at the moment he's taking a big role at the Club.
"There's no one better for him to look up to at this Club. Mark will give him a true reflection on how he is and how the Club is. He's good that way. But Mark probably learnt from really good people in front of him over the years, he had people to look up to. You need people the young players should be aspiring to."