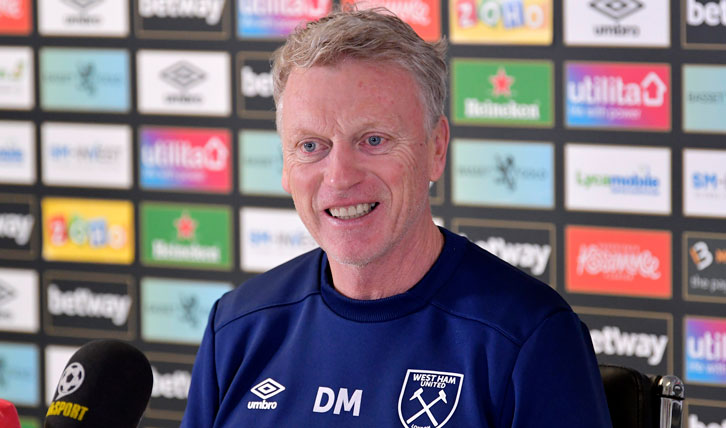 David Moyes was full of positivity and belief when he spoke to Sky Sports ahead of Wednesday's Premier League game at Manchester City.
The West Ham United manager takes his squad to Etihad Stadium for the rearranged match with key players returning from injury and knowing a point will take the Hammers out of the relegation zone.
And with more attacking options available than he had at his disposal for the original Storm Ciara-postponed fixture with Pep Guardiola's side ten days ago, Moyes said he was 'more than confident' the Irons will collect enough points over their closing 13 matches to secure safety.
We are looking stronger squad-wise
Team news-wise, we are good. Hopefully we will have a few more back from injury and we are looking a bit stronger than we were certainly in recent weeks.
Felipe Anderson is back around training and he's been on the pitch so he's back closer to fitness and hopefully he will be close to being able to start. I've not actually decided yet if I am going to put him in the squad but I will look to see. He wasn't in the squad when we were travelling up to Manchester a week or so ago. He's had a few more days training and I will see how he is just before we go to Manchester.
Andriy Yarmolenko is still in a recovery process with his training. He's back on the grass but doing better.
Jarrod Bowen has settled in very quickly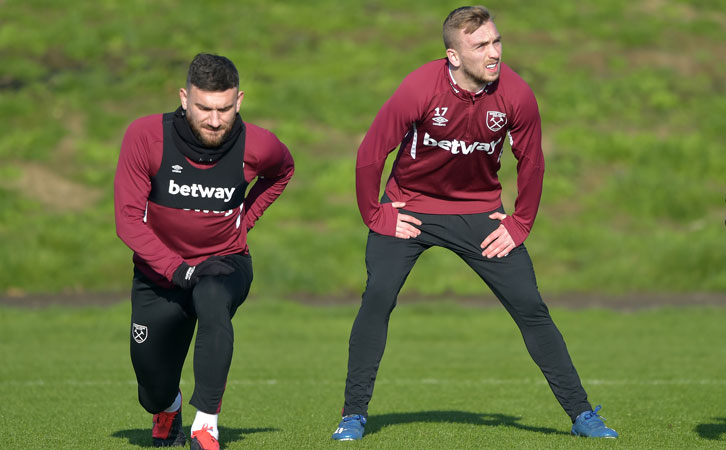 I have been pleased with what I have seen from Jarrod at the moment. He's come in and settled in very quickly, he's looked very sharp in training. He's obviously had loads of games, so it's not as if he's short of match practice or match fitness in any way so I have been pleased.
But I am also wary of putting the boys in too quickly. I have had lots of boys from the Championship in the past and I think it's important that you put them in at the right time, the right moments, and we will just take our time and see when it's right for Jarrod. Obviously, he is a talent. We need goals, he can do that. I am also very aware that we don't need to put pressure on him too quickly.
I am more than confident we will climb the table
I've been really pleased with the application of the players since I came in. I think the players have been spot on, I really do. It's not for the want of trying, it's not for their effort that they are putting in at this present time. I have been really impressed by how they've gone about it.
What we need to improve on is the quality, our results, our performances, and more importantly than anything, we have to win.
I'm more than confident we will climb the table. I think the players here are more than capable. I think we have got a good group. I think they are all fully aware of the situation we're in and the improvement we need to make to make sure we're not in the bottom three, and I'm sure come the end we will do.
Your support is going to be vital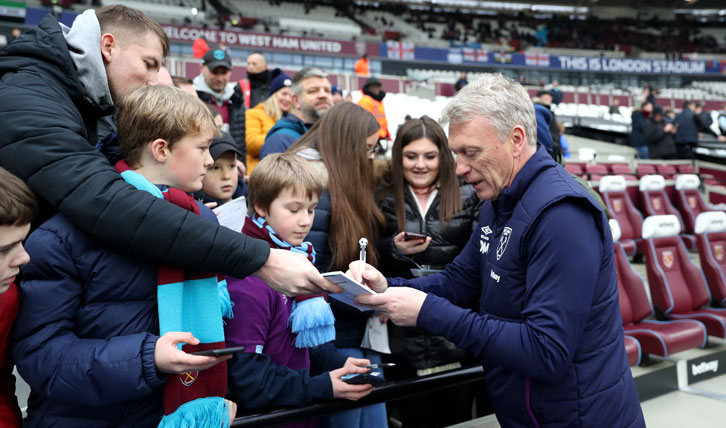 My message to West Ham fans right now is: 'Stick with the team, your support is going to be vital. At home especially I think you can play your part and you can be an influence'.
We have had very few decisions since we have been here I have felt that have gone for us and at times the crowd can influence that and we need to try and get behind the team, which they have been doing, to be fair.
And I have to say they have been great with me, they've been really supportive and helped me since I have been back and I have to say 'Stick with us and hopefully we will turn it around'.