Promising forward Amadou Diallo has put pen-to-paper on his first professional contract with West Ham United.
After turning 17-years-old today, the Academy of Football starlet has been rewarded for his excellent first half of the season, with two goals in eight games for the Under-23s to his name.
The announcement caps an outstanding week for Diallo, who in recent days has also captained England U17s against Russia and netted twice for his international side in three friendly games.
 
I've been working for this my whole life, so I'm delighted to sign. It's a very exciting moment for me and my family

Amadou Diallo

Having joined the Academy as a ten-year-old, Diallo's progress has consistently belied his tender years, debuting for the U18s in August 2017 aged 14 prior to netting on his U23s debut as a 15-year-old in December 2018.
A boyhood fan of the Club, Diallo was full of pride in signing his first professional deal at West Ham.
"It feels amazing," Diallo smiled. "I've been working for this my whole life, so I'm delighted to sign. It's a very exciting moment for me and my family.
"I'd like to thank my family first of all, and all the coaches that I've worked with; all of them have had a big impact on me.
"One of my main dreams is to play for the Club because I grew up around Upton Park. Hearing the fans singing, I just wanted to play for West Ham United."
U23s Lead Coach, Dmitri Halajko, added: "This contract is fully deserved for Amadou. He's been at the Academy a long time now and all of the coaching staff speak very highly of him.
"Amadou is a tricky winger. He's right-footed but he likes to play on the left, cutting inside to try and get goals and assists. He's got flair in his game, but he's also got a really hard-working aspect as well. He's humble, quiet, but in a nice, confident way.
"Now, he needs to keep working hard and take each game as it comes. He needs to continue his good form to round off the season, and then look to build from there."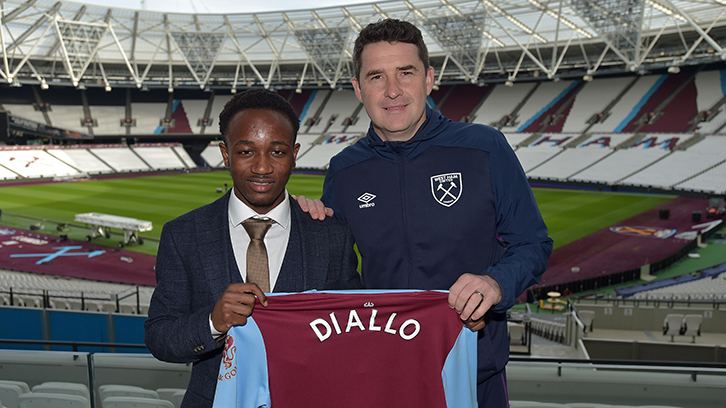 For such a young talent, Diallo has already accomplished some impressive feats, but he is keen to harness his potential correctly and take on board as much wisdom as he can from those surrounding him.
"I've been watching Mark Noble from a young age," Diallo explained. "I used to be a ballboy and watch all the games, so he's been a big influence on me. He's told me to just keep working hard.
"[My highlight so far was] training with the first team, getting to learn from the senior players and seeing what they do every day.
"Now I just want to become a regular [for the U23s] and help them win the league."
Halajko also echoed Diallo's sentiments, citing the U23s' upcoming trio of Premier League 2 Division 2 matches at London Stadium as an ideal opportunity for him to express his talent.
"Just on Monday, in a couple of days' time, we've got a game at London Stadium [against Stoke U23s] which could be a great platform for him," Halajko noted. "The first-team staff will be here as well, so he's got some really, really good games coming up at U23 level.
"England U17s have some European qualifiers in the next international break in March, so if he does well up until then, hopefully he'll continue to get that recognition too.
"Playing at his own age group Amadou has excelled, so it's important we keep pushing him out of his comfort zone and testing him as much as we can."