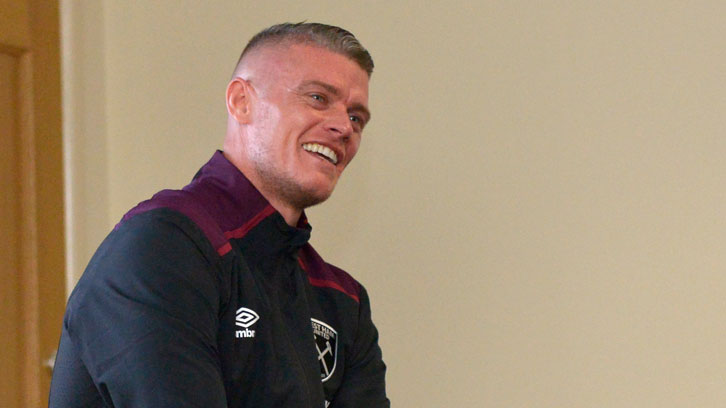 Former West Ham United defender Paul Konchesky reflects on his wide-ranging role as an Academy coach..
"It's obviously a challenging time for them. They're still doing their schoolwork, and the year after they have their GCSEs," Paul Konchesky says of the Under-15 footballers he is currently working to inspire.
"To try and weigh it up, school's really important for a young boy, but they also just want to play football too! We try to make it as fun as possible when they come into the building.
"Either way, you have to concentrate at school or you won't be able to come to training – and then when you're at training, it's like school really, because you're learning all the time."
A well-spoken, committed and genial figure, Paul Konchesky's strong character commands a natural respect within the corridors of the Academy of Football.
A former West Ham United schoolboy himself, and a 2006 FA Cup final goalscorer during two years in Claret and Blue as a professional, the former left-back transitioned into youth coaching as a distinguished playing career came to an end.
Give 150 per cent. If the ability's in there, so much the better, but West Ham fans love it if try your hardest. That's the minimum any footballer can give: fighting for the shirt they're wearing

Paul Konchesky
"I love it," Konchesky smiles. "I first came in under Terry Westley at the back end of my career [in 2017]; I played for 20-odd years and always felt like I could help young boys trying to make it as a professional footballer.
"He just asked me to come in for a mentoring role, really to try and give some youngsters advice about what it's actually like to go out there, play football and look after yourself every day."
Much like on the pitch, the conscientious 'Konch' stays busy off it.
"I started in that capacity," he explains. "But since then, I've gone on to become Assistant U15s Coach [under Harry Watling] as well as Loans Manager. 
"If any of the Academy players go out on loan, I look after them, staying in contact and helping them as much as I can."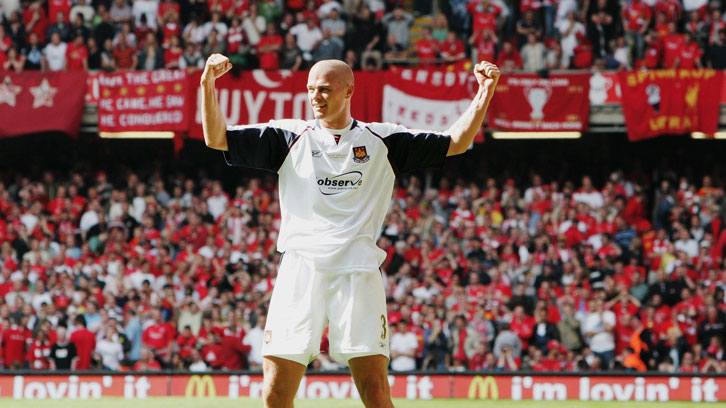 A busy last month, then, for Konchesky, given the recent loan departures of U23s stars Nathan Holland, Conor Coventry and Dan Kemp to Football League sides Oxford United, Lincoln City and Stevenage respectively.
"It has been!" he laughs. "It's always a tough one because the U23 boys are doing really well this season, but the next step for some of them is to go and play first-team football.
"For the likes of Nathan, Conor and Dan, Aji [Alese] and Grady [Diangana] – I go and see them as well – we hope that playing regular men's first-team football will hopefully get them the experience they need to make it into the West Ham first team one day."
Barking born and bred, and a proud east End favourite whose contributions to the community even include a traditional pie 'n mash shop in Brentwood – Konch's Kafé – it is clear just how much this Club and its community means to Konchesky. 
Such passion is a natural product, however, of a footballer steeped in Claret and Blue heritage from his early days.
"Everyone knows I grew up a West Ham-mad fanatic fan," he explains. "I used to go there every week when it was still the North and the South Bank stands at Boleyn Ground.
"The Academy is so different now to when I played there as a youngster. I used to go on Tuesday and Thursday evenings just to train, but I think now the boys have structured days, days of training, a games programme… it all puts them in good stead to see what it's like to come into a building full-time, even if just as a scholar. 
"Looking back, to play for my Club when I played professional football was one thing, but now to work with them and try and help the next lot of boys get through to the first team is another. It's a big privilege for me to work at the Academy and Club that I love."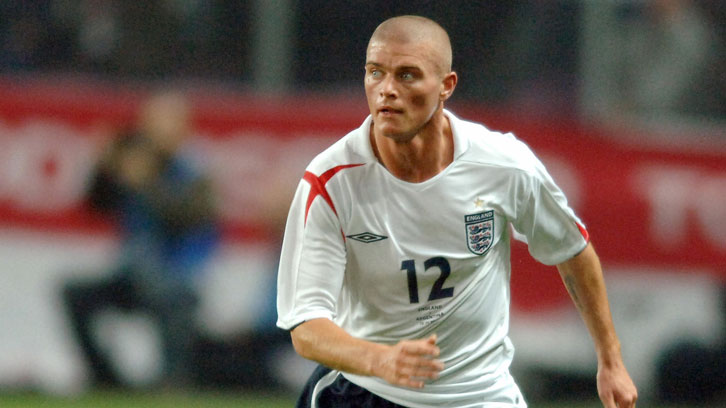 As for the coaches' room at Chadwell Heath, which this season features fellow Hammers legends Steve Potts, Kevin Keen, Carlton Cole and Zavon Hines amongst the age groups' set-ups, Konchesky feels it provides aspiring West Ham United footballers with a crucial advantage.
"We know what the 'West Ham way', is if you like – what people think of West Ham and what it takes to make West Ham fans happy," he observes.
"To have those people in the building to dripfeed to the kids what it will take, what West Ham fans want to see, and what it means to people when an Academy boy gets into the first-team, is really good for the Club.
"Give 150 per cent. If the ability's in there, so much the better, but West Ham fans love it if try your hardest. That's the minimum any footballer can give: fighting for the shirt they're wearing."