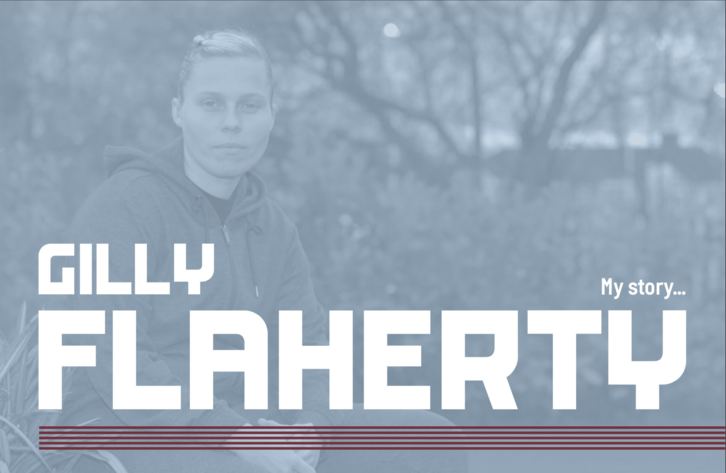 Gilly Flaherty has a story to tell. 
It is not a story of a tense battle on the football pitch, or a heroic return from injury. It is not a tale of winning trophies, or representing her nation, or captaining West Ham United to Wembley Stadium, although she could quite easily talk about all of those things instead.
This is not the story of Gilly Flaherty, the footballer. This is Gilly Flaherty, the person behind the player. The reality behind the centre-back that fearlessly leads the Hammers into battle every weekend; the truth of the player that teammates look to for guidance or support. 
It is a story that Flaherty could easily have let lie but, in support of the Heads Up campaign, it is one that the West Ham skipper wanted to tell. One she felt she had to tell. 
In her own words.
Football is all I've known my whole life. 
I've been doing it since I was nine years old. I've been involved in England camps since I was 12. Every month, every half-term, away on qualifiers or for tournaments. Football is all I've ever known. Everyone knows you as the footballer. If I go out now, someone would say 'she plays for West Ham'. It's something that will always be with me and I'll always be grateful for football for all the chances it's given me along the way – including the chance to talk about things, and give my opinion, where maybe I wouldn't be able to have any influence without football. 
When you're young, you see football as everything. I remember watching Julie Fleeting scoring a hattrick in the FA Cup Final when I was 11 or 12. That is my first memory of watching women's football on the television. There wasn't really a full-time professional league, but ever since the first time my Dad took me over the park and booted the ball into the air before shouting at me to head it, football is all I wanted to do.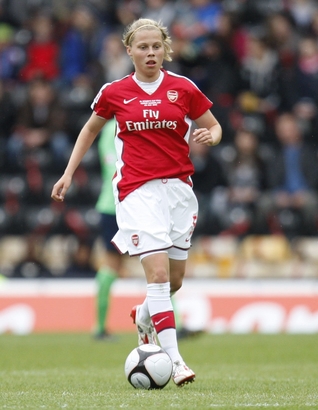 It was at around 16-years-old that I was invited to join the Arsenal Academy, and I would say that was when my battle with my mental health started. We used to train in the evenings, which meant working during the day. I was doing all sorts of jobs, but the main thing I was really good at was coaching. I had got my coaching badges, so I was able to coach. 
My average day involved doing breakfast clubs in the morning, from about 7:30am. Then I would work in a primary school, doing play-leading and PE teaching for all ages, from nursery to Year Six. After that, I would work the after-school clubs and then jump in my car and razz around the M25 to get into training for 5pm. I would be there until 7:30pm, and get home for about 10:30pm, before doing it all again the next day. Because I just loved playing football so much, I did all that. It was all about making sure I had enough money to pay for my car and pay my rent.
If I am being brutally honest to myself, I wish I had never gone to the Arsenal Academy. I say to my Mum now that, if I could change something or give advice to my past self, it would be to not go to the Academy. That is nothing against Arsenal and nothing against the Academy – far from it – but I wish now that I could have stayed at home with my family, gone to college, learned a trade and come out with something to show for it. Looking back, I was a rebel teenager who was selfish and only thought about football. I was away from my family and in the Academy from Monday to Friday, and I'd only talk to my Mum or Dad on the weekends, when I was home. I was away from my family, I wasn't doing well with my schoolwork and I was going through other issues as well, such as my sexuality. I was playing with Arsenal first team but being on the bench which, looking back, wasn't a surprise when you consider the team they had. But I didn't handle that well and, when combined with everything else, a lot of things built up. It led to my lowest moment.
The day when I took an overdose and tried to end my own life. 
I can't remember exactly if I was 17 or 18, but I remember chatting to a friend of mine in America on Facebook Messenger, and she could sense that something was up with me. I had taken the tablets and put myself to bed. I can remember just waiting, wondering what was going to happen to me next. 
I was living in one of the Arsenal Academy houses at the time, and every bedroom door had a lock on it, but my lock was broken so the door was on the latch. My friend in America alerted some people here at home, and one of my friends came back and found me in my bedroom. They took me straight to hospital.
Going into hospital was going into the unknown. Had what I'd taken end with me losing my life? Would it change my life? Would I be able to play football? Would I have to be on dialysis? 
At the time, Arsenal players Jayna Ludlow and Kiera Grant also worked in the Academy. They came to the hospital with me, and I was terrified of my Mum and Dad finding out. I begged Jayne not to tell my parents. I didn't want to be told off. Sitting there in that hospital bed, drip coming out of my arm, Mum and Dad coming into the room, was the lowest I have ever felt in my life. 
When I saw the doctors, they made it clear just how close I had come to being successful in my attempt at taking my own life. And the truth of the matter is that I know, had I had more money, I would have brought more tablets. I say that it was my nan – who I had recently lost - looking over me, making sure that I didn't have enough money to buy more than I already could. 
When I was let out of hospital, I just wanted to get on with things; to go back and have a normal life. That wasn't immediately possible though. I was excluded from the Academy for a while because I had to take psychological tests. I was frustrated by that but, obviously, they had their protocols and they had to look after me.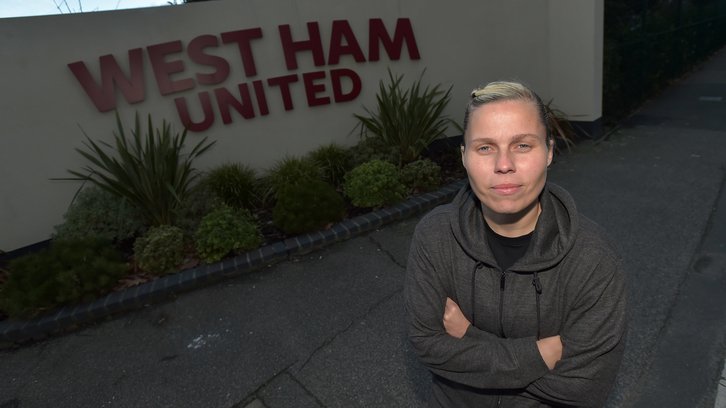 After it happened, there ended up being a sort of 'we don't talk about it' attitude in my family. It was brushed under the carpet and we never mentioned it. Even until recently, it has been referred to as 'when you did what you did'. It has only been in the last couple of years that I have thought that I should talk about it. And I'm not afraid to talk about it. 
That's not to stay this is easy. I could have gone through my whole career without ever mentioning it. To be frank, this time last week, I wasn't going to talk about it. But I then went on Twitter and saw someone else had taken their life. I knew then that I had to do it. I might not be able to help tens of thousands of people, or reach everyone, but I hope that by speaking out and saying what I've gone through might help someone. 
Looking back, I know there was so much that played a role in getting me to that point. Coming to terms with my sexuality was a part of that, but I had not long lost my nan and my Aunt Lil as well. I felt lonely. I didn't feel confident or comfortable. I was failing in my college work too. There were so many things in the build-up that I couldn't cope, and I didn't talk to anyone. I could, and probably should, have turned to my Mum and Dad. I know that now. 
I know now that I have good people around me. Whether it be my family or the people I work with, I know that there are a number of people that I can pick the phone up to, or text, and say 'can we talk?' 
I know how to talk now. When I was younger, being a footballer, you were never allowed to show emotion. If you cried, people thought it meant you couldn't handle the pressure. Now I will cry just watching the television. I'm an emotional person and I'm not going to hide that. I will sit there sometimes with my partner Lil, watching a show about dogs, and I'll look at her and we will both have tears in our eyes. A young Gilly Flaherty would never have done that. 
My overdose is something I've thought about a lot recently, almost daily. It is a part of me and something that will never leave me. I also know that I am a different person now and it is something that I would never consider an option again. Categorically.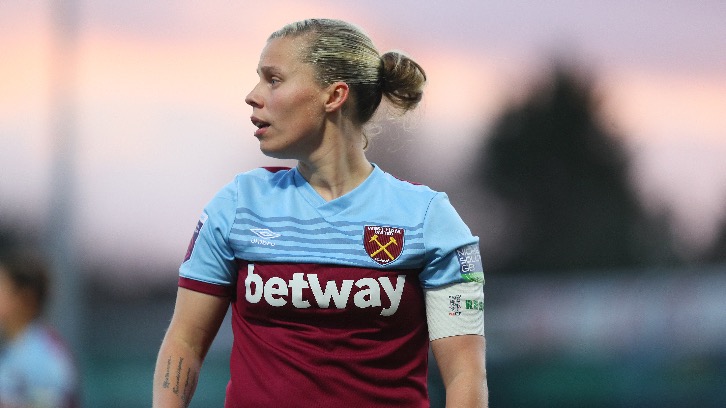 My mum will tell me sometimes that she worries when I go quiet, whether that's on social media, or in the family WhatsApp group, but I tell her that I will never do it again. I know what I stand to lose now, what I would be leaving behind. I've got so much more that I want to do in life; in football and away from football, I want to see the world with Lil, my partner, and I want to have a family too. I am who I am now because of what I did, but I will never go back to that person, or that mentality.
I think I could have gone through my whole career without mentioning what I've been through. It would have been so easy. But then I think that I've got a duty, that I'm in a position where I could affect people in a good way. 
People will probably be shocked. I think they won't be expecting this from me, because I'm such a bubbly person and I'm always happy, and I am now. But I wasn't, and there's a reason why I wasn't. I'm a lot stronger now, but it's only now that I feel really comfortable enough to share that. I'm hoping that doing this now has the same effect. We can all get through tough times. We just have to talk about it. 
Collectively, we all have to be a lot more open minded, to reach out to people, and ask each other if we're okay. It's so important to even ask once more, because people put on a front so easily now. 
And if someone asks you, and you are struggling, you don't have to hold it in and try and be a brave or macho person. It is okay to talk. It is okay to be down, and it is okay to say that. There are times now when I feel down, and I'm not afraid to admit that. I fix it with a cup of tea, talking to family or friends. Sometimes I just need to have a cry. 
All I can hope for is that, by telling my story, it can have a positive impact. If I can save one person from doing something drastic, then I've made a difference. That's all I'm hoping for.