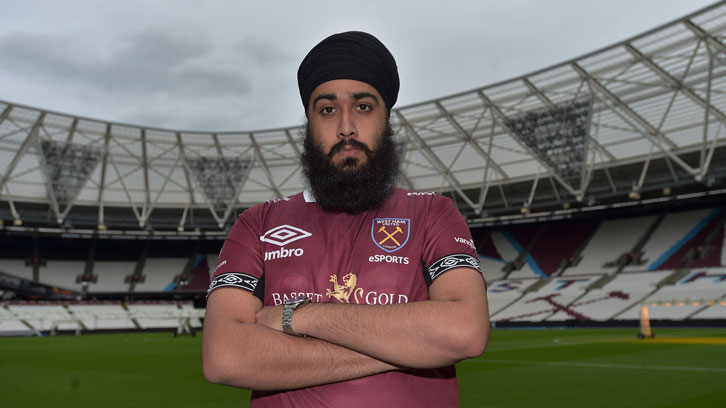 In 2017, West Ham United eSports player 'Jas' Singh was playing FIFA as a hobby at home; a few short years later, he was jetting out to the United States for a major international tournament...
"I just used to play FIFA normally, just as a normal guy, like any other person would…"
Nowadays, unlike 'any other person', 21-year-old 'Jas' Singh is accustomed to playing EA Sports' premier title on channels viewed by up to a cumulative 14 million people.
The Birmingham-born professional FIFA player is these days one of three world-class players representing West Ham United on the global eSports scene. He is a former ePremier League finalist, and a globally renowned force in his field.
Yet, two years in, Jas' journey to FIFA stardom started much like any other player of the popular football simulation – consistently, relentlessly, winning games online.
"When FIFA Utimate Team Champions came out – the Weekend League, where you play 40 games (now 30) against the best players in the world – the top players who scored 38 or 39 wins would consistently appear in the top 100," he explained.
"I started to do that consistently, and qualifier events started coming around through the Weekend League. I qualified for one in Manchester, where I caught the attention of a big American team who scouted and signed me up.
"From there, I just decided to take it by the scruff of the neck, and started putting my everything into it, qualifying for event after event. I've qualified for, I think, six or seven FUT [FIFA Ultimate Team] Champions Cups in the last two, two-and-a-half years – I love it."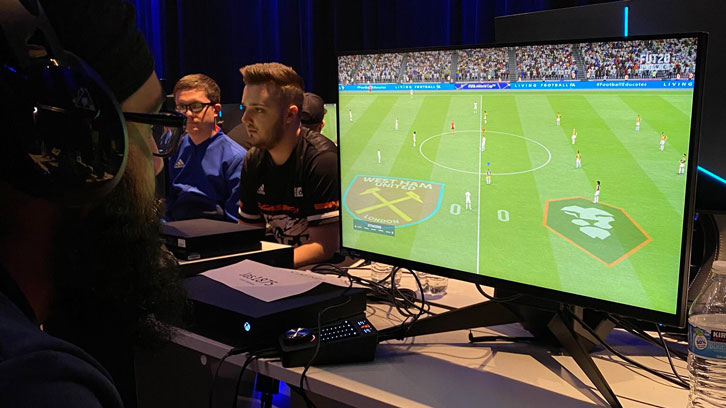 Reaching one of the premier events in professional gaming is, unsurprisingly given the level of competition, no easy task.
But thanks to Jas' brilliance, FIFA-based bubbles were blowing last month in Atlanta, Georgia for the third major FIFA tournament of the 2019/20 season.
While the Xbox player was disappointed to exit the tournament at the Round of 16 stage – falling to a narrow 3-2 defeat against former world champion 'MSdossary' – the 21-year-old was still pleased to have proven himself one of the top 32 players in the world.
Such a claim to premier player status was backed up when Jas - along with Hammers teammate Yago - overcame intense competition last week to book their places for FUT Champions Cup Stage IV, due to take place in Paris over the weekend of 23 and 25 February.
"It's crazy," Jas admitted. "To finish in the top 16 in the whole of Europe and qualify, you've got hundreds of players at the highest level fighting, basically going to war, for those spots. 
"Having to prove to yourself consistently that you're one of the best 16 in the whole of Europe, and top 32 in the world, is big. It's very satisfying to know at the end of it that all of your hard work in the previous weeks pays off to make it over that finishing line."
As a result of reaching the Round of 16 in Atlanta, Jas was awarded 300 valuable Global Series points, which accumulate across the 2019/20 season to determine who will compete in the play-offs, and subsequently the finals, for the grandest tournament of all: the 2020 eFIFA World Cup in July.
Yet for Jas, who first began sporting Claret and Blue last summer, representing West Ham United on such a platform is just another huge opportunity in a prosperous eSports career so far.
"I wouldn't say I feel much pressure these days," he admitted. "Maybe my first one or two tournaments when I first started playing FIFA professionally I did, but now I don't feel too much pressure to be honest.
"What that means is I can just enjoy the experience of representing West Ham, a big Premier League club with a huge following. I just want to do them proud and all the fans proud. I get a lot of support from them and it's great."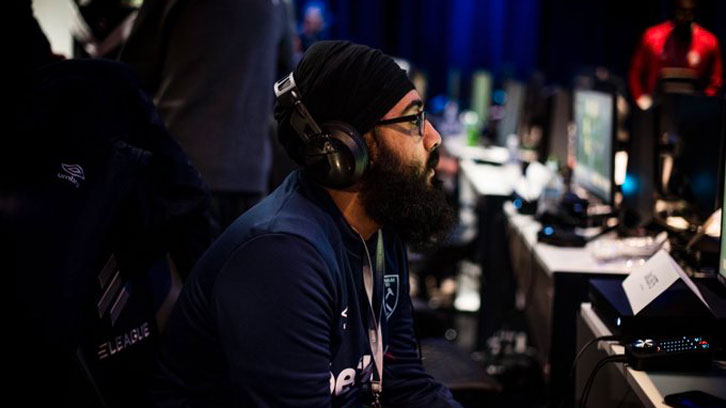 So, having made the successful step up from casual gamer to professional eSports, what advice would Jas give to those aspiring to follow in his (virtual) footsteps?
"The biggest thing I always say is that your mentality, how you go into games, how you think, is vital," he explained. "Let's say you've lost an important game. You don't want to then go into the next game with a hot head. Take a break, go eat, chill, give it a rest, come back on for the next day. Don't go into games angry or tilted.
"Also, when building your team, aim to find the players that are most effective for each position. Sometimes a FIFA title is mostly about their dribbling stats, sometimes pace is more important.
"For West Ham, Felipe Anderson's the one that stands out the most. He's got good pace, he's got very good skills, and decent dribbling and finishing. Remember, though, it changes every year, so you need to learn each game individually."
As for his hopes for the rest of the season, as well as qualification for the eFIFA World Cup, Jas has his eyes set on securing silverware on a domestic front.
"The ePremier League's coming up later this season," he smiled. "It'll be tough, but not impossible.
"Last year I got to the final on PS4 and lost in extra-time, but hopefully we can go one step further this time and do some damage for West Ham too..."
You can follow all of West Ham United's eSports' players' latest results on Twitter @WestHamEsports.
Don't forget to pick up your limited edition 19/20 West Ham United eSports Jersey - made for West Ham gamers everywhere - through our online store.