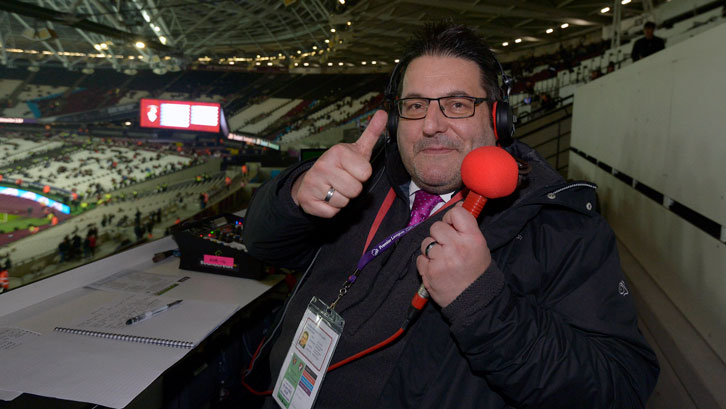 Nowadays, you are most likely to hear Ian Crocker's voice commentating on Sky Sports' coverage of the Old Firm or the Premier League.
However, 35 years ago, his dulcet tones were ringing out across the east London sky as the unlikely stadium announcer at the Boleyn Ground.
We caught up with Crocker and his microphone on his recent return to his beloved West Ham United to hear tales of Billy Bonds, Bill Remfry and Barnsley…
So, Ian, you don't sound like a Londoner, so how did you become a Hammer?
"I was brought up in Weymouth in Dorset and I supported my local non-league team and they have the same colours as West Ham. I thought it was about time I supported a professional team. That was '74 and of course we went and won the FA Cup the first year I was supporting them so I thought 'this is good', and then it happened again in 1980, and then in the mid-80s I became the tannoy announcer at Upton Park which was obviously a dream job for me, fantastic."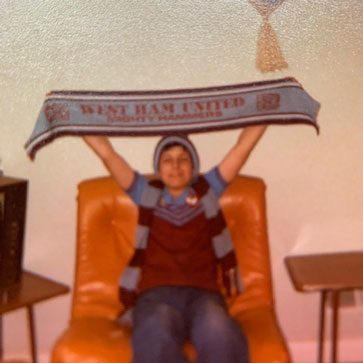 How did that move from the south coast to the East End come about?
"I came to London when I was 17 which seems a scary thing to do now. It probably was then but I can't really remember quite how scary! I was working in an office job at the BBC trying to break into broadcasting and not getting very far, and a competition came up on Essex Radio to be West Ham's tannoy announcer, and I thought 'I'll have a go at that' without thinking I would ever get it because I was only 21 at the time. Somehow, I managed to get it and spent three-and-a-half years doing it before I went to Capital Radio. Fantastic times, John Lyall was manager then, some great characters at the Club, some great staff, some of whom are still mucking about now."
What was it like being an announcer back in the '80s?
"It was a bit different back then. I took over from Bill Remfry and Bill had been doing it for about 120 years, hadn't he? A lovely old guy, Bill, but the PA box was a bit old hat and I think some of the speakers were as well. I'm not sure anybody could really hear what I was saying half the time, which could have been a bonus in fairness! We had a little record player playing records and 'I'm Forever Blowing Bubbles'. It was so old that occasionally it slowed down, so you'd get a slower version of Bubbles reverberating around the stadium! We upgraded a few things and it was great fun doing it and to work with John Lyall. Billy Bonds was in charge of the youth team at the time and I used to do all the reserve and youth-team games as well, even though there were only a couple of hundred people there. It was just a fantastic time to be around the Club."
Did you have a good relationship with managers and players, then?
"We got the players to give their favourite songs so we could play them but some of them you'd think like… you know what footballers' choice of music is like! But Billy Bonds I became quite close to. I remember doing a youth game and Billy handed me a team sheet and he hadn't put any numbers on the team sheet. I said "Bill, there's no numbers on here, I've got to read the numbers out" and he said he wasn't one for paperwork, so we sat down between us and allocated numbers to the entire team team and all that, which was great – I'd just pick any number! Tony Gale was there at the time of course, who I've worked with since, great character, one of the funniest guys I've ever met in football, a guy with many a great story to tell!"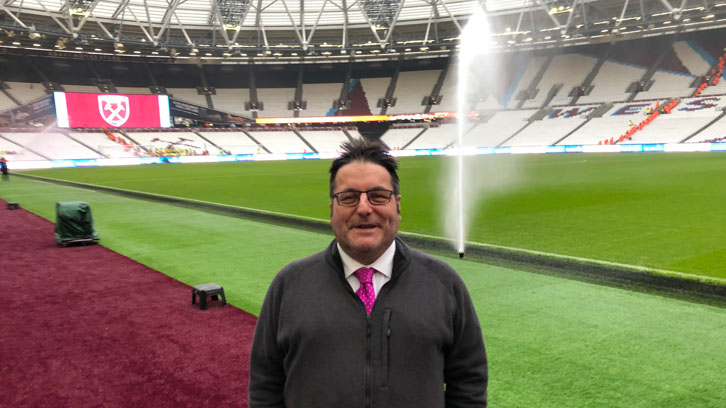 While it was fun, you had to remain professional, of course…
"Yeah, I remember we played Barnsley in a League Cup tie in October 1987 when I was doing the tannoy, and I think we might've even been 2-0 up but somehow still contrived to lose 5-2 after extra-time. I remember reading out the attendance at the end, saying whatever it was – I think it was something like 12,400 – saying "we'll be lucky to get the 400 back here on Saturday after that!" I got a ticking off from Brian Blower, who was our Commercial Manager back then, for saying it, but sometimes you have to have a laugh. You have to have a laugh every now and again if you're a West Ham fan don't you, because it gets you through it!"
From the cramped confines of the Boleyn Ground DJ booth, your career went on to great things, including commentating on West Ham for national television and radio!
"I've commentated on West Ham a few times. Whenever I do it, my colleagues say 'you're going to be biased' and of course you are. I've actually done us getting beat 7-1 twice – at Blackburn and Man United – and also losing a Play-Off final in 2005, because I was doing the Play-Off finals at the time, and you actually when you're commentating, although nobody really believes you, you do switch off, you forget that it's your team. When we lost to Palace in the Play-Off final, I'd just got through the game and the director said to me 'oh, sorry your team lost'. I actually thought, 'oh yeah, hang on', because you're so focused on the game and hopefully doing a professional job. Of course, we came back the year after and won the Play-off final in 2006, so that was alright!"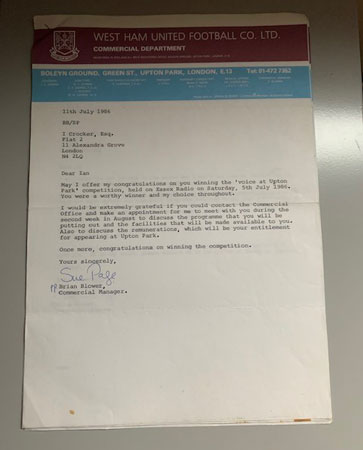 What was your career story after Upton Park, then?
"I met through working at Upton Park and doing the tannoy I met Jonathan Pearce, who was running Capital Radio of course. They were a great bunch of guys there: Steve Wilson, Dave Clark, Julian Walters, who've all gone on to do telly and stuff. Rob Wotton as well who's on Sky Sports News now. I got a job there and for a couple of years still covered West Ham, and then got the chance to be number one commentator in Birmingham doing Villa, with Big Ron Atkinson at the time and Birmingham with Barry Fry, great characters and all that, so I went up there and did that and then got into Sky and have being doing stuff on-and-off with them, a bit of Scottish football as well, but I still get to do the odd Premier League game too. It's always good to come home especially for New Year."
And at Capital Radio, you worked with the late, great Bobby Moore?
"Yes, I worked with Bobby Moore at Capital. He was so humble you'd never have guessed he'd lifted the World Cup. He used to ring the office and ask how everyone was. He drove me to a West Brom versus West Ham game and suggested I pick up the press passes while he found a parking space. The steward at the media door found the passes and said to me in all seriousness 'Which one are you? Bobby Moore?' He hadn't twigged. If only! Those are great memories I'll always cherish."
David Moyes has recently returned – someone whose teams you have commentated on many times – so what are your hopes for West Ham's future under his management?
"I like David. He's close friends with David Provan who I have commentated with quite a few times, so we've had a few chats via Davey and him over the years, and the guy's a winner. I think at this moment in time it is the right appointment. I think he'll make everyone organised. Maybe a few players need a kick up the backside and so he'll be there to do that and yes, initially he'll be trying to win games whichever way he can, but I thought he came across really well in his press conference coming back when he said he does want to play exciting football, but first and foremost we've got to sort out the situation we're in. Only Arsene Wenger, Sir Alex Ferguson and Harry Redknapp have been in charge of more Premier League games than David Moyes – I'm getting all statto now! – so the guy knows what he's doing."