Jarrod Bowen could not hide his delight after completing his transfer to West Ham United from Hull City late on Friday night.
The 23-year-old forward put pen-to-paper on a five-and-a-half-year deal with the Hammers after scoring goals at a profile rate with the Tigers to become one of the hottest properties outside the Premier League.
Bowen had a brief taste of life in the top tier at the start of time with Hull, and is now determined to make the most of his chance with the Hammers.
"I don't think it's quite sunk in yet," he beamed. "It's been a bit of a hectic few days and it'll probably take a few days to properly digest. I'm absolutely buzzing, I can't wait to get going and get a shot in the Premier League with such a big club, it's an honour for me.
"It doesn't seem long ago that I was making my debut for Hereford away at Barnet. I've come a long way since there and I'm just trying to take it all in my stride.
"I need to speak to everyone, tell them that I've signed because nobody knows. I haven't been in contact with my family or friends for a day-and-a-half because I didn't want to get my hopes up if it didn't happen. I'm buzzing now that it's fully done."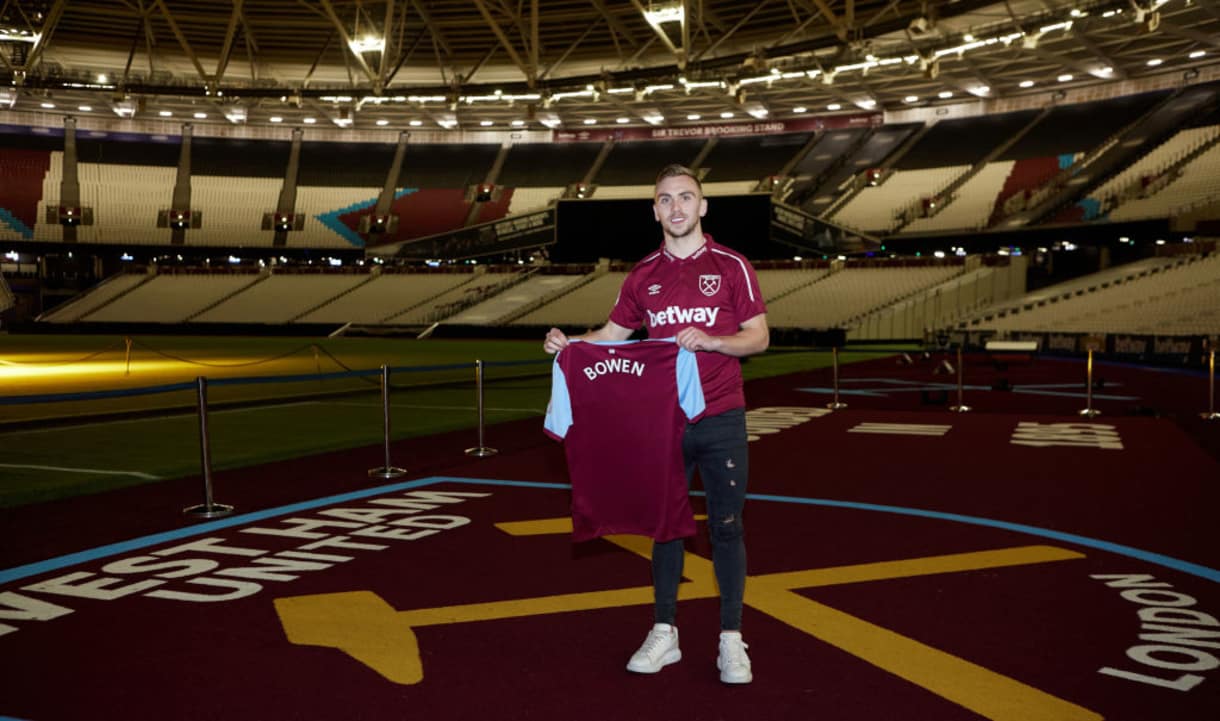 Bowen already has 17 goals to his name this season, after netting 37 across the previous two and he feels ready to take that goalscoring ability to the biggest stage.
"I don't think the size of the club and players that are here had to be sold to me," he added. "I've already spoken to the manager and you know his ambition for the club really won me over as well.
"It's a big club, you go outside and look at the stadium, It's a really good Premier League club and somewhere I feel like I can really improve my game, develop even more and really hit the ground running. 
"I've done what I had to do in the Championship at Hull City. That was down to me to do it and now I've got to deliver again on the main stage and I'm really looking forward to the challenge. Like I said, I need to hit the ground running and show the fans what I can do."
I'm absolutely buzzing, I can't wait to get going and get a shot in the Premier League with such a big club, it's an honour for me

Jarrod Bowen
Bowen's hard work has taken him from the National League to the Premier League, and he says the Hammers fans can expect more of that graft. 
"I think [my progress] comes down to hard work, it comes down to patience. I think I've had to wait for my time and when I've had the chance I've taken it with both hands. I've got my chance in the Premier League now and I want to take the chance that this club has given me.
" I know this is the next step at another level. People expect me to score and I've put myself in that position. It's a challenge I relish and one I'm looking forward to because scoring goals in the Premier League and winning games for this club would be unbelievable.
"The fans will always see 110 per cent when I play, and I think that's the main thing – and then with everything else, I just try to excite people and get people off their seats."
Bowen arrives in east London sure that the team will rise up the Premier League table over the second half of the season.
He added: "I'm very confident. With the squad that's here I've got no doubts that we'll be pushing up the table sooner rather than later. 
"Playing in the Premier League's the best feeling, especially in front of 60,000 people week-in, week-out. I don't think it gets much better than that."