Academy
Dmitri Halajko: Versatility is key for U23s' development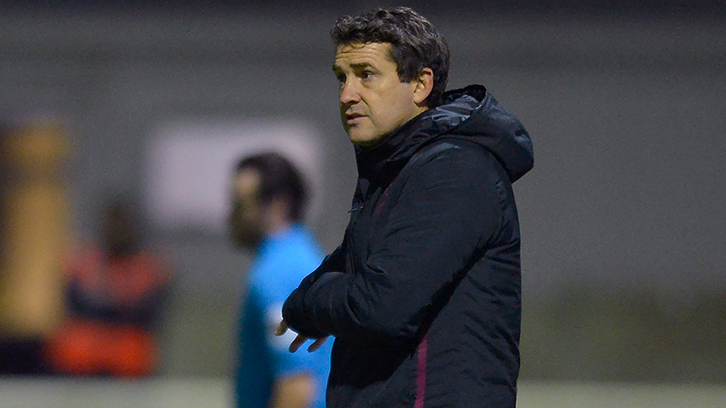 West Ham United U23s lead coach Dmitri Halajko has praised the pragmatism of his young charges during the first half of the 2020/21 campaign.
Due to a culmination of injuries and absences, just two recognised defenders started the U23s' final game of 2020 – a 2-1 defeat away at Everton just over a fortnight ago.
On that occasion, wingers Dan Chesters and Jayden Fevrier filled in at right-back and left-back respectively, performing well in their adopted roles as the Hammers dominated the majority of the match without scoring the goals to show for that.
Handling numerous injuries has been a common challenge of the U23s' Premier League 2 campaign so far, but – in keeping with the Academy of Football's mission to challenge and progress its starlets – that has in turn handed opportunities to players down the age groups.
A multitude of U18s players have featured regularly for the U23s so far this campaign, while several U16s have in turn made a successful early step up to U18 Premier League South action in their stead, giving both sets of players a taste of football at a higher level.
It is therefore hugely to the credit of everybody at the Academy that such progression has felt seamless and, under Halajko, U18s lead Kevin Keen and their fellow Academy coaches, educational.
That many players have gone on to fulfil roles atypical to their original positions – and do so with aplomb – has been of further benefit to the Academy.  
"I think flexibility is key in football – versatility," Halajko reflected. 
"It shows that they're intelligent players and also that they're willing to play somewhere different to help out the team. It shows lots about their character and it's going to give them loads of development. 
"Lots of players change positions and there are plenty of examples of that in the past; where you play as a youth player isn't always where you break through as a first-team player, or where you make your debut. 
"It's important they have got that versatility and I think they showed it against Everton. If we play like that again I don't think we'll lose too many games. If we can replicate that performance, but cut out a few mistakes, we'll be a match for anyone."
Despite the U23s' domination of proceedings against the Toffees in what turned out to their final game of the calendar year, they departed the Pure Stadium empty-handed in terms of points.
 
Our points tally and our position probably don't do our performances justice. We probably deserve to have more points on the board than we've got

Dmitri Halajko

It was another display which warranted much more with respect to the quality of approach play the Hammers produced, save for several ultimately crucial moments at either end of the pitch.
Halajko's development squad will therefore be looking to climb the Premier League 2 table when fixtures resume in 2021, having picked up just a sole league victory despite having competed well in every game thus far.
"That's what we probably deserve," Halajko reasoned. "Our points tally and our position probably don't do our performances justice. We probably deserve to have more points on the board than we've got. 
"We've certainly had games that we should have capitalised on, where we've been the better team, and we haven't done so far – so hopefully in the New Year we can put that right."