Academy
Jayden Fevrier: Academy footballers must work towards their opportunities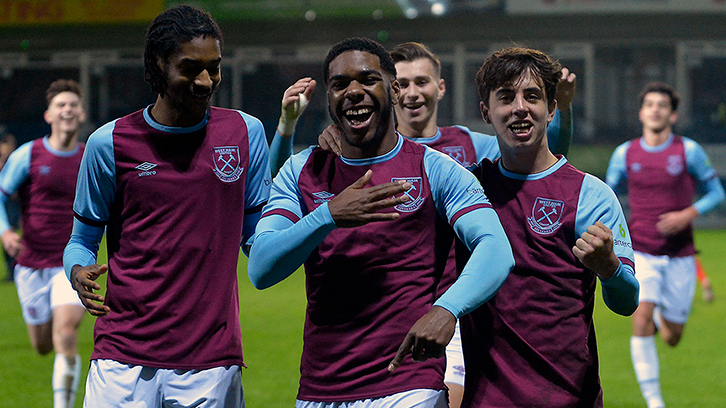 It was a picture-perfect moment – and a picture that told a thousand stories, at that.
Few would believe the career of a 17-year-old could run the full gamut of emotions like Jayden Fevrier's has so far.
Both delights and tribulations were reflected in the scenes that accompanied the winger's successful free-kick against Luton Town in the FA Youth Cup third round earlier this month: 25 yards out, over the wall, keeper's side, top corner – jubilation.
Here stood a young man enjoying his football again.
The game at Kenilworth Road ultimately ended in a 3-3 draw after extra-time – in which Fevrier scored both a second goal and a penalty – helping West Ham's U18s ultimately win out 4-2 from the spot
Speaking after the encounter, Fevrier reflected with the kind of thoughtfulness which often belies the relative inexperience of West Ham's youngest talents. 
The 17-year-old was optimistic and jovial, but also grounded, aware that the young Hammers' journeys in the competition – and indeed the sport – have only really just begun.
He explained: "With my free-kick, I was practising in training yesterday going keeper's side. I thought, 'you know what? Let me just hit it.'  We had a free-kick routine to do but it wasn't really on, so I felt confident to take it and just put it there – it was a great feeling.
"Every game is an obstacle to get past, and will be a challenge, but our ultimate goal is to win the competition."
For Fevrier, the cup goals were another landmark in a decade's development at the Academy of Football, whom he joined at the age of seven.
 
It's always an honour to be a young player and play in higher age groups... it's a good opportunity – you just have to thank your coaches and work hard towards it, take it and learn from it

Jayden Fevrier

The winger's first breakthrough came in 2017/18, when he burst onto the youth team scene at just 14 years and seven months old, debuting in an U18 Premier League South match away at Chelsea in November.
Another was quick to follow, his U23s debut arriving a year later; Fevrier was as a second-half substitute in a Premier League 2 game at Leicester City on 26 October 2018.
The teenager broke a long-standing West Ham United record belonging to Club captain Mark Noble that day; at 15 years, six months and 12 days old, Fevrier was now the youngest-ever player for a Hammers reserve team.
"It's always an honour to be a young player and play in higher age groups," Fevrier recalled. "It's a good insight into what the level will be like when you make it. 
"It's a good opportunity – you just have to thank your coaches and work hard towards it, take it and learn from it."
 

As the Academy of Football do so well, the youngster's minutes and progression were carefully managed to give him the time to properly develop his obvious talent.
The remainder of the 2018/19 campaign saw Fevrier make a further seven appearances for the U18s at both left-back and further forward on the flank.
But then, frustration, as knee ligament damage towards the end of the season halted his fledgling career in its tracks.
"It was a hard challenge for me to overcome, being out for eight months, especially as we had a new U18s lead coach [in Kevin Keen] and U23s lead coach [Dmitri Halajko] I had to get back to impress," Fevrier admitted.
"I had a lot of key people around me: my Mum helped me a lot and all the staff at West Ham helped me to overcome it. I also just had faith in myself and my journey.
"It was a good challenge that I had to have. I feel like it's put me in good stead for the rest of my career – I now know that I can overcome any hurdle that's put in front of me."
Returning in December 2019, Fevrier made just five appearances in U18 Premier League South, recording three assists in only 207 minutes of match action.
His hunger for the fresh 2020/21 season has since proven palpable on the pitch.
After scoring in the 3-2 win over Arsenal U18s – his first start of the season – Fevrier was named in the U21s' matchday squad at Portsmouth in November… but football had one last poetic twist.
Shortly afterwards, the winger's return came in exactly the same circumstances as his record-breaking U23s breakthrough two years prior: as a second-half substitute in a Premier League 2 match, away at none other than Leicester City.
Four days later, he made his first U23s start in the 2-0 win over Manchester United U23s, and he has been included in every matchday squad since.
"This is my eleventh year playing at West Ham," Fevrier surmised. 
"There have been a lot of ups and downs but I feel like I know the Club well. They're like a family, and I'm learning every day as I go through my journey. I hope to play in the first team here one day.
"I love football and every time I step on the pitch, I'm happy and feel proud in myself. This is what I want to do, and this is what I was made for."
That picture-perfect moment at Luton's Kenilworth Road, following Fevrier's sumptuous free-kick, somehow captured all of that.