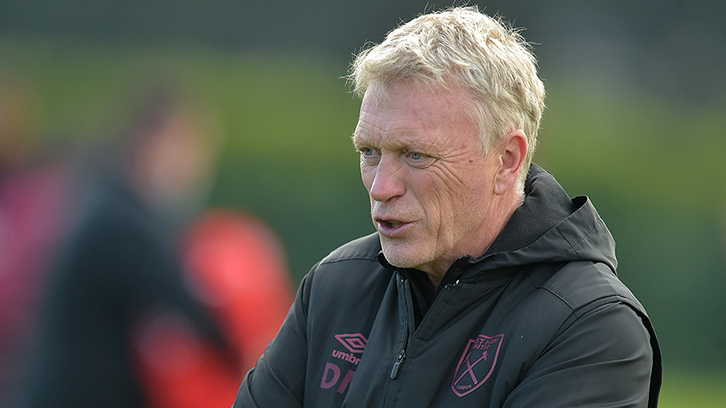 West Ham United manager David Moyes has hailed his side's tactical flexiblity during the course of the season so far.
The Hammers have deployed varying formations during the campaign and, more often than not, executed their game-plans well, delivering the comfort of a top-ten position in the Premier League table at Christmas.
Despite lengthy lay-offs to the likes of last season's top scorer Michail Antonio and the in-form Arthur Masuaku, the West Ham players and management have made incisive tactical shifts to put together several strong runs of form, including a faultless November which saw three wins from three games.
While the Irons will play host to Brighton & Hove Albion on Sunday afternoon off the back of a defeat against Chelsea at Stamford Bridge and a draw against Crystal Palace at home, Moyes is optimistic his side will continue to see off such challenges due to their improved pragmatism.
"Right from the start, I've said we need to be flexible," the manager explained. 
"It's more to do with me trying to decide what's right for which game it is, where we're at and the players are at for this time in the season, and what I think works best. I want to be able to chop and change. 
"I think we've seen that with many teams this season; some are playing with three at the back, some with four, and sometimes the games dictate that. Losing Arthur, who is probably a natural wing-back for us, meant that we were going to have to look elsewhere for that role and that's one of the reasons [for changing to a back four]. 
"Last year, after lockdown, we played a version of 4-3-3 and it was very successful – we were the top goalscorers, other than Manchester City, in the last nine games of the season. Our defending improved greatly, so I don't think we have to play just one way this season. 
"We started [the campaign] with four [at the back] but went to five, and then we scored an awful lot of goals and our defending improved again. 
"I'm hoping we'll be able to play in both formations as it goes along and if injuries do come, then we won't feel so pressured that we have to make a change."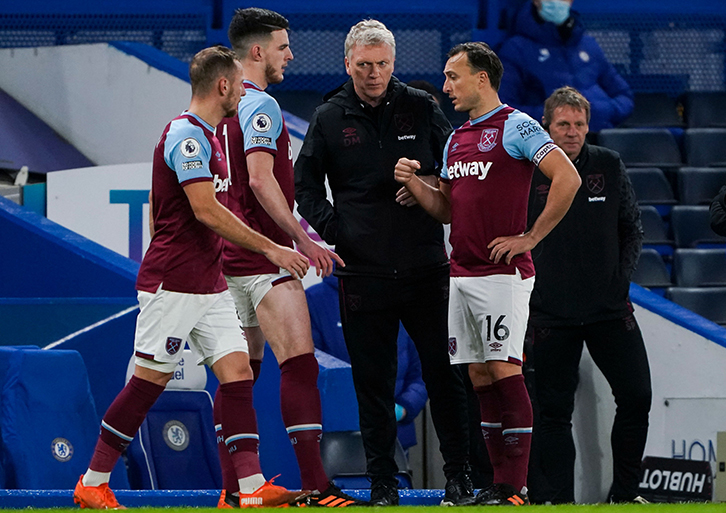 West Ham had the better of the play for much of Monday's defeat to Chelsea, recovering from Thiago Silva's tenth-minute opener to threaten for long stretches of the game without quite finding the requisite final ball.
Two late Tammy Abraham strikes put a fortuitous sheen on the scoreline for the hosts in the end, but Moyes saw enough in the Hammers' display to strengthen his resolve that the Hammers are now a danger to every opponent they come across in the Premier League.
"I don't think you could have said in any way we didn't go about the job right," he argued. "We didn't start the game particularly well but for the majority of the game we tried really hard to get back in it. 
"This is why I keep saying I've not promised anything I can't deliver. I want to promise that we try and improve and get better. 
"Where we end up, I don't know at the moment. My heart says that I want to look to the top, but also I know that I've got to be aware that we only just left the bottom three six months ago. We've got to make sure that we become a team that's competing and moving up over the next year. 
"If I could do it quicker I would, and if I can I will, but we haven't half made a big difference with competing in all the games. We've just been lacking maybe a little bit of a cutting edge which we had in the early part of the season which gave us those extra goals."
 

With Moyes soon to celebrate his first full year in charge of West Ham United during his second tenure at the Club, the manager took the opportunity to reflect on the successes of 2020 for the Club on the pitch.
"I'm really enjoying my time here," he smiled. "I'm enjoying being back and enjoying working here. The people are good, and the players have been great. 
"We've got a really good team spirit at West Ham now and it's something which, maybe in the past, might not have been talked about. I do believe that winning games and being successful, you gain that nowadays.
"With how we've started this season, you have to say it's been a big improvement and I can only put that down to the players and their change of mentality. They're much fitter now, and also the introduction of three or four new players to the squad has made a big difference.
"I think having hungry players at every club is important, and players who have got a humility to understand that it's not just about them, it's about everybody. They all have to do the work and look after one another, on and off the pitch. 
"I've wanted to bring players to West Ham with the mindset 'are they going to be here for the next four, five or six years?'. I would like to try and build a West Ham for the long term because I see so much potential and room for it to improve."