Interviews
Michail Antonio: I want to become the answer to even more West Ham pub quiz questions!
Michail Antonio is already the answer to more West Ham United pub quiz questions than virtually any other player in the Hammers' 125-year history:
Who was the first man to score a Premier League goal at London Stadium? Michail Antonio.
Who was the first visiting player to score at Tottenham Hotspur Stadium? Michail Antonio.
Who is the only West Ham player to score four goals in a single Premier League match? Michail Antonio.
Who is the only West Ham player to score eight Premier League goals in a single calendar month? Michail Antonio.
After extending his stay at the Club until 2023, Antonio is aiming to make himself the answer to many more, including, most notably, 'Who was the first West Ham player to score 50 Premier League goals?'.
Speaking to West Ham TV, the popular 30-year-old answered questions about his five-and-a-half unforgettable years in Claret and Blue, and the two-and-a-half he is now looking forward to…
Michail, we're coming to the end of 2020, which has been a challenging year for everyone on the planet, but football-wise it has probably been one of the best of your career?
"Yeah, definitely. At the beginning of the year, in January, I was just coming back from an injury and I played in a few games and we started picking up some points, then obviously COVID hit. During the lockdown, we were all away doing our own bits of training and I managed to come back feeling extremely fit, to be fair. Then the restart happened, I was playing up front and I couldn't stop scoring!"
What was the secret to your form in July, when you scored eight goals in six games to help keep us in the Premier League?
"I think the break due to COVID, to be fair. I'd just come back from my injury and I had the opportunity to build up a fitness base when you wouldn't normally have three months to work on your fitness and build up a tolerance for the matches. Then I just got into the games and I normally got goals anyway when I was playing out wide, but obviously when you are playing up front everyone is trying to set you up and everyone's aim is to get you the goals, so it's a great position to be in!"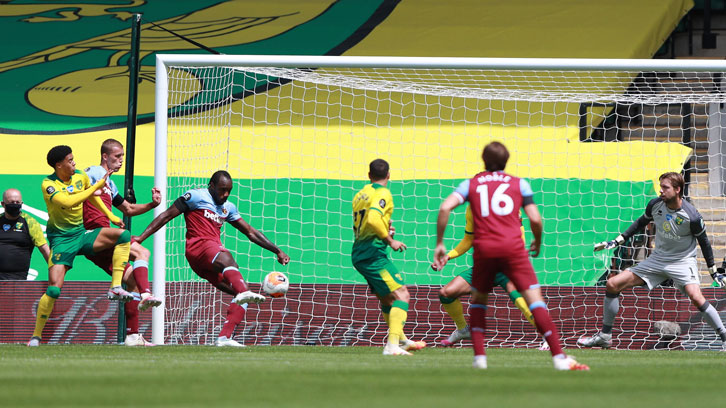 And, of course, four of those goals came in one game at Norwich!
"What a day! I had never had a professional hat-trick in my life, only a couple of braces, so obviously to beat that and get the four goals and become the first West Ham player to get that in the Premier League was an unbelievable achievement."
Which moment of the year gave you the most satisfaction?
"I would say winning [Premier League] Player of the Month. Obviously, not many players in West Ham had managed to achieve that, then to win it in July, when there is unlikely to be another month of football played in that month and I'll likely be the only player to win it in July, is another thing that makes it really nice. It's not just West Ham fans who voted for it, too, but fans from all around the world and fans of other clubs, so to get noticed by everybody and be that one player who is voted the best in the Premier League at that time is a great achievement."
You are someone who sets targets and you're now only nine goals short of becoming our all-time record Premier League goalscorer and nine short of 50 career goals for the Club in all competitions…
"To be fair, I do always set targets and the fact I'm only nine away from 50 and nine away from getting to being the top all-time Premier League goalscorer, those are ambitions for me and I want to achieve them this season. I don't want them to roll onto next season, I want to have done that this season, so I can keep pulling myself away in future seasons and make it hard for someone to catch me!"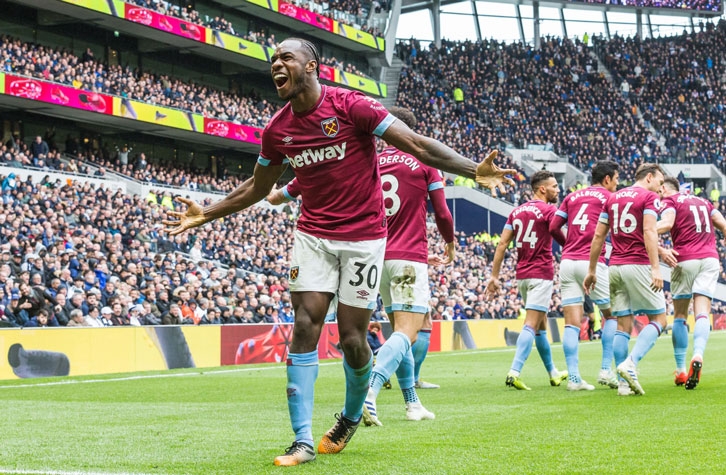 You began your career in non-league with Tooting & Mitcham United, so what a journey you have been on. You have proved you can make it to the top…
"With hard work and dedication, you can. Once you feel you have got something, you have got to prove yourself again and you've got to constantly prove yourself until basically your legs can't do it any more. Never feel like you are the finished article, because there is always more work to be done."
You will keep working in a West Ham shirt, too, as you've extended your stay at the Club until 2023, so maybe you'll be able to reach not only 50 goals, but 75?
"I got eight goals in one month, so I've got two-and-half years now to see how many more I can get and how far I can get! I definitely want to get to the 50-goal mark in the Premier League and see how I can go on from there. I've been here for five-and-a-half years, this season will be six and by the time my contract expires it will be eight years. Before I signed here, the longest I had been at a club was two years, so it shows that I've been here, done my work, been able to secure my position and keep growing as a player."
You have been involved in so many iconic moments in a West Ham shirt, but which one was your favourite?
"Which pub quiz question would I want to be asked the most?! Very likely, I would say it has to be scoring at Tottenham's new ground, because to become the first [visiting] player to score there in the Premier League and with the celebration and everything, it was just right!"