eSports
Jonna's journey – becoming a Hammer through Football Manager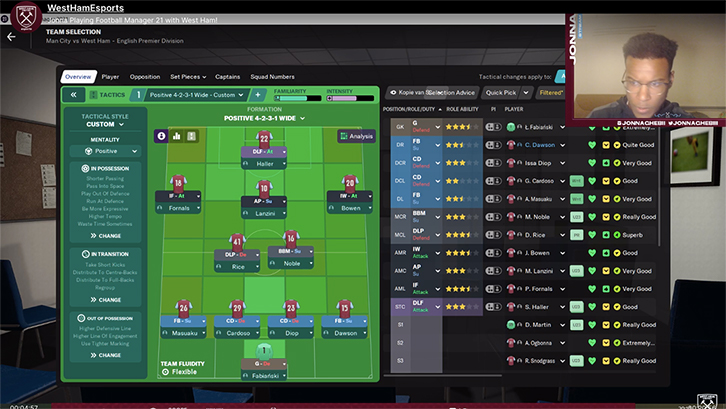 There was a time, not so long ago, that every footballing fan of a certain age – even the more casual gamers among them – had a Football Manager story.
The incredibly popular series of games has dominated football management simulations for almost three decades now, with Football Manager 2021 dominating the new releases chart in recent weeks.
Loading up a Football Manager game, all of a sudden, you become the man in charge of a professional football club of your choice.
The titles offer you control over numerous broader details – who plays, who signs, your tactics – to the most minute of intricacies. The options feel endless – and as a result, it's incredibly addictive. 
After all, who's to say – apart from time management – that moving your weekly passing training sessions from a Thursday afternoon to a Friday morning isn't just the key to pulling your side out of a recent rut in form?
Growing up in Groningen, Holland, 24-year-old Jonas 'Jonna' Ghebrehiwot – a professional Esports player for West Ham United, it is a game which has unearthed an unexpected affiliation.
"I think the story I remember the most was with a club I'm really passionate about – my longest save: Burton Albion!" he laughed.
"I'm an experienced Football Manager player so always pick a challenging club, and I took them all the way from League One to the Premier League and Champions League – it was amazing!
"There's a special place in my heart for them, but nobody understands why! It's just a cool club. I know a lot of people wouldn't understand, but it's amazing for me.
"There are people in the world who are more passionate than me about Football Manager – I just like the game – but there are people out there who take it really seriously, like when they have a cup final in the game, they put on a suit or something! 
"I'm not like that, but I really enjoy it. It's something a bit different. I think for you to like Football Manager, you need to love football in all its aspects and watch it a lot. My brother introduced me to it in 2008, and I've played it every single year since."
A huge Premier League addict since his younger days in Holland – he, his brothers and his Dad used to watch Match of the Day every Saturday evening – Jonna jumped at the chance to sign for the east Londoners as a professional FIFA player over the summer.
 
In five or six years, you can have a youngster you've brought in and developed yourself, based on your instructions and guidance, and that's the cool thing about it

Jonas 'Jonna' Ghebrehiwot

Jonna has recently applied that historical passion to the West Ham Esports Twitch channel, where he streams live weekly Football Manager 2021 sessions for fans to enjoy every Wednesday evening.
In doing so as a new Hammer, he is learning to adopt the traditional values of his new Club, taking supporter suggestions as to how he should shape and direct his own iteration of West Ham United in the 2020/21 season.
In many ways, the West Ham way has already proven perfectly suited to him.
He explained: "My favourite thing about it, and I know it's probably what most people would say, is getting further in a save – like four or five or six seasons in. 
"I always like to get young players in from the Academy and develop them into first-team players – hopefully world-class players. 
"In five or six years, you can have a youngster you've brought in and developed yourself, based on your instructions and guidance, and that's the cool thing about it."
 

Few fanbases appreciate seeing one of their own turn out like West Ham United's, and upon taking (virtual) charge of the Irons, the professional gamer set about identifying plenty of prospective talent within the Academy of Football.
"The first things I did was just to look at the team exactly and what positions I wanted to change tactics in," he explained. "I worked out my starting eleven when everybody was fit, and worked out where I might want to bring players in. 
"I then had a look at our Under-23s, and figured out which players I thought could potentially be first-team players – I sent a few of them out on loan to gain them some playing time.
"I'm from the Netherlands and I like to play that kind of Total Football as well – especially with young players!"
Now several weeks into his virtual West Ham United adventure, Jonna is finding the opening fixture list – which David Moyes' real-life side navigated with real aplomb this season – more testing within the simulation.
He joked: "The schedule this season is really, really tough at the beginning, as it was in real life, so I've been working hard to keep morale up! 
"Last week, I played Manchester City at home, live on stream, and lost 5-2… with the fixture list coming up, I'm hoping that I'm not going to get sacked in my third or fourth stream!"
Should he manage to avoid that fate, Jonna has big aspirations for entertaining the Claret and Blue supporters who tune in every Wednesday night.
He said: "Obviously I want to win the league, that's the target, and get into the Champions League – but I need to make sure I'm not getting sacked first! 
"If the viewers enjoy the stream and like watching it, I'll try to win the league – it may take a couple of seasons, but that's got to be my long-term goal."
For more exciting gaming content, follow the official @WestHamEsports accounts on Twitter and Instagram.
Want to step up your game with West Ham's Esports players? Watch our pros in action every week - subscribe to Twitch to learn when they go live.