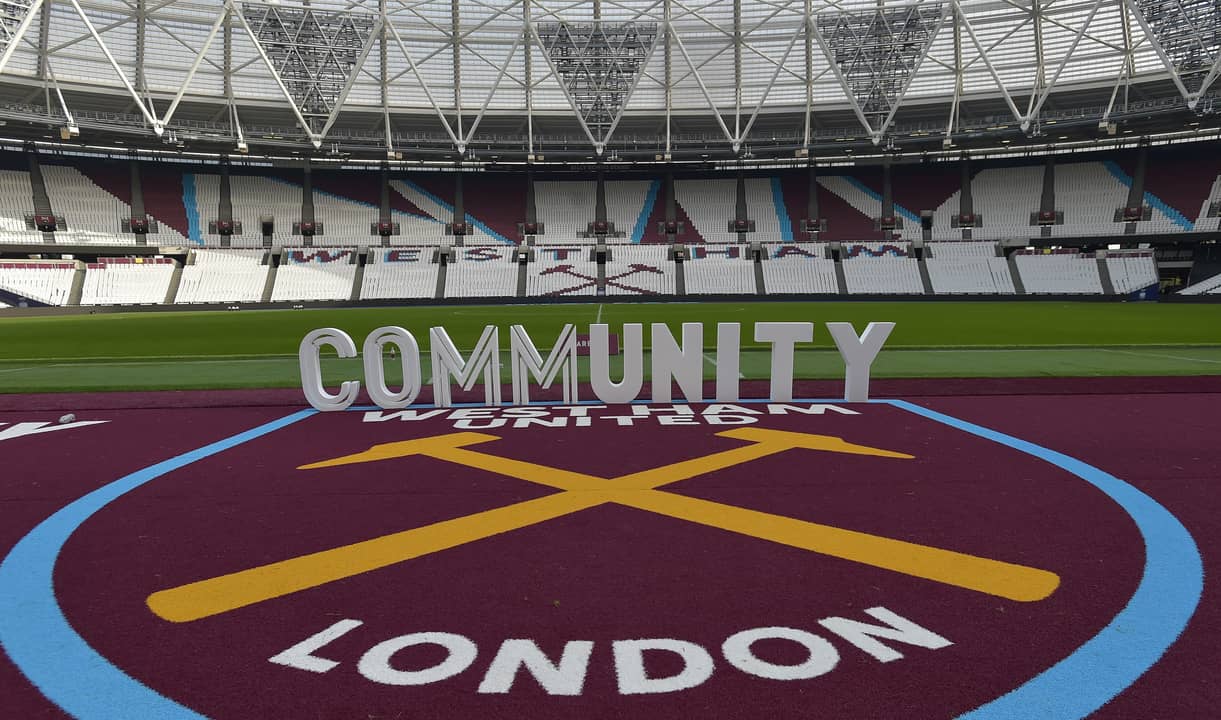 West Ham United is thrilled to announce that the Players' Project has won the Best CSR/Community Scheme Award at the 2020 Sports Business Awards.
In what has been a challenging year, the Hammers are proud to receive an award which recognises 'dedication to and understanding of local communities alongside positive impact on these from CSR activities'.
In conjunction with its award-winning Foundation, the Club works across the community to respond to local need – assisting those most vulnerable, breaking down barriers and delivering interventions and opportunities to help people fulfil their potential.
The Sports Business Awards judges were extremely complimentary of West Ham's work, with one commenting: "[It's] A genuinely impactful and progressive programme of community work. Raised player involvement and engagement beyond the usual level of obligation to genuine commitment to their strands of work."
The Club was also commended on the fact that 'results and level of measurement and evaluation are very strong' – something the Club has sustained in 2020 through its work with Switch the Play.
West Ham United Vice-Chairman Karren Brady said: "I'm extremely proud of way the Club always pulls together, from the staff, to the players and management and we are equally proud to receive this prestigious award recognising the Players' Project."
"We are committed to doing everything we can to improve people's lives – motivating, educating, inspiring, and providing meaningful support wherever possible. Alongside the fantastic work of our supporters to help local causes, the Players' Project embodies our whole-club approach and this award shows the value of those efforts to our community."  
Launched in November 2018, the Players' Project is most ambitious and integrated community programme ever created by a Premier League Club, with men's, women's and Academy players giving more than 600 hours of time to date across eleven key areas of community work.
The Club delivers more than 30 projects across east London, Essex and international locations, spanning health, community sport, football development, education and employability.
In addition to this are the incredible partnerships and networks West Ham has developed, such as those with local NHS Trusts, One Newham voluntary consortium, foodbanks and Show Racism the Red Card.


Joseph Lyons, West Ham United Foundation CEO, stated: "Since the relaunch of the Club's community scheme into the Foundation in 2015 we have been working in new ways to serve our community; regularly being recognised and validated for our approach.



"Community is at the heart of West Ham and the launch of the Players' Project two years ago has only enhanced our efforts, having a hugely positive impact to date.
"The way we have been able to respond and continue to meet the needs of our community as well as we have during the pandemic is due to the ongoing support and hard work of everyone at West Ham and the vital importance that is placed on helping our community, across the whole organisation. 



"From receiving London Sports' Impact of Elite Sport Award in March to then almost immediately repurposing our community work due to COVID-19, to now receiving this award is remarkable.



"Particularly at the end of what has been a very intense year, this is excellent recognition to receive and a great boost."
Earlier this month and following the second anniversary of the Players' Project, the West Ham United family came together to pledge ongoing support to campaigns close to the Hammers fans' hearts and local projects which will help those most in need in the local community, following the impact of the COVID-19 pandemic.
Despite the effects of the pandemic, the Club is on track to deliver the pledges made one year ago, which included a further £10m for the community, an increase of £5m on its initial pledge, giving a forecasted investment of £28m by the end of 2021.
The Hammers players and management will also focus their 2021 efforts on critical issues caused by COVID-19, pledging to give over 1,000 hours of time to local communities with more players joining Mark Noble and Tomáš Souček on the Poverty strand.
West Ham United would like to thank the Sport Business Awards for this honour and also congratulate the silver and bronze award winners - Brighton and Hove Albion and Southampton FC - as well as the other shortlisted nominees: Everton FC, Leicester City FC, and Slum Ping Pong and the International Table Tennis Federation.