eSports
Hammers begin FIFAe Club World Cup qualification campaign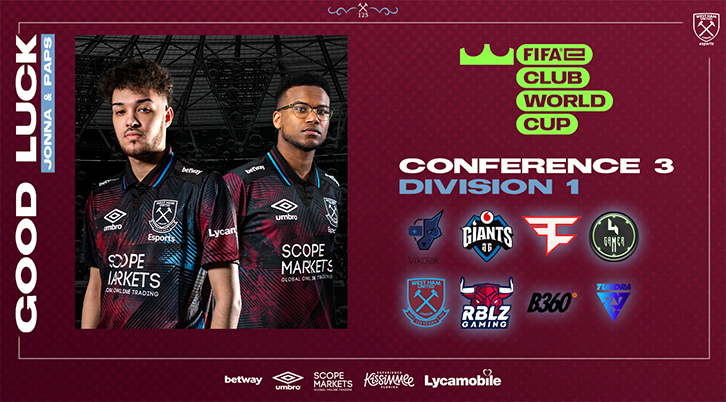 West Ham Esports begin their bid for FIFAe Club World Cup 2021 glory on Thursday evening, as online qualification commences.
Curtis 'Paps' Poole and Jonas 'Jonna' Ghebrehiwot, both eDivisie finalists on opposing sides last season, will be the duo wearing Claret and Blue as the Irons attempt to qualify for the Club World Cup for the first time in their history.
An intense month-long qualification process awaits them, with a multi-tiered qualification tournament format rewarding both one-off and consistent achievement over four separate weeks of qualifiers. Games in Round 1 of 4 take place on Thursday and Friday.
Due to their Club coefficient, West Ham United are in the top tier – Division 1 – of Conference 3; there are three Divisions within each Conference (which ultimately represent qualification groups). 
 

The Irons are seeded third, and will therefore begin their campaign with a 5.30pm clash with Vodafone Giants, a Spanish professional esports organisation formed in 2008.
The Giants' roster includes former FIFA eWorld Cup champion Alfonso Ramos Cuevas – also head coach of the Spanish FA's EFootball team – and former Call of Duty pro, Toni 'ToJor' Martin, so the initial tie will be a testing one for Paps and Jonna.
"I'm feeling confident ahead of the qualifiers," Paps told whufc.com. "I've changed up my playstyle slightly to adapt to the game so it should be interesting.
"The qualification process is very tough for this tournament. In order to stay consistent, you just have to keep practising and grinding the game, playing against other pros and learning what works and what doesn't.
"I'm excited to work with Jonna. He's a good player and I think we have similar personalities, so that will make it easier to understand each other."
Jonna confirmed: "I'm really looking forward to these FIFAe Club World Cup qualifiers. I'm really excited to see what Paps and I can do for West Ham United."
Each match-up is a best-of-three affair – one standalone game on PlayStation4 (Paps' console), one standalone game on Xbox One (Jonna), and a third on a randomly determined console, if required.
Each Division takes on the format of a double elimination knockout tournament, where you drop into a secondary tournament after your first loss, and a second will eliminate you from the competition.
 

Consistency Points are awarded based on where teams finish – winners, runners-up, third et cetera – in each Division, and are multiplied to reflect the Division's status (for example, winning Division 1 is worth more points than winning Division 2).
Should any Division 1 side be one of the first two eliminated this week, they will drop into Division 2, while the top two sides in Division 2 will be promoted to Division 1 for the next round of qualifiers, scheduled for early January.
To make matters even more competitive, every team in Division 3 is eliminated after the second of the four rounds of qualifiers, while Division 2 sides are eliminated after the third round – so consistent results against the best sides are key to qualification.
After four weeks of these tournaments, the top two teams in Division 1, plus the top two teams in the Conference in terms of Consistency Points, will qualify for 2021's Club World Cup Playoffs – the last qualification stage before the main event next summer.
Also in the Hammers' initial Division 1 are Bulgaria's Team Vrkolak; German side B360 SportsAgency SE; young French club 4 gamer; dark horses Red Bull Leipzig Gaming; the international team Tundra Esports; and world-renowned FaZe Clan.
Should they climb the ladder from lower divisions, Claret and Blue may yet meet claret and blue, with Burnley FC Academy in Conference 3 Division 2, along with clubs including Standard Liege and AS Monaco. Eintracht Frankfurt are a standout name in Division 3.
West Ham Esports have never qualified for the FIFAe Club World Cup, with only Manchester City (twice) and Wolverhampton Wanderers representing the Premier League in the competition's three-year history.
American team Complexity are the defending 2020 champions.
West Ham Esports' progress can be chartered via the official Club World Cup website.
For more exciting FIFA 21 and gaming content, follow the official @WestHamEsports accounts on Twitter and Instagram.
Want to step up your game with West Ham's Esports players? Watch our pros in action every week - subscribe to Twitch to learn when they go live.