Community
West Ham United supporting charity partners at Christmas

The West Ham United family is coming together this Christmas to support our charity partners at this crucial time of the year.
Having been hit hard by the coronavirus (COVID-19) pandemic in 2020, the charity sector is in more need than ever for the support of the entire community, as it provides help for its most vulnerable.
At West Ham United, we are thankful for the untold hours that charities put in to help local people and we want to raise awareness of our official charity partners during the festive season. The Club has seven official charities, each of whom receive awareness fixtures and support with key campaigns and activities. In addition to this, the Club assists a range of other charities when we are able to, through various initiatives which help them to achieve their aims. 
Between the move to London Stadium being announced and the end of the 2021, the Club will have invested a total of £28 million into local communities across a range of programmes.
We would like to remind supporters of our official charity partners and the great work they do to support the community. Each and every one of our partner charities' fundraising initiatives have been hit hard by coronavirus and it is imperative that their endeavours continue during this difficult time, and even more so over Christmas. With the backing of the Claret & Blue Army, we can continue to shine a light on those that do incredible work for the benefit of those vulnerable across east London and Essex.
Moore Family Foundation
Set up in memory of Bobby Moore, the Moore Family Foundation (MFF) programme was devised to engage with vulnerable young people in east London and Essex, with the aim of instilling and inspiring them with the six central values displayed by the 1966 FIFA World Cup-winning captain – courtesy, generosity, hard work, humbleness, respect for others and self-discipline.
Its Mentoring Programme aims to positively impact the lives of the most disaffected young people who attend alternative provision education. This is delivered through one-to-one and small group mentoring sessions where the youngsters are able to gain confidence, enhance their soft skills and achieve a qualification. 
During the pandemic, the Moore Family Foundation delivery team had to engage with their students virtually and with many of the students challenged with poor behaviour and attendance, coupled with technological poverty, the risk of disengagement was high. Having now restarted face-to-face delivery, they have been able to better support their students more consistently. However, due to the increasing numbers of young people within alternative provisions across east London, they are unable to provide the much-needed support and educational and life-changing opportunities to positively impact upon the pathway of all these young people. Your donations will go towards helping them to provide more Learning Mentors, equipment and unique experiences to help chart a better pathway for each young person.
DT38 Foundation
DT38 Foundation has launched a Christmas auction in a bid to garner support for its work in 2021.
There are three exclusive lots up for grabs in the DT38 Christmas auction, something for him, for her, for everyone.
A West Ham United Home Shirt, signed by the first team squad
A unique DT38 branded West Ham United match shirt, from the Hammers pre-season fixture with Manchester City in Laugardalsvollur, Iceland, in 2017, signed by the tour squad
An exclusive and stunning dress worn by The Real Housewives of Cheshire star Nicole Sealey in Season 12 of the Hit ITVBe show
Click here for more information on the auction or to place your bid.
The charity - which marked its fifth anniversary in February this year - raises awareness of testicular cancer in memory of Hammers forward Dylan Tombides who lost his brave battle with the disease on 18 April 2014.
Proceeds from the fundraising auction will be used to educate men and boys about the risks of the disease, which is the most common form of cancer among young men.
DT38 also encourages males to check themselves every month and to insist on an ultrasound scan should they experience any abnormalities.
The Bobby Moore Fund for Cancer Research UK
The Bobby Moore Fund (BMF) was set up by Stephanie Moore MBE following Bobby's death at just 51 from bowel cancer. BMF is a restricted fund of Cancer Research UK to fund pioneering bowel cancer research and increase awareness of the disease.
Football Shirt Friday, the campaign which unites the nation by asking fans everywhere to wear their favourite football shirt and donate to life-saving bowel cancer research, took place on 20 November and raised an incredible £140,000 for the Bobby Moore Fund. Stephanie Moore, Bobby's widow said: "I'm so grateful that despite the challenges we have all faced and continue to face this year, so many people came together in their football shirts to raise awareness and vital funds in Bobby's memory. Cancer does not stop during a pandemic, and neither do we."
If you would like to support the campaign and the Bobby Moore Fund's life-saving research, you can still make a donation at footballshirtfriday.org
West Ham United Foundation
The Hammers' charity focuses on responding to local need, uniting our community and providing an environment where all can thrive. 
This year has been like no other with the world facing huge changes and new challenges as a result of the COVID-19 pandemic. Throughout this time the Foundation have adapted their work to help thousands of individuals in the local community and seeing one of their busiest periods to date.
As lockdown set in, alongside the Club, the Foundation established an array of virtual engagement and partner support, such as: a range of volunteering including production and delivery of food and medical parcels, Hammers at Home daily challenges, virtual Holiday Hammers camps, a virtual Claret and Blue Sports Day, educational tasks, fun quizzes, online workouts and challenges. Additionally, new frameworks of support for all generations were established, incorporating the likes of friendly phone calls, newsletters, virtual group meetings and closed Facebook groups.
Throughout the winter period the Foundation is particularly focused on continuing to help vulnerable people across the community through social inclusion schemes, mentoring and educational assistance, as well as providing physical activities and food for those most in need. 
Help the Foundation make a real difference to people's lives across our community by donating here or visit their website to find out more. 
Richard House Children's Hospice

Richard House Children's Hospice provides support for children with life-limiting and other serious medical conditions in Beckton.
Thanks to amazing support from the community, Richard House continued to remain open during the COVID-19 pandemic, providing respite and care and supporting the NHS in freeing up beds. 
Their Hospice at Home saw a total of 878 sessions delivered between July to September alone, while their Woodland Sensory Garden also remained open for family visits, with garden volunteers pivotal in making this happen. The hospice's activity programme recommenced in late summer, while the investment in the organisation's six charity shops allowed them to remain open to the public in a COVID-safe way.
Despite all of this, Richard House are predicting an income shortfall in excess of £130,000, leaving the hospice and the families who they support with an uncertain future. This Christmas they are calling on supporters to give the cost of their favourite hot drink this festive season and spread some Christmas cheer.
Supporters 'Giving their Cup' will allow Richard House to continue to be here for their families, and not having to push the stop button on their vital services. Why not #GiveYourCup and donate to give seriously ill children the chance of a risk free Christmas at https://www.justgiving.com/campaign/giveyourcup
Saint Francis Hospice
Saint Francis Hospice is an independent charity and one of the largest adult hospices in the UK, serving Havering, Brentwood, Barking and Dagenham, Redbridge and West Essex. Their team of specialist health and social care professionals provide care and support to individuals with a life-limiting illness, as well as their carers and family members, completely free of charge.
The pandemic may have stolen 2020 but despite all the challenges, staff and volunteers at Saint Francis Hospice will still be bringing a touch of magic to the ward over the festive season.
"The pandemic has brought about so many changes but what hasn't changed in our 'hospice bubble' is that our patients need and deserve our care," said Ward Manager Jo Noguera.
"Where possible, we will be supporting patients who are able go home but for those who are too unwell to leave the ward, they will be having a small celebration with us. Thanks to the generosity and kindness of our supporters, every patient will receive a small gift."
The restrictions in place to keep everyone safe mean our wonderful choir are unable to sing carols by the nurses' station on Christmas Eve but we're hoping to hold a socially distanced carol service in our beautiful gardens.
And of course, the highlight of Christmas Day for most of us is tucking into a scrumptious dinner and our Catering Manager Vince Felton and his team will be pulling out all the stops as usual to make sure every patient is served a delicious three course meal.
On behalf of all the patients, families, staff and volunteers at Saint Francis Hospice, we would like to say a heartfelt thanks for all your support and wish you all a very happy and peaceful Christmas.
If you would like to support Saint Francis Hospice this Christmas, here is their 12 Days of Caremas - https://www.sfh.org.uk/support-at-christmas.
Ambition Aspire Achieve
Ambition Aspire Achieve's (AAA) work focuses on and supports children and young people most in need, including those with disabilities or additional needs.
They are currently running their annual Christmas Toy Appeal for disadvantaged, vulnerable and at-risk Newham children living in poverty and facing multiple challenges and difficulties every day. 
The appeal aims to provide for each child referred a Christmas stocking of new gifts specific to their age, needs, abilities and wherever possible their most wished for gift, to open on Christmas morning. 
Receiving referrals from all of Newham's children support and caring agencies, the children really will, without the appeal's help, be waking up on Christmas morning to an empty stocking and another day just the same as every other. 
Please help make a difference by Donate a gift via their Gift Site here or donate cash to be converted into gifts at their Giving Page here.
Blesma, The Limbless Veterans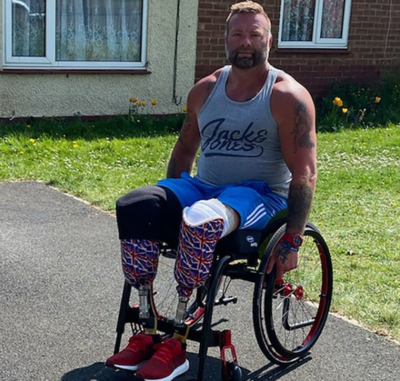 Since 1932, Blesma, The Limbless Veterans has been the only national Armed Forces Charity that supports limbless and injured veterans for the duration of their lives. Blesma, helps all serving and ex-Service men and women who have lost limbs, or lost the use of limbs or eyes, to rebuild their lives by providing rehabilitation activities and welfare support.
Blesma has been flexible and quick to respond to the outbreak of the coronavirus pandemic, adapting some of the ways they work and quickly responding to the ever-changing situation so that Blesma is still able to provide support where it is most needed.  
Its BSOs and Outreach Officers have switched to a greater number of virtual meetings and calls, operating remotely but have nonetheless been just as busy with assisting Members like double amputee Tim, who was left housebound during the pandemic. 
Tim, who joined the Royal Artillery at the age of 16, had been having difficulties with his prosthetic legs which left him unable to complete essential food shops or walk his dog, Teddy. 
Blesma provided Tim with a lightweight wheelchair that was collapsible to put into the car. "It has given me back my freedom and independence." said Tim, who has since seen a prosthetist, and is now incredibly planning to tackle Mount Snowdon in aid of Blesma! 
You can find out more about Blesma's vital work supporting Limbless Veterans at Blesma.org. If you would like to hear more inspiring stories from Blesma's injured veterans, told in their own words, the charity has just launched the second series of The Resilience Sessions, a podcast which links together Blesma Members and Celebrities who share their personal experiences of overcoming adversity. Find it where you usually get your podcasts.