David Moyes was full of pride after watching his West Ham United team overcome an early Leeds United goal to score a superb 2-1 Premier League win at Leeds United.
The Hammers could easily have crumbled under the pressure created by a rampant Leeds, particularly after Mateusz Klich scored a twice-taken penalty – retaken after VAR official Jarred Gillett decreed Lukasz Fabianski had stepped off his line before saving his fellow Pole's initial spot-kick.
But instead, the Irons showed they are made of strong stuff these days, creating a succession of chances and ultimately turning the game around through unstoppable headers from Tomáš Souček and Angelo Ogbonna either side of half-time.
Speaking to West Ham TV after seeing his team rise to fifth in the Premier League table after reaching 20 points from 12 games, Moyes was delighted with the application, belief and quality shown by his players at Elland Road.
Everybody is so keen to watch Leeds because of their energy and the way they play, but I have to say the players did a brilliant job

David Moyes
"I think every game we've played – when we lost at Liverpool I thought we were unlucky when we lost to a penalty, we have played Manchester City at home [and drawn] and we had a terrible decision against us against Manchester United at home that turned the game – we have gone into and believed we can challenge all the teams we face," he said.
"We need to keep the level high. We've got some really outstanding performances at the moment, but I think tonight is up there with it because of the type of game it is, the club we're playing against and the way they've been playing. Everybody is so keen to watch them because of their energy and the way they play, but I have to say the players did a brilliant job tonight."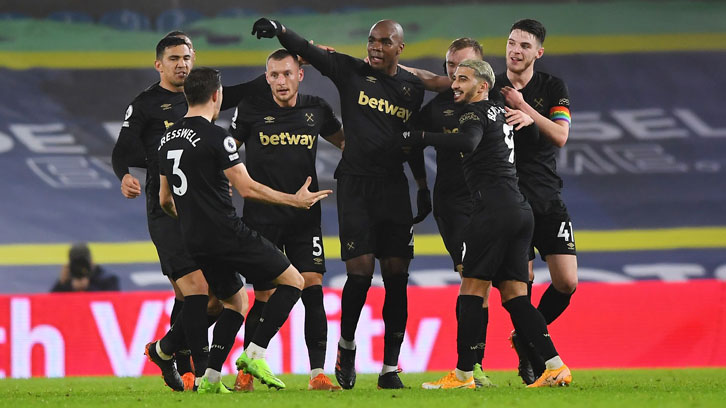 Not only did West Ham's players have to contend with the disappointment of the penalty being retaken, but with the frustration of believing they had been hard done by after the incident was shown on the big screen at Elland Road, and they felt Fabianski had not left his line before Klich took his spot-kick.
"I am really angry with it but I'm not going to allow West Ham to be pushed around. I'm not going to allow a decision when the ball is two yards over the line and a penalty kick when the goalkeeper's heel is on the line and it to be a case of 'It's OK. It's West Ham. We'll just give them that sort of treatment'.
"We need to stand up for ourselves and fight for it and that's why, when we get the supporters back, they need to be fighting for every decision inside the stadium because at the moment, we've had some, but I've got to say the last couple we've had have been hard to take."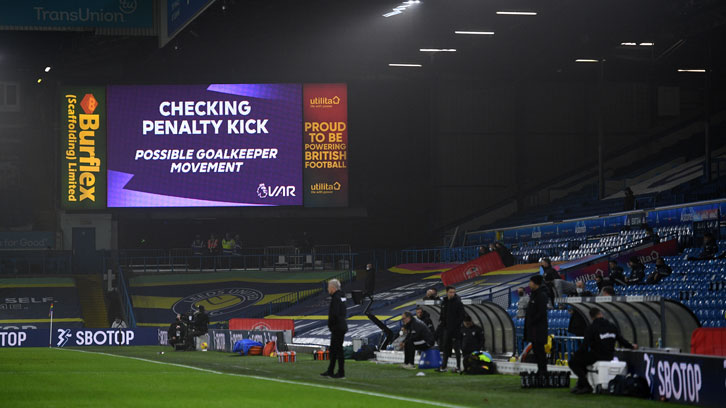 West Ham regrouped after falling behind and created chance after chance from open play, finding Leeds goalkeeper Illan Meslier in inspired form, but their goals came from two set plays. The first when Souček powered in Jarrod Bowen's corner and the winner when Ogbonna headed in Aaron Cresswell's free-kick.
"It's a big part of the game, isn't it?" Moyes asked, rhetorically. "We want to be good and we want to score goals if we can and their goalkeeper was outstanding and stopped three or four goals, I thought, but we kept going and plugged away.
"There were times when they were on top and times when we were better but, overall, I'm really pleased we've come and picked up another three points and it keeps up moving along nicely."
West Ham have now scored in their last eleven Premier League matches and 14 out of the last 15, and collected 32 points from their last 19 games dating back to early July.
Moyes is proud of that level of consistency, but is demanding more.
"It was quite difficult when we came back from lockdown and we had to win games to stay in the league and we won three, drew three and lost three out of the nine games but I thought, from where we were, it was a good return," he reflected.
"I've just praised the players for how well they've done since lockdown and how they've come back and picked it up and gone again. Their energy and fitness levels have improved greatly. Some of that is to do with acquisitions and some of it is to do with players knuckling down.
"I don't know if six months ago we could have coped with a Leeds United who are as physically powerful with their running as they are."