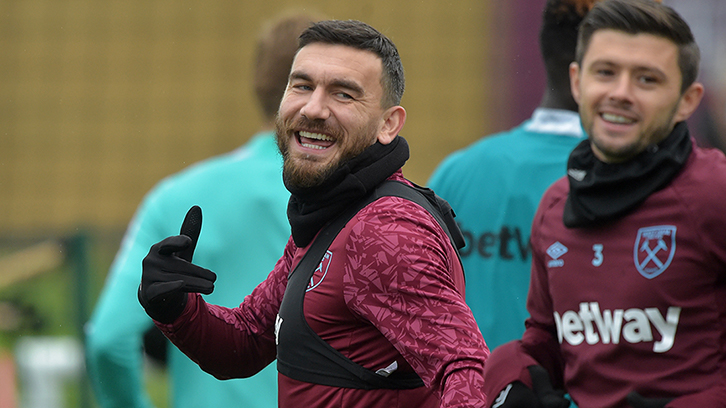 West Ham United midfielder Robert Snodgrass has been an integral footballer in enough successful squads to know that everybody has their part to play in a successful season.
The 33-year-old has mostly seen action in the Carabao Cup so far this campaign, but has not been content just to bide his time, instead preferring to challenge his teammates to keep their respective games sharp and, what's more, to improve.
As the Irons prepare to travel to his former side, Leeds United, on Friday evening in the Premier League, Snodgrass discussed with whufc.com his return to fitness, the role he envisages for himself moving forwards - and why this is the best start to a season West Ham United have made during his time in east London.
 
Like any player you'll be wanting to play as much as possible when the chance arises – but are you feeling fit and ready to go when it does?
It's been a tough season not playing as much, but everybody has got a job to do whether you're playing or not playing.
First of all, that's to be as fit as you can be. Obviously not getting the game time reduces your match fitness, which is expected. People can put it down to your age, but as soon as I get three or four games under my belt, I'll be raring to go.
I felt that, scoring a couple of goals in the earlier Carabao Cup games and getting assists, you think to yourself 'I'm going to kick on', but it's been difficult to do that.
But you've got a duty and a job, as an experienced member of the squad and as a teammate, to try and make sure you're helping when you can, giving advice to the younger boys and helping the older boys in the squad, getting them together like a family – and we've done that. The boys have been terrific.
When you did get on in the Premier League this season, though, you played an influential part in the comeback at Tottenham, winning the free-kick before Manuel Lanzini's equaliser!
The boys were giving me some stick about the Spurs player getting to the ball before me on the edge of the box – but it was all planned! We worked on that set-piece – it was always the final plan that Manu would smash it into the top corner!
It was a good game to come on for. It was obviously a London derby, and to get that goal against them was great for Manu and great for the boys because it probably started the run where we showed we had that togetherness, especially with the scenes afterwards. 
It felt like a victory. The boys were all together. If you're not going to win a game, definitely don't lose it – stay in the game, as the manager said, so the lads were terrific.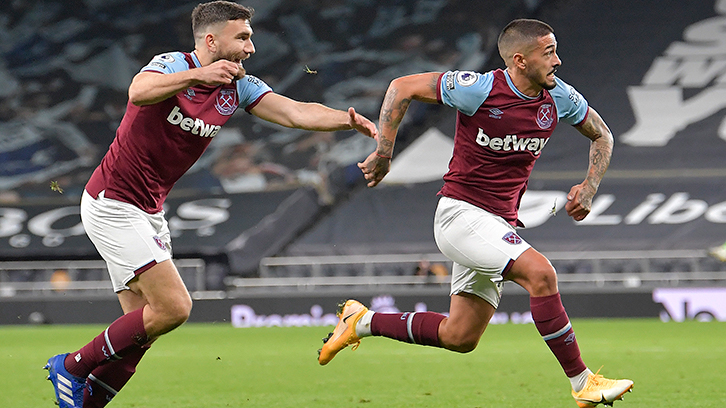 With the players we have in the squad, our players have to play well with the current competition for places…
The lads need to know there's competition for places and the manager's obviously stressed that. The full squad is on it – because you know if you're not, then you'll get left behind. 
With all the gym sessions, the lads might look to the older boys and say if they're doing it and they're still training every day, how is that the case? We need to set that benchmark.
As I've said many times since I was a young lad coming down here, I just want to be a good teammate, and that's no different whether I'm playing or not. 
You just need to try and get your head down. It is frustrating – you want to play, there's no question about it, I always want to contribute, but like I say, it's a different sort of contribution. I'm just delighted for the boys who are getting their chance, because they're taking it. They've been superb. 
You need to take your hat off to them. If we'd have beaten Manchester United – which I believe we should have – we'd have been third in the league. It's been the best start to the season that we've had since I've been here.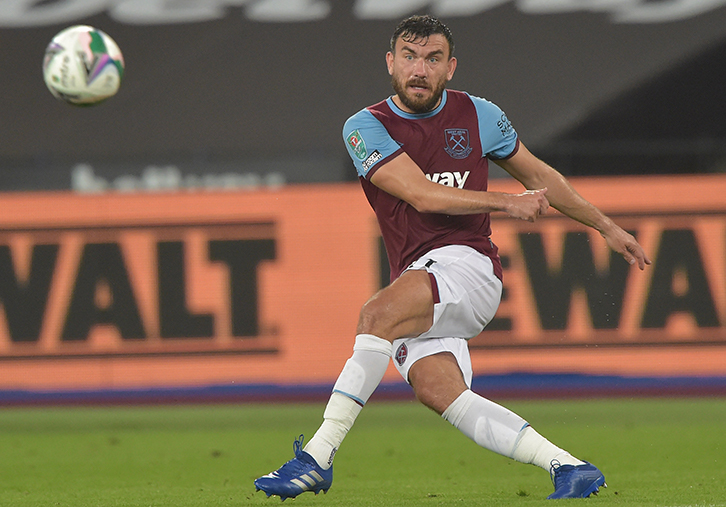 Jarrod Bowen has obviously had a different career to you, but you've both worked your way up into the Premier League from smaller sides, playing in a similar position – do you see a little bit of yourself in him?
First and foremost, Jarrod is a great kid, and he wants to learn. He wants to be better. He gets his head down and he wants to help the team by becoming a better player. He's listening to the staff and his teammates around him, and I believe he can go on to have a fantastic career at West Ham.
He started the season really well and he's scored a few goals, but the biggest thing for me is to try to challenge Jarrod, although I might be centre midfield, I might be right midfield or left midfield – I've played in a lot of positions at West Ham!
It's hard enough as it is for Jarrod to deliver in the Premier League, being a young kid and coming on a big transfer fee, so for me, my job is to try to give him little bits of information.
He's already building relationships with full-backs, strikers, and midfield men running in behind – it's what's got him there – so now it's just little cute things he can add to his game to become a mainstay in the Premier League. 
He's got all the attributes to do so and he's got the right attitude. West Ham have got a terrific player.
This Friday sees the continuation of a busy fixture schedule this season. Would you love to be involved after your injury troubles at the end of last season?
Of course. The lockdown, really, was a difficult one – I pushed harder than maybe I should have, doing a lot of runs.
You've got to be Mystic Meg to know what's going to happen, but I just wanted to come back fit and raring to go. I was flying and, two or three weeks in, all the boys were. The boys were fit, the boys were on it, and that's why we did really well towards the end of the season, so it was very difficult to miss the last part of the season because I felt as if, in my 17 league starts, I'd scored goals and created goals and chances.
To see the lads do so well, but for me to miss the end of the season and not be there to try and help, was difficult, because you're obviously injured but still trying to get better and try and come back fitter.
The lockdown was new to everybody, so the only way you can try and prepare is to get your trainers on and do the runs, so you can come back raring to go. It was all good but then I got a slight back injury which forced me out, which happens. 
I've come back and started again this season. I've been fit, I've been ready and I've trained every day, I've just found it difficult to get that run of games under my belt so far.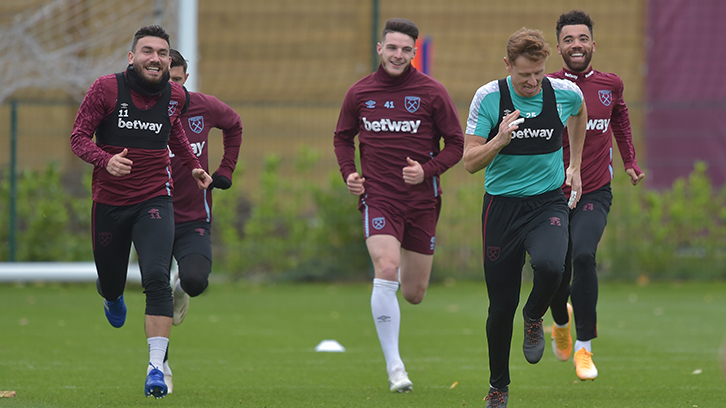 We go to a former club of yours, Leeds United, on Friday. You predicted on your podcast that they'd shock a few people in the Premier League because of the way they play…
It'll be a great game for the neutral because you've got two sides who believe – two sides with confidence. 
Leeds have come up and taken the Premier League by storm, really. They've played against some of the best teams in the league, creating chances all over the place and having no fear. 
Friday will be a tough, tough game, something that the lads haven't experienced where they go man-for-man and try and get all over the place. 
That club obviously means a hell of a lot to me. They gave me a chance when I was a young teenager, 19, and I left there as captain, so the club's got a place in my heart definitely – but come Friday, I want the West Ham lads to get the three points and go further up that table. 
You and the other experienced members of the squad have got such a good connection with everyone around the Club… how important has that been this season?
Everywhere I've been, I've always had that connection – the different staff, the players, the fans, I've always had that connection. 
Like I said, it comes down to being a good teammate, and you build relationships with the staff and the people around every day. 
When you do get that little bit older, you start to see things with a different perspective in terms of when you're not playing, so you need to dedicate yourself to the game even more so in terms of being in the gym, pushing yourself and doing extras on the training ground – we're always out doing shooting. 
We're just trying to lead the way because it's a great benchmark for the younger lads to say 'if the older boys can do it, so can we'.