History
My West Ham Scrapbook - David Cross turns 70!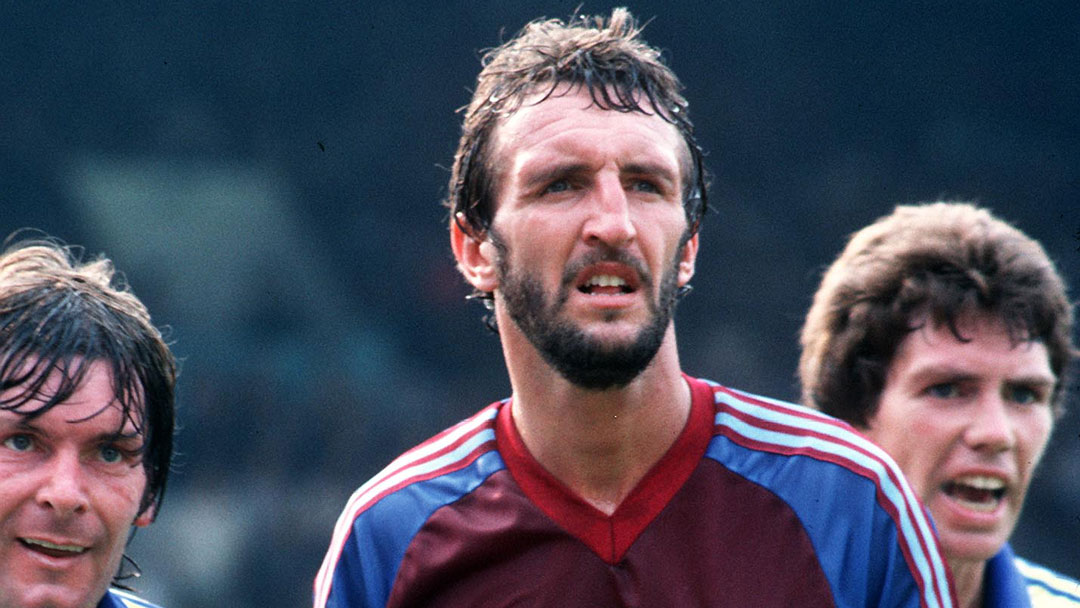 As he celebrates his 70th birthday, West Ham United great David Cross reflects on six standout moments in Claret and Blue.
The centre-forward, who scored 97 goals in 224 appearances for the Hammers, was part of the sides which won the FA Cup in 1980 and the Second Division title in 1981.
A League Cup finalist and the scorer of four goals in a single match on two different occasions, Cross never gave less than 100% for the cause.
HAT-TRICK HOPE
Today marks my 70th birthday and, coincidentally, I joined West Ham United from West Bromwich Albion, exactly 43 years ago, too. Aged 27, I'd signed for a team that had only won two matches going into December 1977. The strikers were struggling. Derek Hales had only got three goals, while John Radford hadn't scored for a year. We were already looking relegated and, although I'd arrived to take Raddy's place, he was really great. 'The writing's been on the wall for me,' he admitted. 'But work hard and score goals and the fans will cut you some slack despite the results.'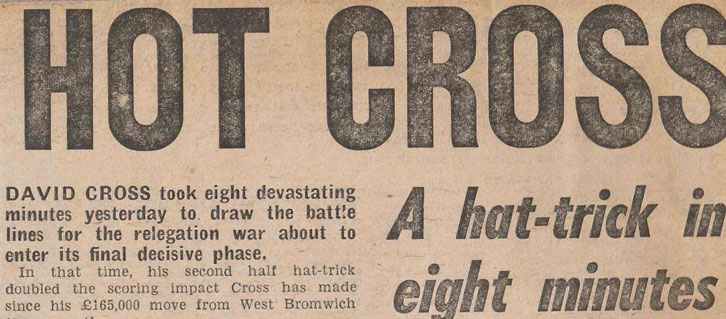 By Easter 1978, I'd only netted three times but I doubled that tally inside eight mad minutes on Good Friday morning against IPSWICH TOWN. I hadn't been sure what the supporters were expecting of me because I wasn't an elegant player but I got two headers on 50 & 54 minutes and then fired home for my hat-trick, shortly afterwards. That showed the fans that I was a goal-scorer, who had given their team a slim chance of staying up and, by beating Chelsea the next day, too, I think we convinced them not to give up on us. 
BORO BARNSTORMER
We travelled to Middlesbrough on a Tuesday night, four days before the end of the 1977/78 season. Ayresome Park was always a difficult ground and we were under immense pressure - defeat meant we'd be relegated. Craig Johnston had put Boro' ahead but just before half-time, I got the equaliser. And with ten minutes remaining I scored the winner, when I headed home a Trevor Brooking corner. By now, I'd got nine goals and, with six victories in eight games, we'd given ourselves a chance of surviving if we could beat European Cup holders Liverpool at Upton Park at the weekend.

When people ask me nowadays what I did for a living, I say 'goal-scorer' rather than 'footballer.' Scoring goals was important and being brave and getting onto the end of things was my job. Sadly, we lost to Liverpool in front of a sell-out crowd, while Wolves went on to stay up and, although it didn't work out for us in my first season as a Hammer, I think those nine goals in 21 games for a relegated team gave me some credibility with the supporters. 
STINGING THE HORNETS
By the end of February 1981, we'd only lost four league games and, although we looked on course for promotion, we were very conscious that we needed to keep going. Travelling to Watford, we were approaching the sharp end of the season. The pressure was on. We were top of table but knew that defeats would allow the chasing pack to close the gap and John Lyall was always drilling it into us that we needed to go on long runs of not losing.
One of my best friends - Bobby Downes – had just left Vicarage Road but I'd remembered him telling my how hard the late Graham Taylor, worked Watford. Graham was different class as a manager and introduced many different training methods, including day and night sessions. His players were fit and strong and it was a tough, goalless first half. As the hour mark approached, though, I put us ahead from Trevor Brooking's cut-back and, a few minutes later, raced clear and chipped a 20-yarder over Steve Sherwood for my 27th goal of the season. Watford pulled one back but we held on to win 2-1. I sat on that coach afterwards thinking: 'We might be going up after all!'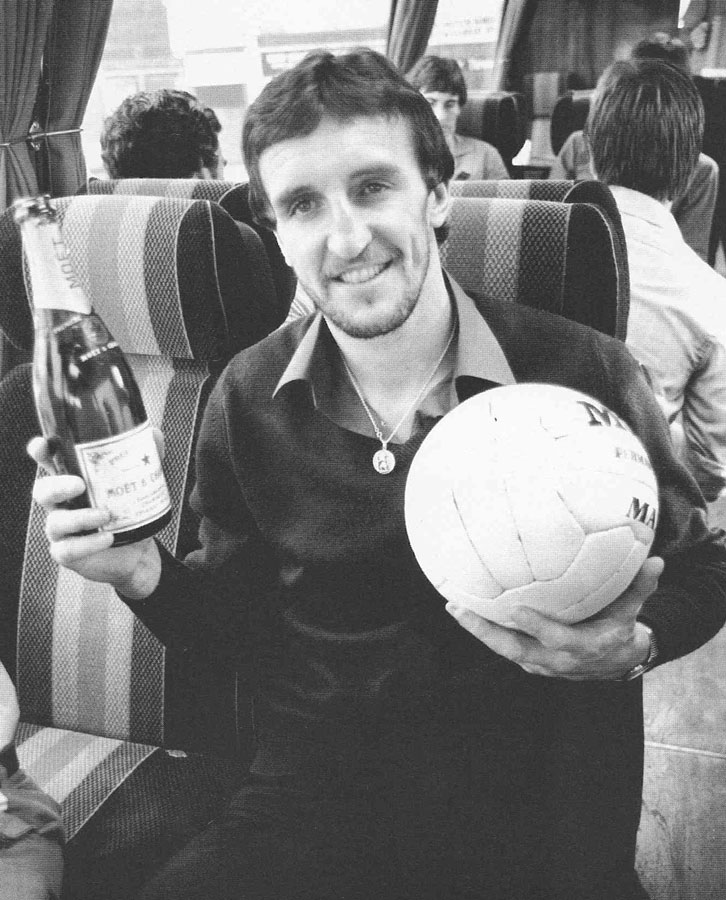 GRIMSBY GOALFEST
Having won promotion back to the top-flight against Bristol Rovers the previous Saturday, we travelled to Grimsby Town the following weekend knowing victory would secure the 1980/81 Second Division Championship. Blundell Park's never an easy place to go to and Grimsby still had chances of promotion if they could beat us.
We were FA Cup holders, guaranteed promotion and - with us needing that victory for the title - there wasn't too much pressure on the home side. It was still only mid-April, the pitch was appalling and, as a footballing team, we had to roll our sleeves up in the mud and rain. After half-an-hour, Phil Parkes sent a long-kick skidding upfield. I gambled that the ball would reach me and took a touch before volleying it home. I headed my second just after the break and, although they got a penalty, Geoff Pike put us back in front before I got another two, late goals to make it 5-1. That was the first time I'd ever scored four goals. Afterwards, Parkesy was moaning that goalkeepers never get a match-ball so I promised him my next one. He wouldn't have to wait long…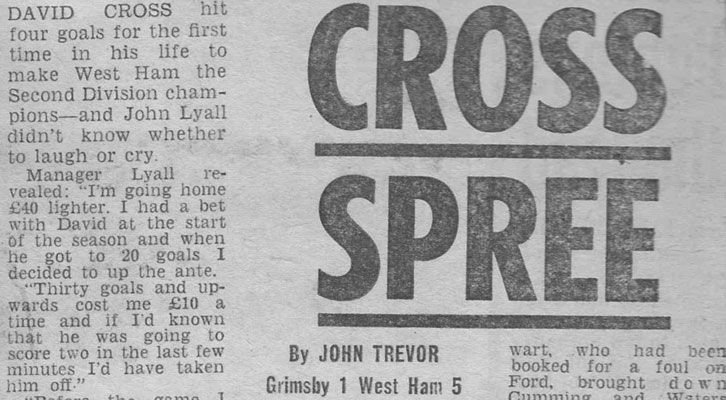 WHITE HART GAIN 
Following promotion, we'd only drawn with Brighton & Hove Albion on the opening day of the 1981/82 season and, facing tricky away games at Tottenham Hotspur and Sunderland, we needed to gain momentum and build a platform for the season. I knew how important it was for the West Ham fans to beat Spurs but to win 4-0 at White Hart Lane and score all four goals was just a dream come true. I was a goal-scorer, who played in a team with so many players who loved creating goals – with the likes of Trevor Brooking, Alan Devonshire and Pat Holland, West Ham United was the perfect club for me.
I'd started out at Rochdale on the right-wing and when I was asked to play centre-forward, I turned to my mate Bobby Downes for advice. 'Wherever you are, make sure that whoever's got the ball can find you,' he said. 'When you get it, retain possession, lay it off and quickly get into the penalty box to try and score.' That's all I did for the next 20 years! It was hard work against Spurs but just seven games on from my four-goals at Grimsby, Parkesy got his signed match-ball. I just hope that he hasn't sold it on eBay!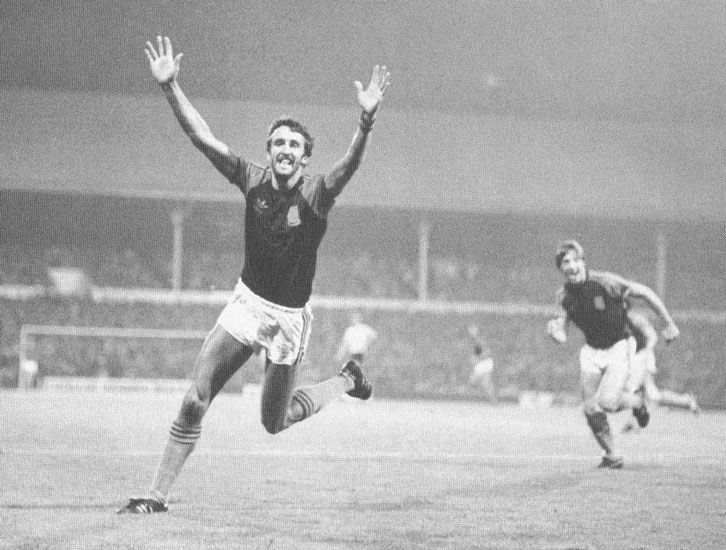 BAGGIES BATTLE
Trevor Brooking and Alan Devonshire may have been the most skilful footballers but my favourite player was Billy Bonds. With Billy, what you saw was what you got – Mister West Ham United. Fittingly, out of the 97 goals that I scored for the club, it was Billy who created the one that I enjoyed the most, just a few months before I moved back to the north-west to join Manchester City. My old club West Bromwich Albion were at the Boleyn Ground in January 1982 and, typically, Billy was rampaging down the right-wing in a really physical game. I made it 2-0 after Billy had sent over a great cross.
And after Albion pulled one back, Billy charged down the right, once again, before lifting in another perfect centre. I never saw danger, wasn't worried about getting hurt and always wanted to get goals at all costs. Out-jumping their 'keeper, Mark Grew, my header gave us a 3-1 victory. Had we been playing today it would've been a foul but back then you could smash and cement goalkeepers. Despite taking him out, I'm sure that Mark would still agree that I got to the ball first. That goal epitomised my game.