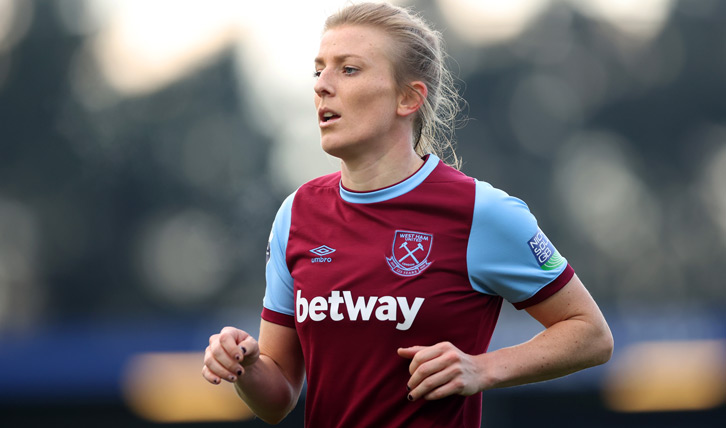 Kate Longhurst believes West Ham United can take a lot of positives from their efforts in defeat to Chelsea on Sunday, but says the challenge now is to turn the performance into points.
The Irons were unfortunate to leave Kingsmeadow without at least a share of the points up for grabs on Sunday. Sam Kerr's hat-trick eventually secured a 3-2 win for the Blues in an entertaining contest. 
Despite being on the losing end, Longhurst and her teammates put in more than their fair share of what was a thrilling fixture, and the midfielder believes the team's efforts speaks volumes about what West Ham is capable of.
Sometimes I think the performance speaks louder than the points you get, so long as you then back that up by getting points in the next game.

Kate Longhurst
"We stuck to our game-plan that Billy and the staff put together," Longhurst explained to whufc.com. "It was a game plan that we thought would help us get something from this game, and I think every player contributed to that, whether they were playing or not. And it's just unfortunate that we couldn't quite get another goal. We really felt that we were in the game. 
"Sometimes I think the performance speaks louder than the points you get, so long as you then back that up by getting points in the next game."
The Hammers created a number of opportunities against Chelsea, scoring twice thanks to Rachel Daly's fourth goal in Claret and Blue and Emily van Egmond pressuring Magdalena Eriksson into putting the ball into her own net.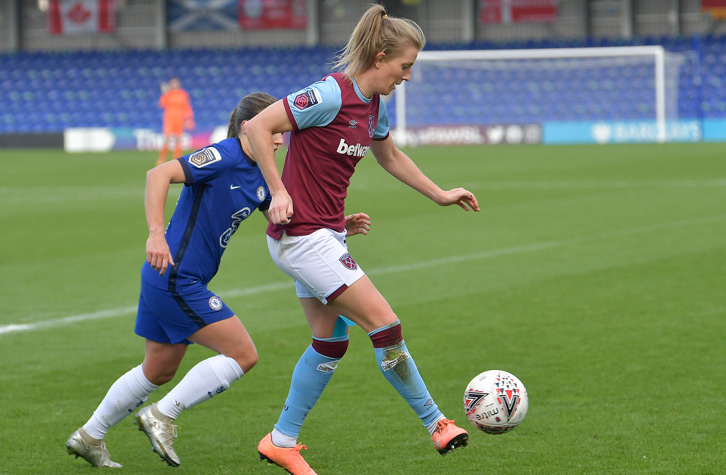 Longhurst believes a couple of small margins made the difference but the side can take heart from the chances they crafted.
She continued: "We did have some chances in the first half. I know Rach was disappointed to not put away that chance she had, but I also think their 'keeper did really well to narrow the angle. 
"They definitely thought we were a threat and it was important for us to capitalise on that in the second half. Once we got the first goal, we had the confidence to keep going and look for more. 
"Unfortunately, all three of their goals were quite similar, so maybe that's something we need to go away and look at. But there were definitely a lot of positives to take."
Having done the hard work, stuck to the game plan and fought valiantly in defeat, Longhurst says the Irons now need to make sure those efforts are not in vain in the final two matches of 2020.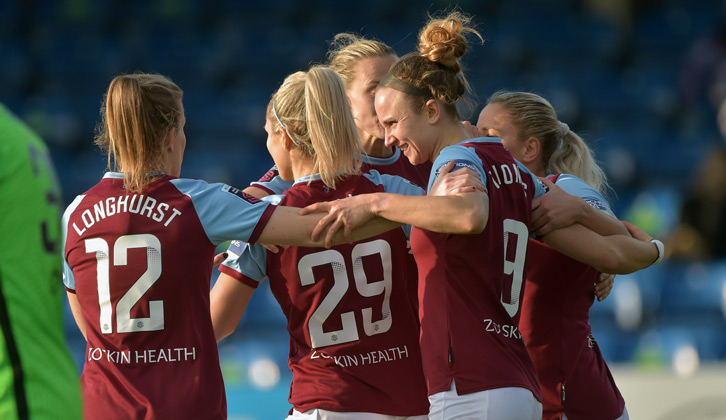 The Hammers take on Bristol City and Aston Villa over the next two weeks and the midfielder knows the side has the quality to end the year with six points. They just have to show it.
"We've worked really hard and we can compete with teams like Chelsea," she added. "What we need to make sure we do now is get points, particularly from the teams around us. We have to make sure we go into the next game with the same attitude, the same performance. If we do, I have no doubt we will get three points. 
"The next two games are very winnable but, at the same time, I would think Bristol City and Aston Villa are looking at us and thinking we're beatable. We haven't been picking up points either. 
"When you look at the quality of our team, we should be winning these games – and I say that with no disrespect to either Bristol City or Aston Villa – but we have to earn the right to win them. We have to make sure our application is right, that we work hard for each other, and we stick to our game plan."