Football simply hasn't been the same without you.
That's the message West Ham United striker Sebastien Haller was keen to convey, as his team prepare to play their first Premier League match in front of the London Stadium supporters in some 280 days.
That occasion was a particularly joyous one for Haller and the Hammers, a 3-1 win over Southampton in front of some 59,962 supporters present, during which the Frenchman scored the Irons' second goal.
In the first Premier League game with supporters present in nine months, only a small proportion of that figure – two thousand – will be in situ to witness West Ham take on Manchester United on Saturday evening.
But they will be there, urging their side on and making an impact – and as Haller knows well, they will do so in good voice.
"I'm really looking forward to getting the fans back because, as everyone knows, it's a chance to play in front of them and they can push us on," Haller said. "I think we'll notice the difference for sure.
"Even if it's only 2,000, it just feels great to have some supporters at home, there for our support.
"It's also enjoyable for players because I think we have found a good routine in training. We've fought together to get some points so I think for the fans and for us, it's really nice.
"It's just the feeling when you score a goal, just the atmosphere, I miss. You hear the noise and know that everyone is ready to help you with the game. 
"When you score a goal and everyone's going crazy, and you can celebrate with them, that is what I miss. The fans push us on in every situation and that means a lot to us.
"I just hope that we keep going in this direction – that everything is right and everyone follows the instructions from the government. It's the only thing we can hope: to get the fans back and to keep them there."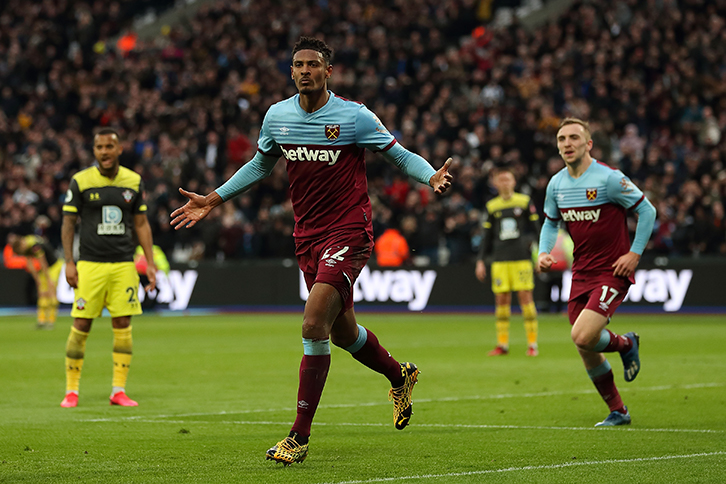 West Ham have come a long way since that Southampton match in February, starting Saturday ahead of opponents Manchester United in the early Premier League table.
Three wins on the bounce have seen the Irons garner burgeoning confidence and climb up to fifth position, while their increasing resilience has led to just one defeat in their last eight games.
As West Ham continue to impress with their displays, while remaining grounded, a determined optimism pervades Haller's outlook – optimism he is looking forward to sharing with supporters in person.
"Of course, as players, we want to share it with them," he explained. "We are happy to be in this position for them.
"We want to share this feeling, the joy of being in this position and getting points, because of course last season was frustrating."
One supporter who will be present on Saturday evening was Any Old Irons member and Season Ticket Holder, Maureen Hankin, who told Premier League Today: "I am super, super excited. 
"The feelings are unexplainable. To be part of a football community is like having an extra family with 62,000 members in it. It's just amazing."
It is that kind of footballing connection, united in the colours of Claret and Blue, which Haller believes is making the difference during his second season in east London.
He explained: "I've found at my other clubs that, after one year, everyone's started to know each other better and it's easier to move when you know what your partner will do. 
"This season, you can see that solidarity makes the difference. We have a good shape, we work for each other and we all know our teammates.
"Everyone's feeling better, we have much more confidence and we don't forget that, if we are in this position, it is because we are working together.
"We have been together almost two years now, so of course we have created links and it's making the difference, I believe."
Come kick-off on Saturday, every West Ham United supporter - inside, outside and following worldwide - will believe, as well.