Academy
Kevin Keen: The U18s showed character, grit and determination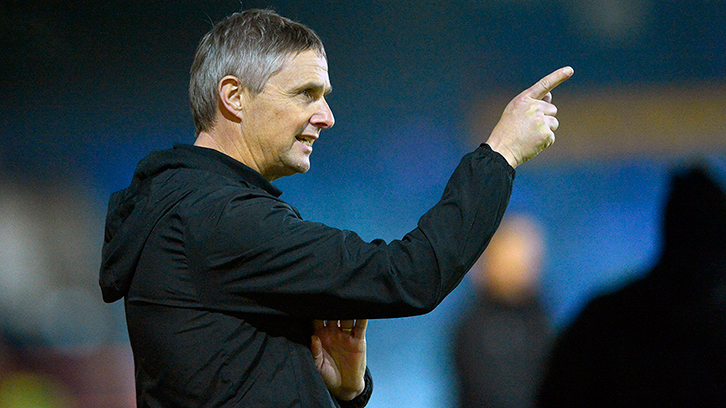 If there's one thing you can count on an FA Youth Cup match to produce, it is drama.
On Thursday evening, West Ham United U18s travelled to Kenilworth Road and overcame a multitude of setbacks to defeat Luton Town U18s 4-2 on penalty kicks, having drawn with the Hatters 3-3 after extra-time in a rollercoaster contest.
After racing into a two-goal lead early on through Kamarai Swyer's glancing header and Jayden Fevrier's superb free-kick, it looked like the young Hammers were on course to attain relatively straightforward progression in Bedfordshire.
But the FA Youth Cup never fails to be unpredictable, and after a scruffy goal from Tyrelle Newton clawed one back for the Hatters soon after, a thunderbolt of a strike from distance from Ben Stevens meant the two teams were level at 2-2 going into half-time.
If the Hammers felt chastened to have lost their lead, they did not show it, dominating proceedings in the second half only to be frequently denied by a Luton goalkeeper, Jameson Horlick, in inspired form.
Onwards the two teams went into extra-time, and after a rising Fevrier finish put the Irons ahead two minutes after the restart, another opportunistic goal from Hatters' midfielder Stevens proved enough to take the game to penalties.
 
If there's one thing this group's got, it's a little bit of character... they showed good grit and determination

Kevin Keen

Having fallen at this stage of the competition on spot-kicks in three of the past four seasons, Thursday marked a reversal of West Ham U18s' FA Youth Cup fortunes, as goalkeeper Krisztian Hegyi saved two efforts to put his team into the hat for round four.
"I thought we started the game fantastically well with the two goals," U18s lead coach Kevin Keen reflected. "We were doing really well. Being fair to Luton, I thought they had a right go, nicked one, and then they scored a really good goal to make it 2-2. 
"I felt we then dominated the second half and played some really good stuff, but we just couldn't finish off our chances. We managed to get it to 3-2 in extra-time but then they came back again to 3-3. 
"I said to the players afterwards that I was proud of the way they took their penalties, especially when we've struggled to get through on penalties over a number of years. I know this is a different group of players, but I thought the penalties they took were fantastic and obviously Krisztian came up trumps with a couple of saves."
An absorbing match demanded a lot of the character of Keen's young players, but the lead coach was pleased to see them demonstrate that they had the requisite resolve to bounce back from losing two leads and ultimately triumph.
"If there's one thing this group's got, it's a little bit of character," he smiled. "There are a few cheeky ones in there, there are a few that are very stubborn. They all showed good grit and determination. 
"Kenilworth Road is a fantastic place to come and play. You're 2-0 up and it goes to 2-2, you're 3-2 up and it goes to 3-3… so I think it showed a lot of determination to go on and win on penalties."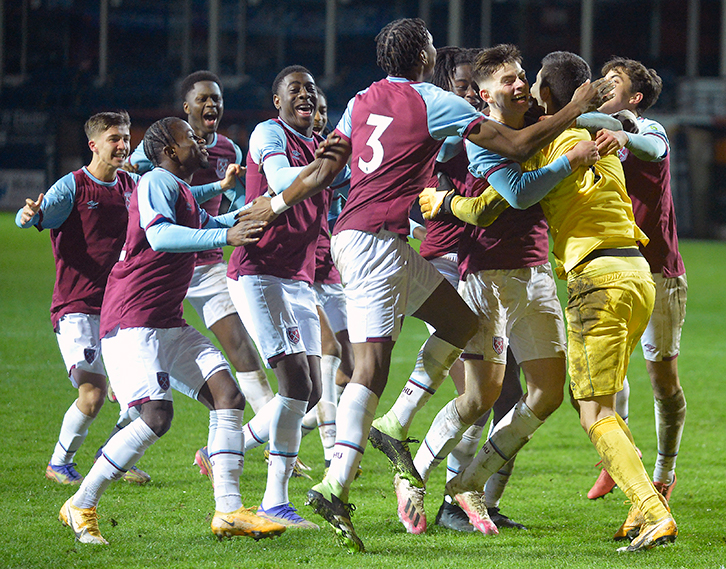 With fourth-round ties set to take place in the opening fortnight of 2021, Keen and the U18s can now turn their attentions to finishing this calendar year strongly in U18 Premier League South.
Having enjoyed positive form in the league in recent weeks, and now progression from the third round, Keen believes that - with some improvements - the FA Youth Cup could go on to provide the perfect platform for the U18s to showcase their undoubted ability.
"We played some fantastic football tonight," he stated. "Our finishing could have been better – although Jayden's two goals were fantastic.
"Having said that, if we don't improve with our defending and sloppiness at times, it's going to be difficult for us.  The lads have got to understand that if we can improve on those defensive frailties, we've got a great opportunity in this competition because what we've got here is pretty good.
"You could see in their celebrations at the end the players were very, very happy. The result extends our season brilliantly. We'll have a good Christmas, and then we can worry about the fourth-round game in the new year."
Keen also took the opportunity to praise Luton Town and their U18s for both their gracious hosting – with kick-off having been put back due to traffic delaying West Ham's arrival – and their spirited display on the pitch.
"I've got to give big credit to Luton for allowing the kick-off to be put back," he said. "I felt their team did them proud, being a Category Three academy up against a Category One.
"I thought both the way they hosted the game, and the way their players put themselves about, were fantastic, and they made it a real challenge for us tonight."