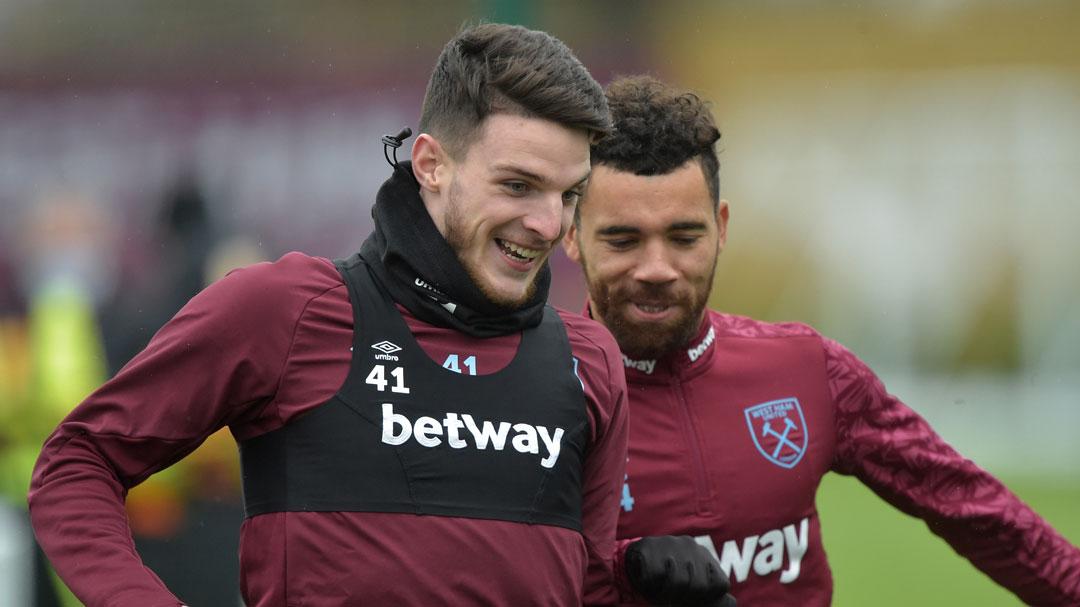 Declan Rice is hoping West Ham United can put on another winning show for the 2,000 fans who return to London Stadium for Saturday's Premier League fixture with Manchester United.
The teatime kick-off will not only present the Hammers with a chance to close the gap on leaders Tottenham Hotspur to a single point, but it will also mark the return of supporters to top-flight football after a nine-month absence caused by the COVID-19 pandemic.
The Irons go into the game seeking a fourth straight Premier League victory and a third home win in a row over the Red Devils, following 3-1 and 2-0 successes in each of the last two seasons.
Rice is looking forward to the match but knows he and his teammates will need to improve their level of performance from Monday's 2-1 win over Aston Villa if they are to defeat Ole Gunnar Solskjær's side.
"I think it's a been a really long time coming," the 21-year-old told Sky Sports. "We've wanted the fans back for so long now, especially in a stadium like this, where we have had some special nights.
"We wish it was a full stadium, obviously with us playing against Manchester United, but that's obviously not meant to be, so 2,000 is great.
"We know it's going to be a massive game. We know we've had some great results against them here in recent times, but we know we need to go out there and perform much better than we did on Monday night if we want to get another result."
Jo Roberts who is involved with the community project, Any Old Irons says it was set up to alleviate loneliness.

She explains why it is so important for the older West Ham fans and how the project is keeping in touch with everyone during the pandemic.#1MillionMinutes pic.twitter.com/4OoOnybs7K

— Good Morning Britain (@GMB) December 3, 2020
Ahead of the game, Rice was at Rush Green early on Thursday morning to support Good Morning Britain's 1 Million Minutes campaign to battle isolation and keep the nation connected.
Amid lockdown and isolation, 2020 has been a year of missed moments with family, friends and colleagues, and as COVID-19 continues, the campaign is asking people to pledge time to stop loneliness becoming the next pandemic.
The midfielder appeared alongside Any Old Irons member Jo Roberts, who has played an important role in the growth and success of the supporters' group for fans aged 65 and over. He explained to presenter and West Ham fan Ben Shephard why it is vital to check on vulnerable members of society.
"I think it's massive," he said. "West Ham is one massive family club and to be able to give back to people like Jo and the Any Old Irons group, especially this year when we didn't know what was going to happen and it's been really tough, is really good on our behalf and we love doing it."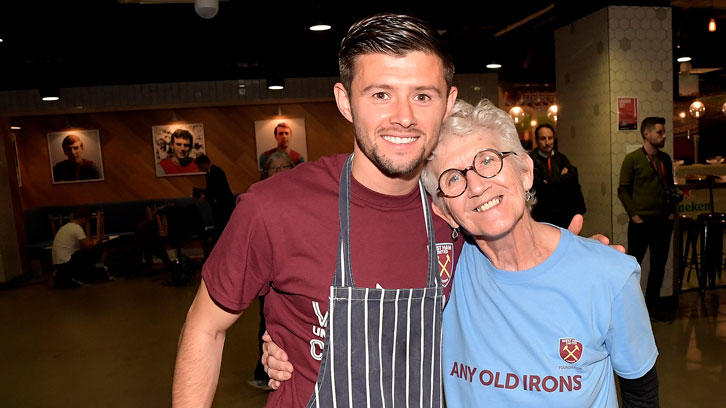 "Any Old Irons was set up to alleviate loneliness among the elderly West Ham fans," Roberts, 81, explained. "I live alone, as a lot of us do, and as you get older you find you have a lot of time and you run out of things to do.
"What we were trying to do was to bring people out of their homes for a purpose, we all had this common bond with West Ham, so we all got together for a five-week programme and everybody loved it.
"We've got 115 active members now and we all have a really good time but COVID has made loneliness come back big time, so what we're trying to do now is keep in touch with all the Any Old Irons via email, a newsletter and by phone, and the players make calls as well so everybody feels included and not quite so lonely."
For more information about the 1 Million Minutes campaign, visit itv.com/goodmorningbritain/articles/1-million-minutes-2020
For more information about Any OId Irons, contact Maria Abraham at [email protected]