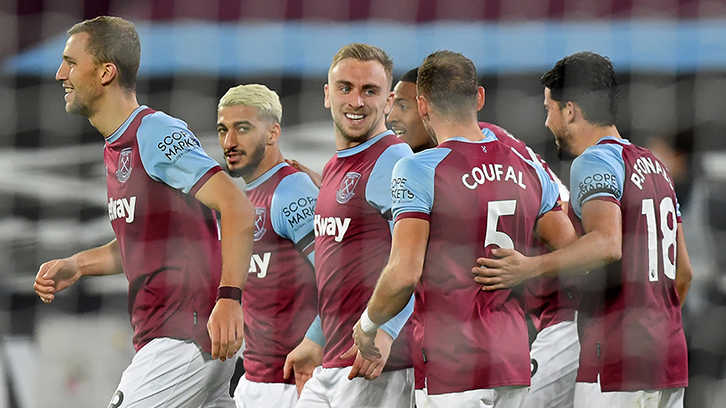 It is well documented that you should only judge the Premier League table after ten games have been played.  
West Ham United's tenth of 2020/21 – a 2-1 win over Aston Villa on Monday evening – means the current standings make for great reading for everybody of a Claret and Blue persuasion.
The Hammers' fifth victory of the campaign boosted them up to fifth place and, while it is important to stress that still only a quarter of the season has been played, it is a great achievement given that six of those games fell against sides from last season's top eight.
Indeed, when the Premier League fixtures were unveiled on 20 August, no other side even came close to the average position of West Ham's first six opponents – 6..83, with Arsenal next up in 8.83 – but still, they have picked up points and deservedly earned plaudits.
"It's a great start and I hope we can keep that up," manager David Moyes told West Ham TV shortly after the final whistle on Monday. 
"It's something which we can't promise the supporters, and I said at the start of the season, let's stop promising the supporters what we can do. Let's go about it and over-achieve if we can.
"I think the players have over-achieved in the early part of the season in terms of their performances, which have been really good."
While cautious optimism is now key to how West Ham United are looking forward, here are five aspects to their start to the season which have given us plenty of cause to celebrate.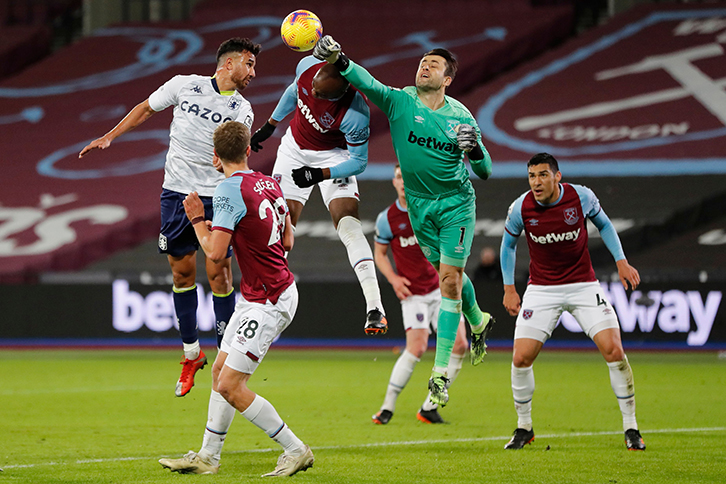 Improving at the back
The foundation of any successful team tends to be one that is difficult to score against – and is subsequently hard to beat.
Only two sides have conceded fewer Premier League goals so far this campaign than West Ham (eleven): Tottenham (nine) and Chelsea (ten).
According to respected analytics website WhoScored.com, despite having only 42.5 per cent possession of the ball, the Irons have conceded only 10.9 shots on average per game – a record bettered by only six other top-flight clubs – while the Hammers have also produced a solid 14.2 tackles and 10.7 interceptions each match on average.
With four clean sheets from that opening spell – including back-to-back shutouts against Fulham and Sheffield United – endeavour and resoluteness have been staple qualities of the Hammers' performances so far, a key characteristic which Moyes will be hoping his side can retain over the testing festive period.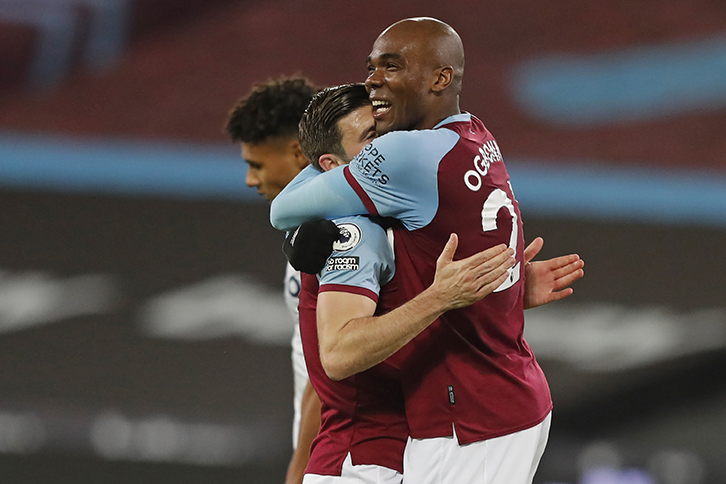 Sharing the goals around
While Michail Antonio has written plenty of headlines – as scoring 11 goals in 14 games tends to do – the Hammers have not been overly reliant on any sole individual this season.
Despite the No30 being sidelined for three matches prior to the Aston Villa game - in which he returned for 45 minutes - West Ham have shown plenty of pragmatism in how they have picked up that slack.
No fewer than eight different individuals have found themselves on the scoresheet for the Irons during the opening ten games of the campaign – or ten, if you're including own-goal scorers!
Indeed, Jarrod Bowen's winning goal against Villa meant that, remarkably, West Ham's last nine Premier League goals have all come from different sources, a run of goals dating all the way back to the third in October's 3-0 win over Leicester.
The goals themselves have also seen plenty of variation, with 65 per cent stemming from open play and 24 per cent from set pieces; the only thing missing now, as Moyes shrewdly pointed out, has been a penalty!
"I have to say I'll take the goals wherever they come," Moyes told reporters prior to the Aston Villa game.
The aspect to celebrate is, of course, that so far, they show no signs of slowing.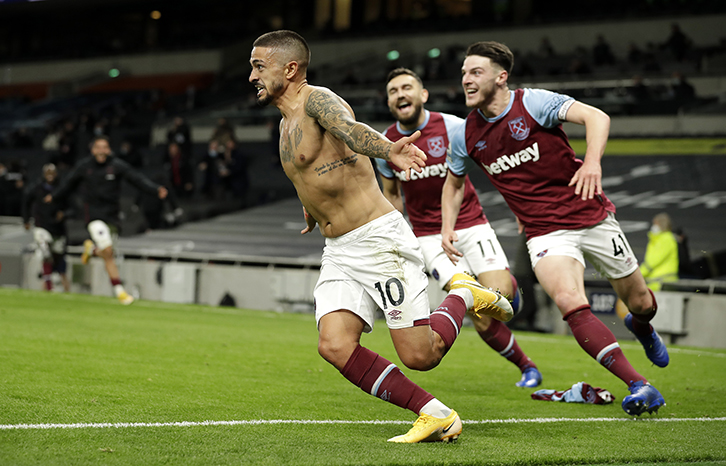 Making the crucial moments count
Perhaps the only thing that can get supporters even remotely as excited as a late goal is an early, nerve-settling one; thankfully, West Ham fans have had plenty of both to celebrate this season.
Angelo Ogbonna's header against Aston Villa after 1 minute and 50 seconds was the Club's fastest Premier League goal since November 2016, when Diafra Sakho scored after 1 minute and 30 seconds against Manchester United.
Jarrod Bowen's rapid start to the second half in flicking home Said Benrahma's cross, meanwhile, meant that West Ham became the first side to score in the opening two minutes of the first and second half in an individual Premier League match since Manchester City in September 2018.
Allied with the likes of Tomas Soucek's late winner against Fulham earlier this month and Manuel Lanzini's last-gasp spectacular at Tottenham Hotspur, and no-one can dispute that West Ham are currently making the crucial moments count.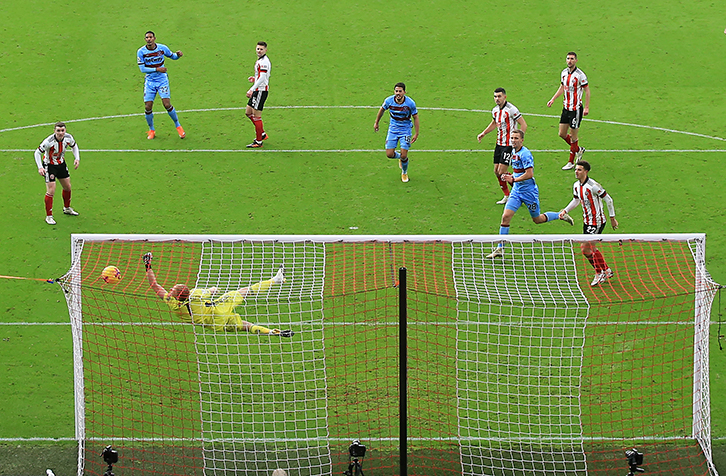 The side's strength in depth
As the side have performed so consistently, Moyes has done similarly with his team selections; only Aston Villa have made fewer changes to their starting XI (four) than West Ham (five) in the Premier League this season.
But West Ham United's manager and players have more than demonstrated their ability to change the course of a match by making an impact from the bench this season, with Benrahma's assist for Bowen being his second as a substitute in two matches. And who could forget, of course, that Lanzini wondergoal in North London?
Another recent salient example saw Sebastien Haller smash home the winning goal at Sheffield United midway through the second half, proving that there is plenty of competition for places in the squad.
No fewer than 28 different players have turned out in Claret and Blue this season and, blessed with high quality distributed all throughout the squad, West Ham's strength in depth should serve them well for the remaining rigours of the campaign ahead.
 
The return of fans to London Stadium
The greatest reason thing to celebrate in 2020/21 thus far will be the return of the Claret and Blue Army to London Stadium.
Ask any player, manager, coach, journalist – anybody who works in the game: football, simply put, has not been the same without you.
Following the Government's placing of London in Tier 2 of COVID-19 restrictions from Wednesday 2 December, 2,000 spectators will be able to attend in person as the Hammers face Manchester United on Saturday 5 December at 5.30pm.
They will return to witness a side making their best start to a season in five years, having suffered just one defeat in their last eight Premier League games – and they will return to a team with the second-best home record in the division.
"I'm really looking forward to seeing supporters come back and seeing a hungry, positive, energetic team who have been picking up some good results," Moyes recently 
"We still need to keep doing a bit more, but we're working hard to get better."