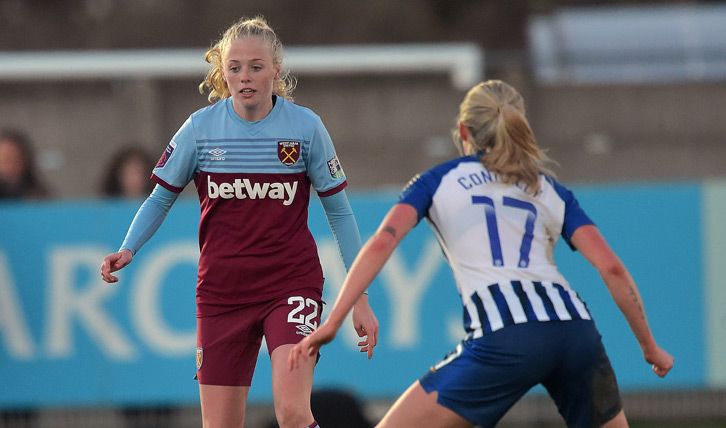 It would be more than fair to say 2020 has been an eventful year so far for every single person on the planet, but for Grace Fisk, it has perhaps been even more action-packed.
Since signing for West Ham United at the turn of the year, becoming a professional footballer for the first time in the process, Fisk has been a regular in Matt Beard's FA Women's Super League side and was named in the England Lionesses squad for the She Believes Cup in March, marking her first senior squad call-up. 
The ongoing global coronavirus (COVID-19) pandemic curtailed the centre-back's immediate hopes of progression, but Fisk knows there are more important things happening around the world right now. 
"I talked to my mum about it the other day," Fisk told whufc.com. "I was saying to her how I've only been at West Ham for a couple of months before everything happened, but it feels so much longer than that. 
"Sometimes I forget that I'm still a new player and I've only been around for a couple of months. Everyone has made me feel very, very welcome and it feels like I've been at West Ham for so much longer. But in the time I've been with the Club, we've played six or seven matches, and that's it. 
"When I joined, no one would have envisioned what is happening right now would happen. Everyone is in the same boat though and, as footballers, we know how lucky we are. Plenty of people are in worse situations than we are."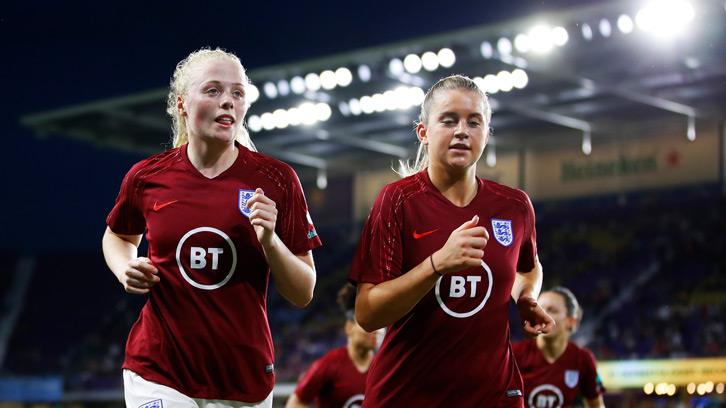 Fisk is spending the government enforced lockdown with her parents, brother and sister, and two pet dogs in the family home in Bromley. A full house means that there is plenty of excitement and activities for the Fisk family to enjoy together. 
The centre-back knows how fortunate she is to be able to spend this time with her loved ones and is not taking a second of it for granted. 
She continued: "I'm back home with my family. My sister had only just moved to Liverpool, but she's come back. My brother still lives at home too, so we've got a full house. It's a busy house with us, mum and dad, and two dogs. 
"My mum is working from home Monday to Friday, and she has her own office in the house to work in. My dad is working during the week too, and then my sister and brother are off at the moment. At the beginning, the three of us were doing chores around the house and those sorts of bits and bobs, and I'm sure our parents would tell us that there's still plenty to do! 
"It was my Mum's birthday on Tuesday but the weather was rubbish, so we didn't even go out for our daily exercise. We woke up and gave her the birthday presents, and then we had a lazy day really. I think mum enjoyed it though because sometimes it's nice to do nothing. She had the day off work too, so it was a chilled birthday for her. 
"I'm just really lucky that I have my family nearby and I was able to come home for this, with a packed house full of people. We're all just ticking over, but we're all doing fine."
Much like thousands of professional footballers across the globe, Fisk is working as hard as possible to stay fit and as close to match-fit as possible. 
Playing helps you build bonds with your teammates and settle in, but I definitely wasn't expecting to play as much as I have.

Grace Fisk
The centre-half is training six days a week to stay as physically close to her peak and says the West Ham United women's squad are helping to keep each other motivated and in positive spirits with photo proof of each of their work-outs.
"Colm Smith, our strength and conditioning coach, puts our work-outs into an app for us, which makes it easy for us to see and access them. He can put sessions up and I've been in a lot of contact with him about tailoring my programme to whatever I need to do that week. 
"I work out from Monday until Saturdays and then I tend to take Sundays off. I run four or five times a week and try to do a different session every day. My dad and brother do exercise as well so they had some exercise equipment at home already – weights and kettle bells – so I'm able to do gym work at home as well. It gives me something to work towards and achieve each day.
"Something we've been doing is after our work-outs, all the girls have been putting pictures of themselves in the group chat. It's not to show that we've done it – because we all trust each other – but more to help keep each other motivated and in the loop. It helps to put smiles on each other faces. We try to keep in touch as much as possible."
Since signing for the Irons at the start of January, after finishing her education in the United States of America, Fisk has featured in all six of West Ham's competitive matches; a role the 22-year-old admits she did not anticipate taking so quickly. 
The faith placed in the young defender by manager Beard is evident, and Fisk is delighted to have had the opportunity to represent the Claret and Blue so regularly since her transfer.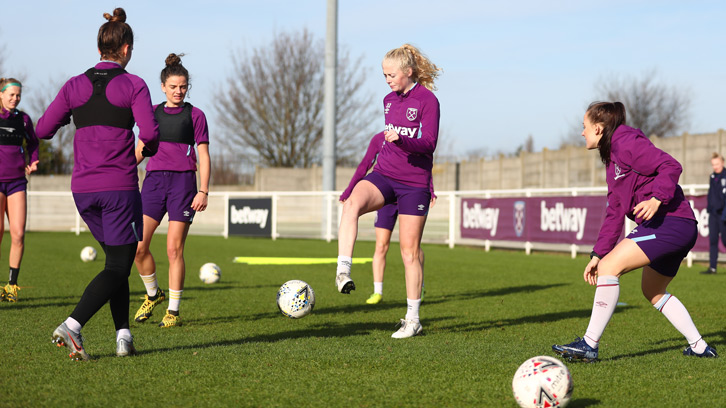 Fisk recalled: "I told myself that I was going to come into West Ham and work as hard as possible but, because I was coming in midway through the season, I shouldn't be too down if I didn't play. 
"The team had been working together for six months already and built those connections, so I didn't want to be disappointed if I didn't get into the team straight away. That wasn't the case though. Matt put me in the team straight away, which was a great show of faith, and I have got to play all the games so far. 
"Playing helps you build bonds with your teammates and settle in, but I definitely wasn't expecting to play as much as I have. It's been great for me in terms of getting used to the Women's Super League and my confidence."
As the united global population continues to battle against coronavirus, Fisk offered a special tribute to the heroic efforts by key workers and NHS doctors and nurses throughout the pandemic. 
She added: "We've all used the NHS at some point in our lives. Everyone has utilised the services the NHS offers and, as a country, we are very lucky to have the NHS. We know that if we ever need taking care of, we can use the NHS, and there's no strings attached to that. 
"So many people – so many doctors, nurses and key workers – are risking their lives to be there for us and everyone that needs their help. It's amazing to see the whole country rally behind the NHS and show them the appreciation they deserve. They really do deserve all the credit and applause they are getting, and much more, because they are putting their own lives on the line for us."