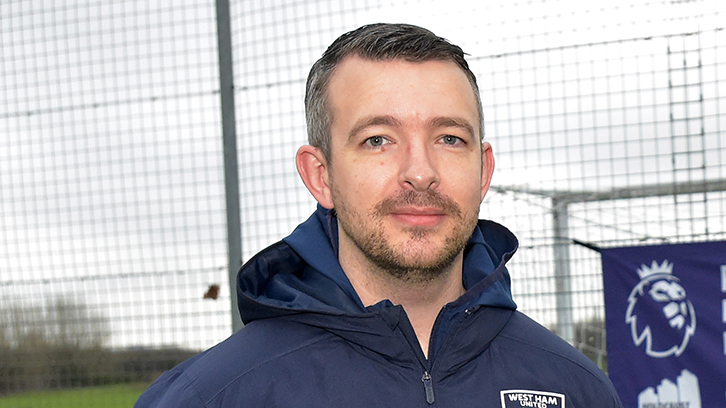 West Ham United's Assistant Academy Manager, Jeremy Sauer, believes the Academy of Football's response to the coronavirus (COVID-19) outbreak is allowing it to comprehensively support its young charges.
As recent challenges continue to prove vast and varied, Sauer and the wider Academy management team have been working hard to ensure every developing player at the Club is supported mentally, physically and motivationally.
Dealing with a wide range of ages and backgrounds, Sauer detailed how initiatives at the Academy have required them to be flexible, fluid – but above all, compassionate.
"With all the staff, players and parents, we're checking in on a regular basis," Sauer told whufc.com. "We're trying to, as an Academy management team, communicate with all the staff between us so we're staying in regular contact. 
"With the players and parents, we're given a fair bit of guidance from a mental health point of view around how they can ensure they can maximise what they're doing at home.
"Whether it's around education, stimulation or health and fitness, we know as an Academy that we have a powerful voice and influence to support all these families."
While Academy training facilities at Chadwell Heath remain closed under government guidance, Sauer and the management team have been doing all they can to ensure that, for the youngsters, time away is not time wasted.
We're challenging all of the players to make use of this time to continue their development as much as possible, and in different ways

Jeremy Sauer
As a result, the Academy of Football has adapted its methods towards remote development – with one product of this, the Academy Skills Schools video series, available to watch every Friday on whufc.com.
Sauer explained: "We span quite a large range of ages, so for the younger ones there's a little bit of an opportunity to go old-school: a ball and a wall, that sort of stuff, to improve their technical ability and get them sticking to the right lifestyle habits. 
"That's also what our Academy Skills School video series achieves: we're challenging all of the players to make use of this time to continue their development as much as possible, and in different ways. 
"Routine and structure are really important for the boys at the moment so we're aiming to provide them with that platform.
"For the slightly older age groups, from 13 or 14 years upwards, there's a little bit more at stake for those kids, who are looking more at their career progression. 
"As we don't know when we're going to come back to the Academy yet, the teenagers might need to be able to get straight back into it at full tilt, so the physical programme is a little bit more relevant to them than the technical programme is for younger ones."
While all Academy scholars operate with a mutual determination to become the best versions of themselves they can be, Sauer does not expect that conscientiousness to falter as the players do so away from Chadwell Heath.
 "Everyone's from different backgrounds, and has got different resources and means," he noted. "Some of them are in big gardens, and some of them are on their balconies of their estate. 
"With the parents, we've given them guidance and mandatory programmes, but ultimately, it's the players' careers, so it's about educating them about why the programmes are so important and what the benefits are they'll get from it. 
"When we see something we want to celebrate, we try to share that with the wider community of the Academy as well, to show people what the elite standard is so they can hopefully emulate it. 
"The education piece now becomes really important, allowing the kids to have a little bit of ownership of understanding what the level they aspire to really is."