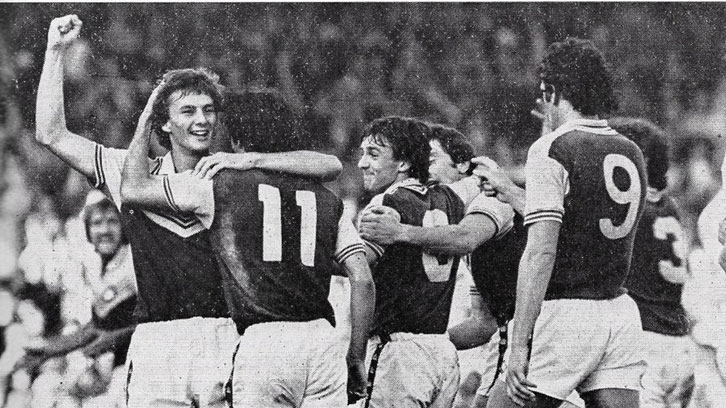 One of West Ham United's best-known and most successful exports celebrates his 61st birthday on Tuesday.
Billy Lansdowne was born in Epping, the son of 1958 Second Division title winner and long-serving coach Bill, and grew up dreaming of following in his famous father's footsteps.
As a boy, he would watch the likes of Bobby Moore, Geoff Hurst and Martin Peters from the West Stand, before heading down to the tunnel to meet his Dad.
"I was fortunate that my Dad was a coach, so from the ages of seven to 14 I went to virtually every single home game, then I joined as a player," he recalled. "I was allowed into the dressing room and got some amazing autographs from visiting players like Bobby Charlton, Denis Law and George Best!"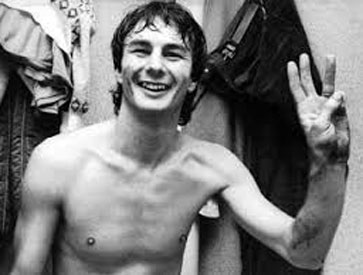 Lansdowne joined the Hammers as a schoolboy in 1974, forming part of new Director of Youth Development Tony Carr's first Under-16 squad. After playing alongside the likes of Alan Curbishley, Paul Brush, Ray Houghton and Terry Hurlock, he graduated from the Academy of Football in 1977.
Two years later, in April 1979, he made his first-team debut in a Second Division fixture with Wrexham at the Boleyn Ground, before netting his first goal in a home win over Burnley in September of the same year.
Lansdowne's standout moment in Claret and Blue came on 8 October 1979, when he scored a hat-trick in a League Cup third-round replay victory over Southend United in front of nearly 20,000 fans at Upton Park.
"I didn't play that many games, but I scored on my full debut and I scored a hat-trick, so my strike-rate wasn't bad!" he laughed.
However, after seven more appearances, Lansdowne lost his starting place to the fit-again Stuart Pearson, who had joined from Manchester United in August.
"When people ask me why I didn't play many games, I point out to them that the team I was in was Parkes, Stewart, Martin, Bonds, Lampard, Neighbour, Devonshire, Brooking, Holland, Cross and me, so most of my teammates went on to become West Ham legends!" smiled Lansdowne.
"Stuart was injured, which was why I was playing in the first place, so when he recovered he took his place in the team.
"I am still proud of what I achieved for my boyhood team, though, as I scored on my full Football League debut and a hat-trick on my fifth start!"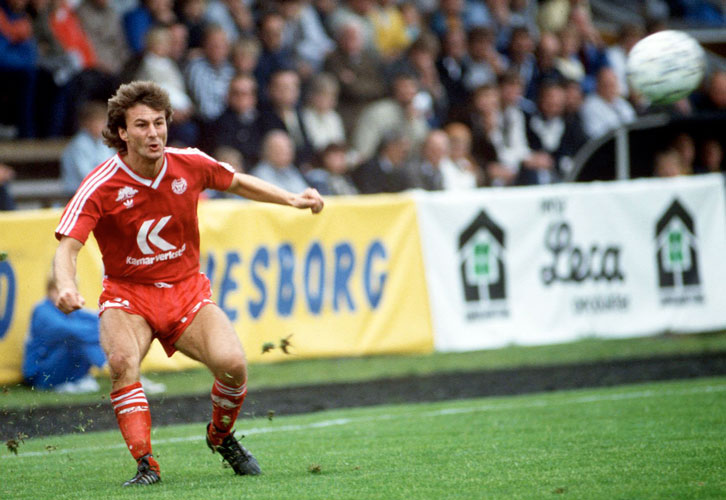 'It's a strange story!'
The 20-year-old remained with the Irons until the summer of 1981, when he moved across the River Thames to Charlton Athletic.
After a season with the cash strapped Addicks, he sought a new challenge that would ultimately change the course of not just his career, but his whole life.
"It's a strange story!" he revealed. "I went to Charlton at a time when the club had financial problems and were about to move out of The Valley, and they asked any of the players if they would be willing to be bought out of their contracts by other clubs.
"I was a qualified insurance broker and had made my mind up I would go into playing part-time and back into insurance, but at the same time my name went on a list of all the available players that was circulated to clubs all over the world by fax.
"I got a lot of offers from clubs in Holland, Finland, Norway, Denmark, Sweden, the United States and even Hong Kong, but the only one who sent me more information about their club, their city and made it personal was a Swedish club called Kalmar FF.
"They sent a scout to watch me play in a reserve game for Charlton against Oxford United at the old Manor Ground. It rained all day and we lost 5-0 on a pitch that was under water so, as a forward, I felt I hadn't played well, but their scout must have seen something as I got an offer to join them, which I took up!"
In 1983, Lansdowne joined the newly promoted Swedish top-flight club and, nearly 40 years on, he still makes his home in the city on the Baltic Sea coast.
The 1985 season saw the former West Ham striker top the Allsvenskan scoring charts with ten goals – becoming the first foreign-born player to achieve that feat – as Kalmar finished as runners-up to Malmo FF.
Two years later, in June 1987, Lansdowne was on target again to help Kalmar defeat GAIS 2-0 and win the Swedish Cup for just the second time in their history.
By the time he ended his six-season stay, Lansdowne had scored 83 goals in 210 appearances and ensured his place in Kalmar folklore – a position that was confirmed when he was added to the club's Wall of Fame in 2018.
"I only played six seasons in Kalmar FF, perhaps the least of all those who received the award, but there are many memories I have from the time in Kalmar FF," he continued. "The European matches against Bayer Leverkusen and Sporting Lisbon I rank high, the final of the Swedish Cup 1987 was also special as I got to score in the final. Then, it was obviously special to come second in Allsvenskan 1985 when I also got to win the top scorer award. 
"At the same time, it is a specific moment that I always come back to when I remember the years in Kalmar – my first hattrick against Myresjö. It became important for the start of my career. After that match, I gained the confidence needed to continue delivering."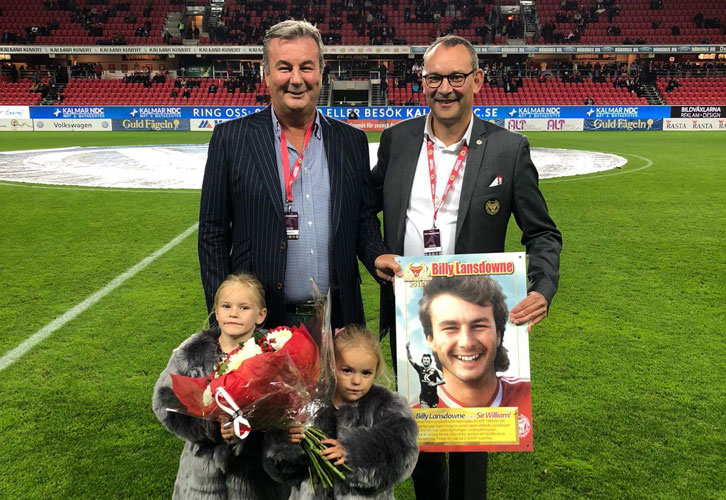 Making his pitch
After hanging up his boots, he remained in Sweden and established himself as a popular pundit on television, commenting and commentating on the Premier League for the popular Tip Saturday programme on TV4.
Yet again, Lansdowne's career took another chance turn.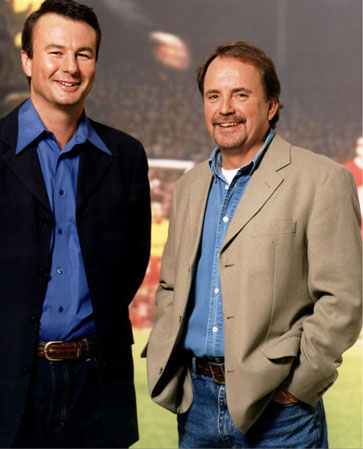 "After I retired, I never had any plans to become a pundit!" he laughed. "I stayed in Sweden and had a full-time job, but I knew about English football and did a bit of after-dinner speaking.
"Swedes love English football – everyone has got a club they support – and in 1995 a TV company called me and asked me if I wanted to go on a new programme.
"I thought it was going to be a one-off, so I thought it was strange that they wanted me to travel up to Stockholm for a screen-test, and even stranger when they told me they were seeing five other potential guests!
"Then, the next day, they rang and offered me a year's contract. I had to speak to my employers as I needed to travel up to the studio on a Friday afternoon, but thankfully they said it was OK and I had the job, which I kept for a fair few years!
"I am fluent in Swedish and thoroughly enjoyed the TV work, and also did a bit on the radio to, but I've stopped all that now and am working with my son."
Now working with Billy Jr selling solar panels, Lansdowne has no intention of returning home anytime soon, and could even be pulling his boots again once the coronavirus crisis is over.
"I've been asked to play walking football and was even selected by Sweden to play in the European Championships in Wales this July, but unfortunately it's been postponed," he smiled.
"Hopefully I'll get picked again in 2021 and can score a few more goals!"
The way Billy Lansdowne's career has panned out, you would bet on him doing exactly that!