First Team
David Moyes: Staying at home, keeping spirits up, speaking to staff, players and Board members, protecting the NHS and saving lives
If the coronavirus (COVID-19) outbreak has proved anything, it is that nobody is immune to its effects.
Prime Minister Boris Johnson is among the more than 130,000 people who have tested positive for the acute respiratory disease that has spread to nearly every corner of the world over the last four months.
On 13 March, the authorities took the sensible decision to suspend competitive football until the deadly threat posed by coronavirus has rescinded, and ten days later the UK government introduced lockdown measures requiring millions of people to stay at home, protect the NHS and, as a result, save lives.
The most important part is that we save lives and do the right things

David Moyes
West Ham United manager David Moyes, his backroom staff and players are among those who have adapted their professional and personal lives to a new normal that would have been unthinkable just a few weeks ago.
Daily training sessions on the pitch and in the gym, professionally prepared meals, team meetings and Premier League matches have been replaced by remotely delivered training and nutritional programmes, performance tracking apps, video calls and runs around the local park.
At the start of March, Moyes himself would have been at Rush Green before breakfast, putting in long days to prepare his team for the challenges ahead.
Now back at his family home in Lancashire with his wife Pamela, the manager has taken a 30 per cent pay reduction, worked with his players to agree a wage deferral, and settled into a daily routine that involves walking his dog, keeping himself fit, gardening and cooking delicious dinners with ingredients sourced from the local fishmongers!
Work-wise, the 56-year-old has been keeping in close contact with his staff and players via a combination of old-fashioned phone calls and ultra-modern Zoom online video chats, maintaining the team spirit what will be so vital when West Ham return to action.
"I don't think daily life is average for anybody at the moment," reflected Moyes, who self-isolated in March after coming into close contact with Arsenal manager Mikel Arteta just days before the Spaniard tested positive for the virus. "We are the fortunate ones. We are home, healthy and following all the guidelines.
"What it (the absence of organised sport) has shown me is the thirst for football throughout the world, everybody loves football, everybody wants to watch it. But it's not the most important part of people's lives at the moment. The most important part is that we save lives and do the right things.
"I do think that when we do start back up, and I mean started up properly, which would include crowds etcetera, I do think it will be something we'll all be excited about."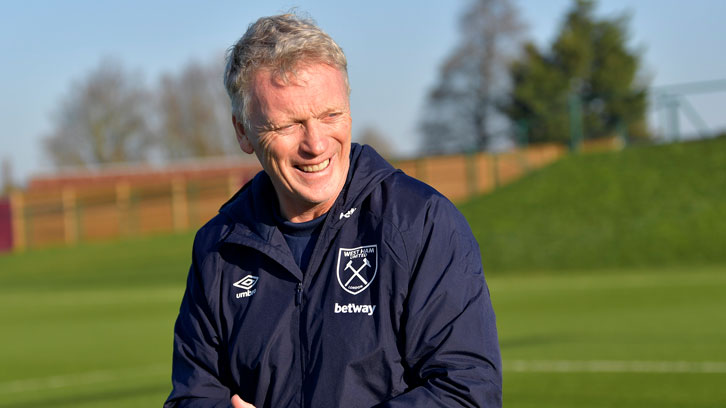 Keeping spirits up
Moyes may be at home, but a Premier League manager's life is a busy one, wherever you are.
"We have [been keeping in touch with the staff and players] as much as we possibly can. I've probably had more calls with Mark Noble to do with the different situations which were going on a few weeks ago.
"On Saturday we were all on Zoom doing a gym session together. The players are all missing each other because they're all used to working daily, in a group. When footballers finish, the thing they say they miss most is the dressing room, the banter, the being around the players all the time. You can sense that now. They're all missing each other, that spirit of being around each other.
"We've spoken a few times to them. One of the lads said to me he's doing home schooling. In many ways, there has to be some positives [out of this situation]. Families have come closer together and a lot of players have been with their children more, so hopefully that's a good thing."
Every player's situation is different, of course, and with 14 of his 24 first-team squad members hailing from outside the UK and Ireland, Moyes has been acutely aware of the need to provide individual support to players who are forcibly apart from their loved ones. 
"There are a lot of players in London living in apartments and it's a different situation for them all," he continued. "Many of them will have had a spin bike or some weights delivered to them, so they can at least have a morning session in the house and in the afternoon maybe go for a run in the park to get some exercise in, so I have to say they've done really well.
"The boys from overseas have been brilliant. They really have. I think we can understand how difficult it must be not being with your family or seeing your parents or even being closer to them. We've got players from Argentina, Brazil and Spain and they have all been very good. I've been regularly asking them about their families as well and in the main their families have been really good."
The former Everton and Manchester United boss has also been in touch with his counterparts at other Premier League clubs, swapping information, sharing experiences of working in lockdown and discussing how best to be ready for the potential restart of the Premier League later this year.
"I've had a couple of managers phone me and I've spoken to people, assistants at clubs and we are all trying to get a little bit of information from each other;  'Are you hearing more than I'm hearing?' or a bit more," he continued. "But it's all the same at all the clubs.
"There has been a lot of talk about deferrals, about wage cuts and there is a lot of talk about how we get back to training.
"Around the country, footballers have seen this not as a holiday because we can't have a break and they've all kept themselves in pretty good condition. They are not having football training, they are not on the balls every day, but they've all been trying to keep up with physical work because they all know that it could start again pretty quickly."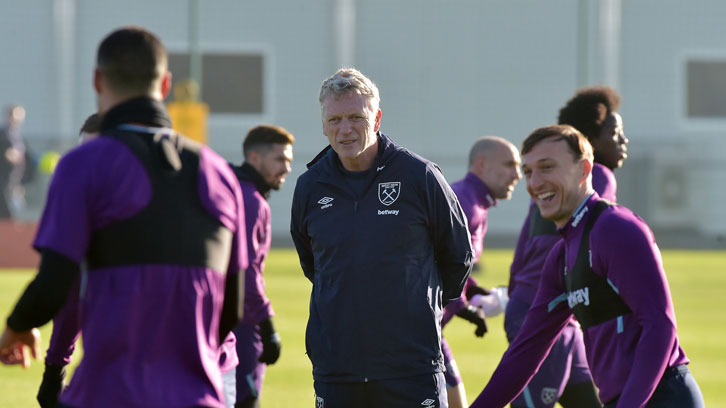 Regular contact with the Board
Moyes has also been in regular contact with Joint-Chairmen David Sullivan and David Gold and Vice-Chairman Karren Brady, who have also taken personal and collective measures to achieve continuity and to protect and safeguard staff and the future viability of the football club.
"I've had regular conversations with David Sullivan and regular conversations with Karren," he confirmed. "We've discussed a lot about the situation. We had a lot of discussions about the pay situation in the early weeks of the break.
"I've been looking at recruitment and what the squad is looking like, so I've had a chance to do bits of all that, but generally we have all been waiting to find out when we are going to go back, when we are going to have a chance to go back to training and when we are coming out of lockdown.
"Karren has been very helpful because she has been keeping us up to date with the government's point of view and also the Premier League's point of view.
"David Sullivan and David Gold and I have been having general conversations about how we are. They are very keen to understand how the players are, how they are training and keeping up with the work.
"The players themselves have been amazing with the training and their programmes. They have been really compliant and doing the work and I'm really pleased to see it because it's been excellent."