Jacynta Galabadaarachchi says the most important thing is to keep everyone safe and healthy as the world continues its global effort against COVID-19. 
 
Most nations across Earth are now practicing self-quarantining and social distancing in a combined bid to overcome the ongoing coronavirus pandemic. 
 
Galabadaarachchi knows that continuing to follow these regulations and guidelines is essential to a speedier return to normal routine and, while the young forward is missing the simple pleasures life has to offer, she has encouraged others to continue adhering to the ongoing enforcements.
It's tough being at home all the time but we have to do what's best for us and for the community, so that everyone can be safe.

Jacynta Galabadaarachchi
"It's tough being at home all the time but we have to do what's best for us and for the community, so that everyone can be safe," the 18-year-old told Sky Sports News. "By staying at home now, hopefully we can get through this quicker and everyone can go out again sooner. 
 
"I think I'm like most athletes in that I always need to be doing something. If I have too many days off, then it's easy to feel not too motivated. 
 
"I'm just thinking about the future, when we can go back to training, and I know we will need to be ready to get back to it very quickly. Of course, mentally, it's been very tough to find different things to do throughout the day while I have all this spare time. But I'm adjusting and it's important to keep doing it."
 
With the continuing restrictions each West Ham United player is following a strict home routine, with Galabadaarachchi and her women's teammates following individual programmes.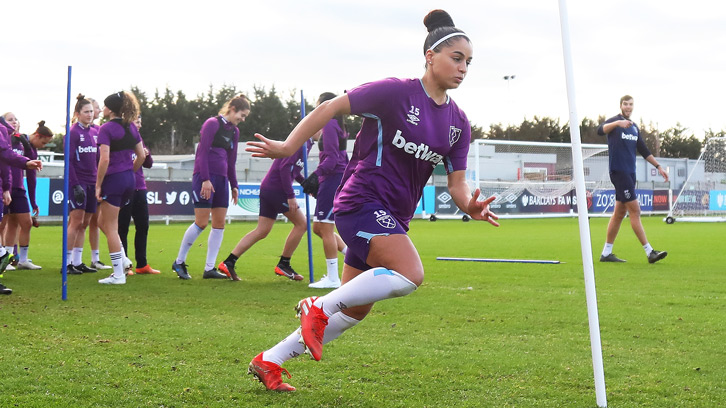 The fitness-based exercises have helped to keep the striker in top condition, with the entire team remaining in close contact throughout the pandemic.
 
She continued: "Colm, our West Ham strength and conditioning coach, has kept us busy with a lot of running programmes and gym workouts every day.  The individual training is so different to the team training, but the programmes we've been sent to do are fitness-based. My dad and brother have been helping me train too! 
 
"All the girls are doing really well in terms of keeping up with what we've been asked to do. We all message each other as well every day and we all miss each other. We talk every day in a WhatsApp group, and we speak all the time about how the work-out programmes are going, and stuff like that. 
 
"We all message each other to see how we're all doing. We all miss each other, and we can't wait to get back training when the time is right."
 
Despite the difficult situation, Galabadaarachchi is glad she was able to return home to Australia and be with her family during this time.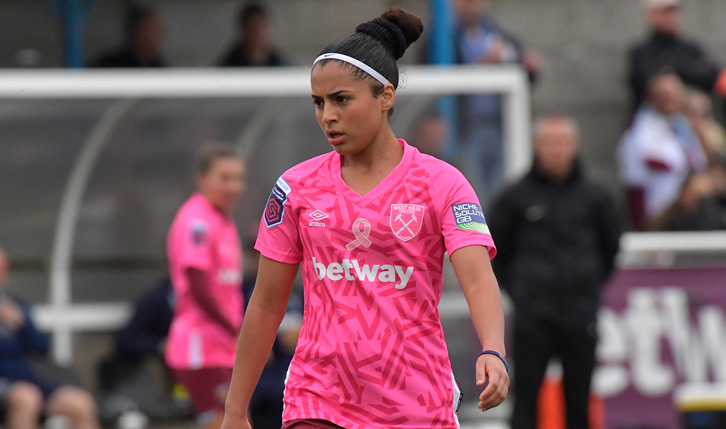 The teenage forward admitted returning home was a struggle but is happy to be social distancing alongside her parents and older brother.
 
"As soon as everything started getting serious, the Club got the flight back to Australia booked for me as soon as they possibly could," Galabadaarachchi explained. "It ended up being two separate flights and took over 20 hours. The airport was crazy, and a lot of flights were getting cancelled. I was very lucky as my flight was one of the only ones that didn't get cancelled. I'm very lucky that I got home. 
 
"The situation here similar here to England, although the cases in Australia are actually going down every day now. But it's similar in that most stores are closed down and only essential shops are open. it's a lot worse in England. 
 
"I'm happy to be home, albeit in unfortunate circumstances. My family is doing well and we're all staying safe here. I'm happy I can spend this time with my family."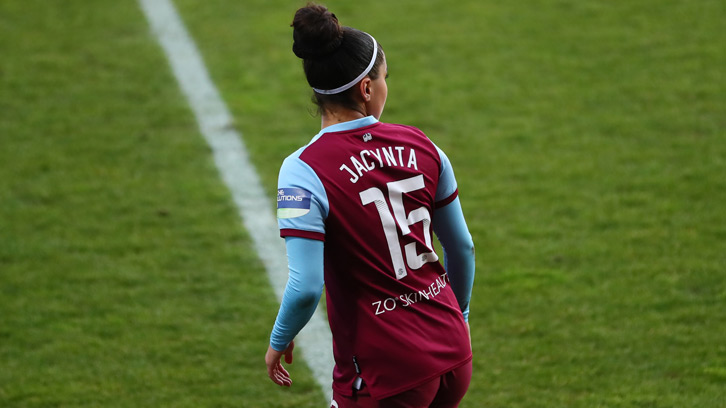 Despite being the other side of the world, that has not stopped Galabadaarachchi from continuing to offer her support for West Ham United supporters in east London, Essex and across the globe. 
 
The attacker recently tasked young fans with juggling a football for 20 seconds during a Hammers At Home trial, while fellow women's players Tessel Middag and Kate Longhurst have also supported the online initiative with challenges for supporters to attempt. 
 
"We've been doing the Hammers At Home daily challenge, which allows us to stay in touch with the community and the fanbase," Galabadaarachchi added. "We're all going through this together and we are here for them. 
"I challenged our fans a few days ago to do 20 seconds of keepy-ups, and Tessel challenged them to write a West Ham poem too. It's been good and it's helped to keep the community involved with the Club during this time"