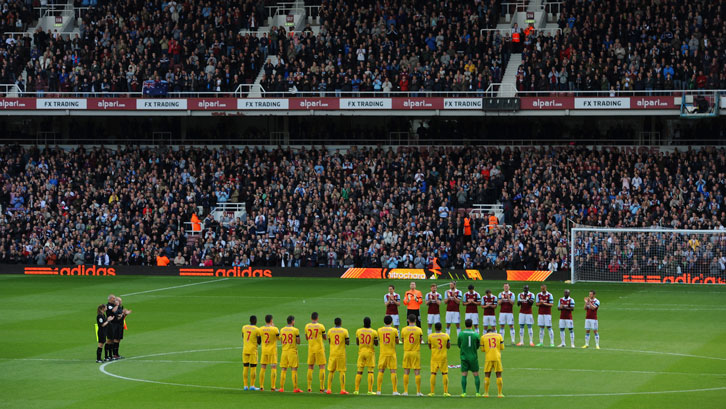 It is six years to the day since one of the most emotional days in West Ham United's history.
It was just 24 hours since the Hammers' hugely promising and courageous 20-year-old Australian forward Dylan Tombides had passed away, three years after being diagnosed with testicular cancer.
On Saturday 19 April 2014, West Ham hosted Crystal Palace. Before kick-off, Dylan's father Jim and brother Taylor raised his shirt aloft and a deafening minute's applause was held by both sets of fans as his mother Tracy looked on, accompanied by Joint-Chairman David Gold.
The game was settled by a single goal scored by Crystal Palace captain and Dylan's fellow countryman Mile Jedinak, who respectfully refused to celebrate, and has since become a leading supporter of the male cancer charity founded in his memory - DT38 Foundation.
DT38 has set up the '3.80 Funding Appeal' in a bid to secure the necessary funding for its future. It is seeking donations of £3.80 on the understanding that all donations received at DT38 are used to help raise awareness of testicular cancer and save the lives of men and boys. You can donate now here.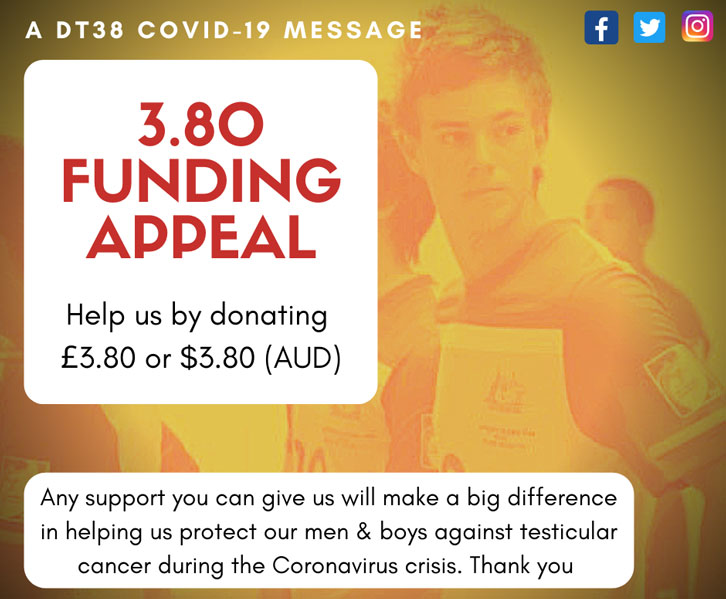 The DT38 Vision
Our vision is to change the way testicular cancer is diagnosed by implementing best practice diagnostic guidelines for patients who present with testicular symptoms. We also aim to arm future generations of young men with the necessary knowledge about testicular cancer that will enable them to be confident when taking health matters into their own hands.
The DT38 Mission
Our mission is to raise awareness and change the stigma associated with men's health issues with a focus on testicular cancer. We aim to do this through providing educational programmes and opportunities for the youth of our community, to help shape a generation of children who are self- aware about their health and wellbeing.
Self-examination is simple
Testicular cancer is the most-common cancer in men under 35, but almost all cases can be cured if spotted and treated early. Warning signs include a hard lump about the size of a pea, slight enlargement of a testicle, a dull ache in the groin or lower abdomen, pain, swelling or discomfort in the testicles or scrotum and a sore on the tip of the penis that irritates or will not heal.
Self-examination is simple and takes only a few moments every month. Know what your testicles feel like normally. Gently roll each testicle between your thumb and fingers. Feel for a lump on the front or side of the testicle If you are concerned, see your doctor or visit a sexual health clinic immediately.
Delay is deadly. Get educated.
*Every year around 2,200 men and boys in the UK are diagnosed with testicular cancer. To find out more about DT38 Foundation, their awareness work and how to check for signs of testicular disease visit dt38.co.uk