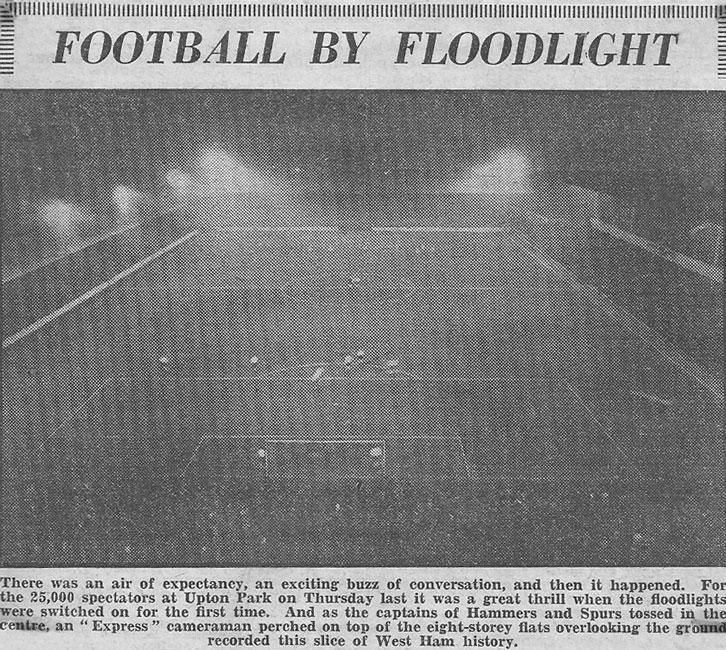 An enlightening moment in the history of West Ham United took place on this day in 1953 – the Hammers' first floodlit match at the Boleyn Ground.
The match was not the first time the Club had hosted floodlight football, with Thames Ironworks FC holding matches at Hermit Road in Canning Town which were illuminated by early electric lighting and played with a ball dipped in whitewash to make it easier for supporters to see!
No records were kept of those pioneering midweek matches, which took place in the final years of the 19th century, but West Bromwich Albion and Arsenal were thought to have provided the opposition.
Nearly 60 years later, the Hammers made another attempt to host football under the lights, with the new era dawning with the visit of Tottenham Hotspur for a 7.45pm kick-off on Thursday 16 April 1953.
The match proved a success, on and off the pitch, with a 25,000-strong crowd enjoying the Hammers' 2-1 victory over Spurs, as local newspaper The Stratford Express report noted.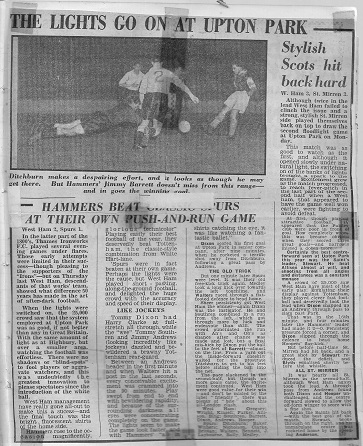 "When the lights were switched on, the crowd saw that the system employed at Upton Park was as good, if not better than any in Great Britain. With the same amount of light as at Highbury, but over a smaller area, watching the football was effortless.
"There were no shadows or blind-spots to fool players or aggravate watchers and this was undoubtedly the greatest innovation to please spectators since the introduction of the white ball.
"West Ham management have really gone all-out to make this a success – and the final touch was the bright, fluorescent shirts of the home side.
"Hammers rose to the occasion magnificently in glorious technicolour. Playing easily their best football of the year, they deservedly beat Tottenham.
"Spurs were in fact beaten at their own game. Perhaps the lights were the cause, but West Ham played short, passing-along-the-ground football, and delighted the huge crowd with the accuracy and speed of their display."
West Ham took the lead on nine minutes when Tommy Dixon collected a pass from Jimmy Andrews and smashed an unstoppable shot past Spurs' England international goalkeeper Ted Ditchburn.
Winger Sonny Walters headed the visitors level a short time later, but Ted Fenton's side would not be denied victory as Dixon and Tommy Southren combined to set up Jim Barrett Jr, who slid home from close range.
For the record, the West Ham team on that historic night comprised Ernie Gregory, George Wright, Harry Kinsell, Derek Parker, Malcolm Allison, Doug Bing, Tommy Southren, Jim Barrett, Tommy Dixon, Keith Andrews and Harry Hooper.
Having made a successful start to life under the lights, the Hammers quickly held their second friendly four days later, when they drew 3-3 with Scottish club St Mirren.
Of course, the Boleyn Ground lights were extinguished for the final time on 10 May 2016, following West Ham's unforgettable 3-2 Premier League win over Manchester United.