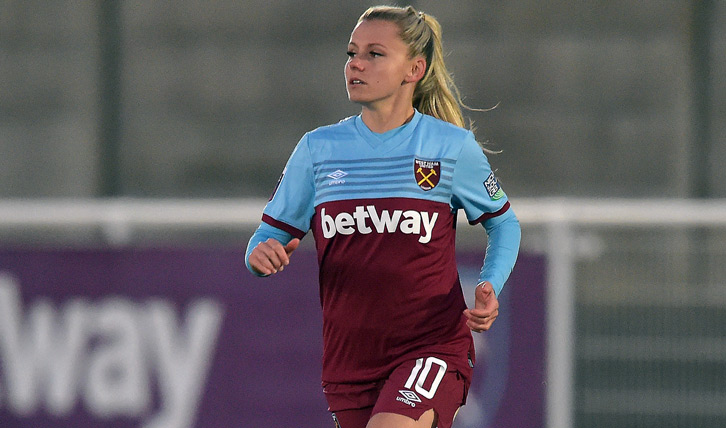 For thousands of people across the world, keeping busy and mentally stimulated has been a crucial aspect of the daily battle against coronavirus (COVID-19). 
As a professional footballer, Julia Simic is used to a physically and mentally challenging day-to-day routine. With the global situation forcing her – as well as every West Ham United player – to train at home, the German has found an outlet to keep herself driven. 
It comes with the added bonus of helping people in her home of Nürnberg, Germany. 
 
I want to work, and I want to help people. I am going to work for five or six hours a day and I'm really looking forward to it

Julia Simic

"From next Monday, I'm going to start working in an organic vegetable shop near me," the No10 revealed to whufc.com.  "I've done it to give myself a bit of routine during the day and give each day a purpose. 
"I wanted to help people get through as well. I sent out a few CVs to different companies that needed workers during these tough times. Some are missing employees because they are at a higher risk from the coronavirus, or have family members that are higher risk, so there are gaps and people need help.
"For me personally, the biggest struggle is not being busy. I'm waking up, doing my training programme, but then that's it. This is my only motivation to get up at the moment, so I'm looking forward to getting back to a normal, day-to-day routine, and I think working and assisting people is going to give me that.
"I want to work, and I want to help people. I am going to work for five or six hours a day and I'm really looking forward to it."
Simic's desire to help those in her local community is matched only by her drive to remain match-fit and ready for when the Barclays FA Women's Super League campaign returns. 
The playmaker says each West Ham player is helping to keep each other motivated while they work and train at home, with the group conversing daily in a WhatsApp chat group.
Simic continued: "West Ham has been really kind. I don't have anything in terms of machines or weights that I can work with in Germany, so the Club helped me get some stuff to do my home training. 
"I have my programme that I do out in the garden every day, and my Dad does it with me too! 
"It can be a little difficult to do it on your own day-to-day, but we have a big group chat where, every day, everyone is posting their pictures from their runs or work-outs. That can give you that little bit of extra motivation to get out, get it done, and be ready for when we get back to training."
Having endured a difficult and, at times, seemingly unending 12 months on the sidelines due to injury, Simic returned to action at the end of 2019 for the Irons. 
The midfielder had subsequently featured in seven matches in all competitions for Matt Beard's side, before the suspension of all professional football leagues at the end of March.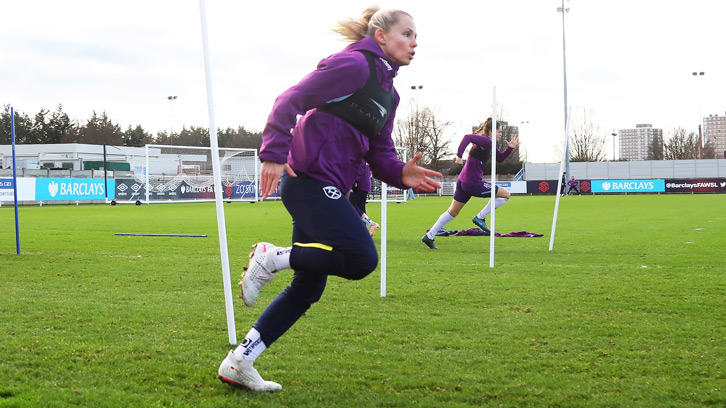 "I was having a really good period, personally," Simic continued.  "I had just got back to playing and I was starting games, so it was tough in that regard. 
"But everyone just wants to get back to training and then, when we can, get back to playing. Here in Germany, some teams are starting to get back to training in little groups and they're really optimistic about finishing the season. Obviously, we're not quite there yet in England. We just need to keep ourselves fit and ready to go."
First though, Simic knows the importance of continuing to follow the government-imposed guidelines. Only through continuing to practice social distancing, and self-isolation, can things return to normal sooner rather than later.
She added. "It's so important to follow these rules. I go out to get my daily exercise, and walk Coco, but sometimes you'll see people breaking those rules. But there are people suffering because of coronavirus, in so many ways. 
"People are losing their lives and family members. Everyone just needs to remember to be sensible and stay in. Hopefully, by doing it for this short time, everyone can return to their normal lives sooner rather than later. It's about awareness and taking care of everyone, not just ourselves."