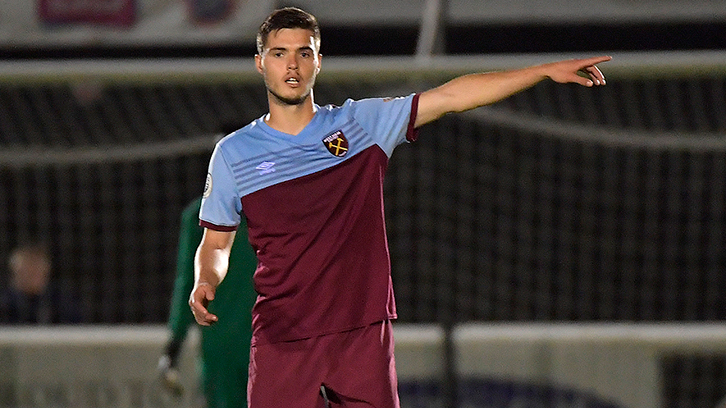 For every burgeoning young footballer, it is important to keep in mind your idols – your standard-bearers, your icons, the model professionals to have trodden the path you see before you.
For every burgeoning young Portuguese footballer, there is one immediately obvious candidate.
Despite being a central defender, 19-year-old Portugal youth international Gonçalo Cardoso will never forget the time he met Cristiano Ronaldo.
The summer 2019 signing from Boavista, who was West Ham's youngest recruit of the off-season, has played a pivotal role at the heart of Dmitri Halajko's U23s so far this campaign.
Blessed with a superb natural reading of the game, the Marco de Canaveses-born defender has made 18 appearances in all competitions, helping his side to seven clean sheets on the way to being named in his first Premier League matchday squads in January.
 
Cristiano Ronaldo doesn't play my position, but he is a hero of mine. His motivation and how he works… it's incredible

Gonçalo Cardoso

Such form has also translated to the international stage, with Cardoso joining West Ham having represented Portugal at last summer's UEFA European U19 Championship finals, before captaining the U20s for the first time against England in November.
It was in training with his country, however, where Cardoso enjoyed an encounter with the five-time Ballon d'Or winner – and it was one he could scarcely fathom.
"As a Portuguese centre-back, I really liked watching Ricardo Carvalho and Pepe," he told whufc.com. "Then there are internationals like Virgil van Dijk and Sergio Ramos, who are unbelievable. 
"As an idol, I really like Cristiano Ronaldo – not for his position, but for the way he works, the way he's got the way he is now.
"I met him with the national team last summer. We were preparing for the European U19 Championship finals in Armenia. We were in the gym in Portugal doing some exercises and he walked in like nothing.
"We looked around at each other and asked 'What is he doing?' What was crazy, but it shows how he works, was that he joined in during his holidays, on a Sunday!
"He was in Lisbon with his family on holiday, and he'd decided to come to the training ground to train. On his holidays, he was there.
"Look at his story. He started from nothing but he started growing, working hard, and he has been at the top for so many years, which gives you motivation as a player.
"He doesn't play my position, but he is a hero of mine. His motivation and how he works… it's incredible."
Having grown up in the comparatively modest surroundings of Marco de Canaveses – "there are only 10,000 people," Cardoso laughed – and grafted his way into the Premier League, it would surprise few should the centre-back's grounded mentality helped him to similarly shine under the bright lights of London Stadium.