West Ham United's greatest son, Bobby Moore OBE, was born in Barking, east London, on this day in 1941.
The blond-haired defender rose through the youth ranks at the Boleyn Ground under the direction of the famed Academy figures of the 1950s and went on to reach the very pinnacle of the game, becoming the only Englishman ever to lift the FIFA World Cup trophy.
It is for that very reason that his name continues to inspire - a national hero, a global icon, a legend for all-time. And yet to Hammers fans everywhere, he remains the local boy who came good from humble beginnings and, despite rising to worldwide super-stardom, never betrayed his roots.
Bobby Moore OBE, West Ham United's finest-ever player and England's 1966 FIFA World Cup-winning captain.
The assured, ball-playing centre-back made 646 league and cup appearances for the Hammers, scoring 27 goals, during a 16-year career in Claret and Blue.

Moore was born in Barking on 12 April 1941, making his debut for his local club in a 3-2 win over Manchester United at the Boleyn Ground as a 17-year-old on 8 September 1958. It was the start of a glittering career that is remembered fondly by football fans the world over.

As a West Ham player, he lifted the FA Cup in 1964 and the European Cup Winners' Cup in 1965. A year later, he was back at Wembley to complete an unforgettable hat-trick by lifting the Jules Rimet Trophy following England's 4-2 victory over West Germany.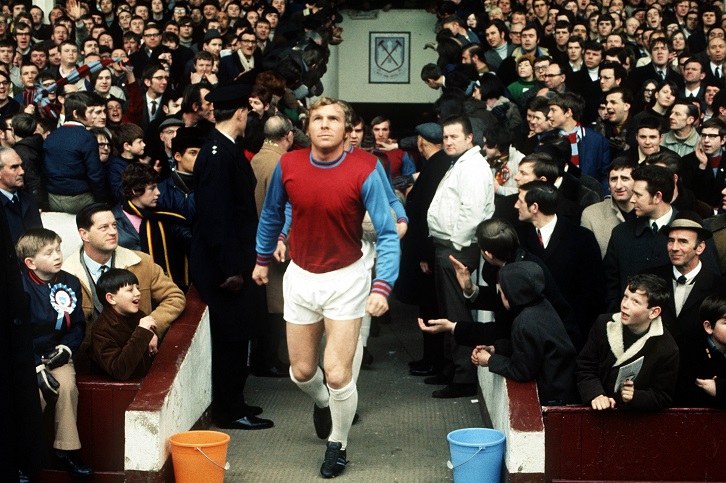 Moore would go on to star at the 1970 World Cup finals in Mexico before moving to Fulham, for whom he played against the Hammers in the 1975 FA Cup final. Following his retirement, Moore moved first into management and then into the world of broadcasting before his life was cut short by cancer in February 1993. He was just 51.
Following his death, a charity was established in his memory by his wife Stephanie, the Bobby Moore Fund for Cancer Research UK, and has since raised millions of pounds to fight the disease which took his life.
In 2007, a sculpture was unveiled outside Wembley Stadium by his 1966 World Cup-winning teammate Bobby Charlton, before his No6 shirt was retired by West Ham United in 2008. In 2016, an English Heritage Blue Plaque was installed outside his childhood home.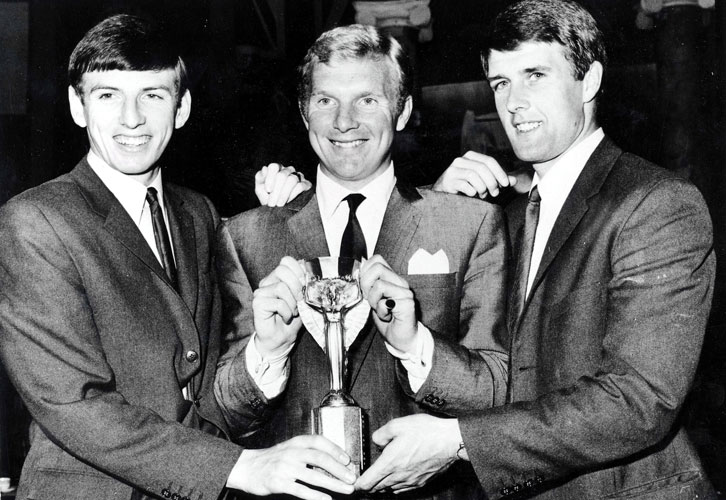 Fellow Hammers legend Billy Bonds MBE, who played alongside his late friend for seven seasons and against him in the 1975 FA Cup final, when Moore played against West Ham for Fulham at Wembley, will never forget him.
"Mooro was an absolute icon," said Bonds, who followed in Moore's footsteps by having a stand named in his honour at London Stadium last year. "I respected a lot of team-mates and opponents down the years but he was the only person in my entire career, who made me feel that way.
"He was fantastic to me from the day that I arrived and I loved him as a player and as a person. Bobby Moore had a presence both off and on the field.
"There was no side to him at all and, having lifted the World Cup, he'd been the most famous person on the planet on that July afternoon at Wembley in 1966 but, despite all of that, Bobby wasn't the slightest bit lairy. Mooro treated everyone the same, no matter who they were.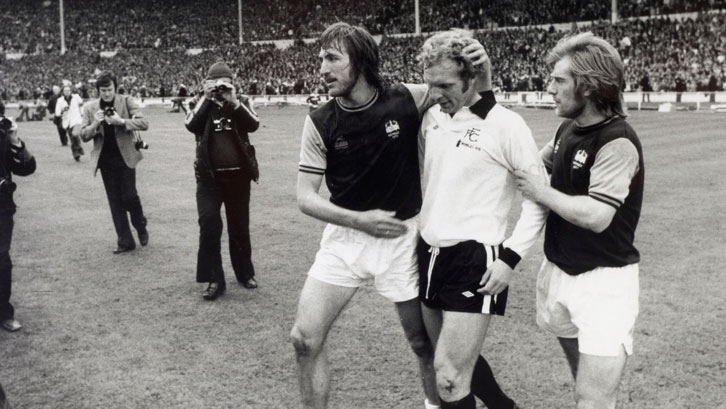 "Bobby Moore wasn't a particularly good header of the ball and he wasn't very quick either but, boy, his timing was impeccable. He didn't need to be good in the air or fast because he could read the game so well - he always seemed to be in the right place at the right time to nick the ball off a centre-forward. And he was just so good at bringing the ball out of defence and starting attacks, too."
Nearly eight decades on from his birth, the words of Moore's great friend and journalist Jeff Powell, which are engraved on his sculpture outside Wembley Stadium, sum him up perfectly:
"Immaculate footballer. Imperial defender. Immortal hero of 1966. First Englishman to raise the World Cup aloft. Favourite son of London's East End. Finest legend of West Ham United. National Treasure. Master of Wembley. Lord of the game. Captain extraordinary. Gentleman of all time."
Bobby Moore - Gone but never forgotten.