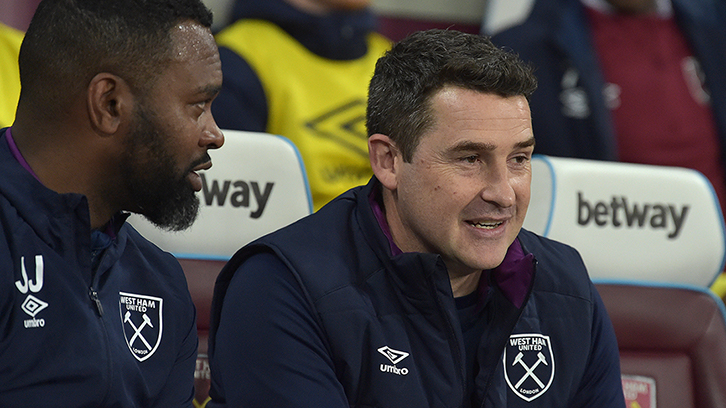 Ask any West Ham United supporter to name their favourite product of Chadwell Heath, and you'll find scores of names crop up in return.
From World Cup-winning heroes such as Bobby Moore, Martin Peters and Geoff Hurst to more recent graduates like Declan Rice, Grady Diangana and Jeremy Ngakia, there are few sights Claret and Blue-clad supporters enjoy seeing more than one of their own on the pitch.
Behind that success lies the Club's philosophy – a belief in, and historical association with, exciting, attractive football – which filters right the way down through the Academy's ranks.
This commitment is salient in the work of the Hammers' U23s squad, who, prior to the recent suspension of professional football, sat top of Premier League 2 Division 2 having netted three or more goals in 17 of their 25 competitive fixtures played so far this season.
 
We need to break the game down into manageable chunks for them to learn and piece together into a bigger picture

Dmitri Halajko

In previously unseen footage from our Academy of Football video series – the first episode of which centres around U23s Lead Coach, Dmitri Halajko – this ubiquitous desire to entertain was explored.
"We sat down on one of the pre-season tours and discussed about how we wanted to play within a framework," Halajko explained.
"At the Academy we break the pitch down into three thirds: we talk about the build-up phase – how we play out and pass from the back, we want to play passing football; we progress into the middle third in terms of how we control possession; and into the final third, where we control it and finish moves off.
 "This breaks the game down so it's easier for them to understand. We start with our Under-9s here and go right the way through to my group, the Under-23s, so we need to break the game down into manageable chunks for them to learn and piece together into a bigger picture. 
"That's how we give them a nice clear understanding of the key areas we're looking for when they're in different areas of the pitch."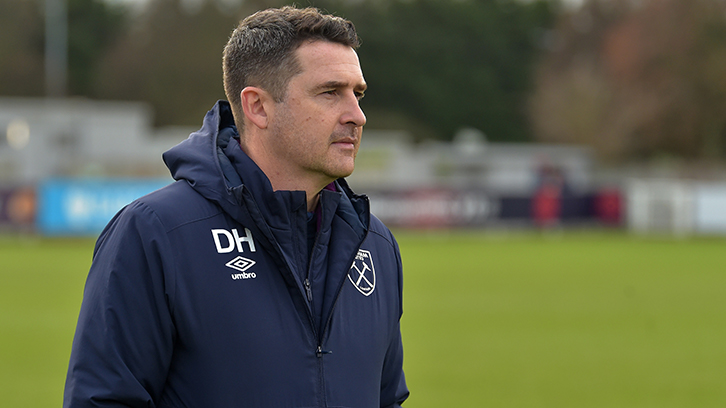 With the fluid nature of coaching – particularly whilst developing youngsters who might still be finding their own identities as players – pragmatism, naturally, plays its part. 
"We've got flexibility as coaches," Halajko added. "The coaching programme is really a framework for us to work around. If we've got a particular player with a particular strength, we can use that obviously. 
"As long as we're playing that kind of front-foot, attacking, passing football, trying to dominate possession, then there's different ways you can go about that depending on the players in your group.
"We'll give the players a few ideas and a few patterns and general things that will help them, but equally we want them to be creative players, so they've got to see things and they've got to play them. 
"They know roughly some areas of the pitch that can help them exploit the opposition, but equally we want them to see what they see and play as quickly as they can."
Halajko also revealed that, motivationally, Academy coaches are always aware of their young players' progress through their developmental journeys, allowing them to mitigate for any setbacks – including the inevitability of losses – along the way.
He said: "From our point of view, from where we are in their footballing journey, it's always going to be about learning. 
"If, for example, they've not played particularly well, there will be key areas we need to highlight, and if they learn and get better from those, that loss might not be a problem because it could put them in good stead for later on – it could turn out to be a positive in the long-term, for when they go on to play first-team football.
"Overall, we want to present players to the first-team. If the first-team ever want to look at some of our players, we'll encourage that – even if it is to the short-term detriment of the U23s, hopefully it'll be to the long-term benefit of the Academy and that individual player who could progress on."
You can watch the first three episodes of The Academy of Football here!