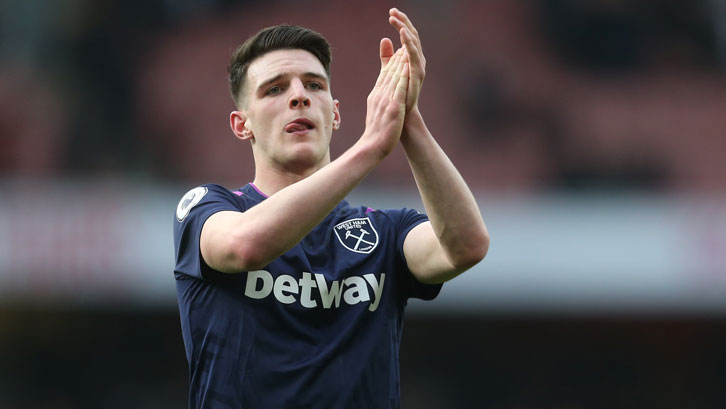 Declan Rice says West Ham United are doing everything possible to keep their players fit and well – both mentally and physically – during the coronavirus (COVID-19) outbreak.
The England midfielder is one of tens of thousands of players across the world who are currently unable to do what they do best.
With all sport in the UK currently suspended due to the Government's lockdown restrictions, Rice and his teammates are working hard in isolation, ready for when the risk to public health recedes and football is given go-ahead to return.
To be fair, the Club have been really good in our information group chat

Declan Rice
"It's a mixture of all of them to be honest," he said, when asked what he misses most about normal life. "I miss getting up and going to training, just going on the training field and training with your mates for a couple of hours. You take it for granted really.
"You're waking up every day, going there and training and it happens so quick. But when you're at home, you're missing it, so I just want to go back and see them all.
"Of course, the matchdays as well, you can't beat that feeling of playing in front of the fans in the Premier League, pretty much everything really."
Like players across the country, Rice has been training on his own, following a programme given to him by manager David Moyes and the backroom staff, keeping in the best-possible shape.
"I've pretty much been getting out in the garden, getting over to the park for my exercise and just trying to keep fit," he confirmed. "We've been sent our own programme from our fitness guys and we report back to them.
"We've got this app called Map My Run so they're tracking us. So, every day you do it you set it and every day when you finish you have to send it over so there's like achievement bolts.
"It's been tough because we are used to training every day and there's a strict routine and obviously that now to be taken away from us at the moment.
"Mentally it's tough to keep going with it, but of course you've got to be in a position where, when we go back, we don't know how long we are going to get to get back going again so you've got to be as fit as you possibly can and that's down to us. When you're training with your team it flies by."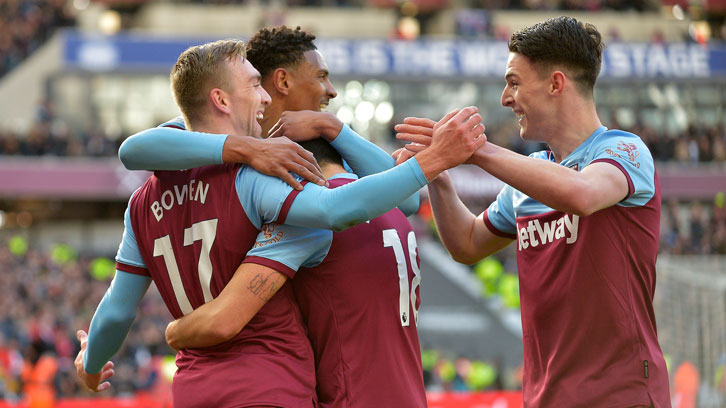 While they are not able to visit Rush Green or London Stadium at present, Rice has been keeping in regular contact with his teammates too, keeping spirits up at a uniquely challenging time when some are unable to visit their families and other loved ones.
At the same time, the Club's support network has been on hand, 24/7, to ensure the players have everything they need.
"The group chat is still going on, the lads are still speaking to each other, that's the good thing," the 21-year-old confirmed. "We've got such a good bunch of lads and we are all missing each other, the banter's flying and things like that. We are speaking every day.
"To be fair, the Club have been really good in our information group chat about timings, when we are coming back. With the Government guidelines, the doctor he's been putting messages in.
"So everyone's been tuned in, everyone knows what's going on but we are all in the same position as each other. The manager has left the medical advice to the doctors and the physios but he's been sending out messages to check the players are OK and about how we are keeping fit."