Women
Brosnan: The Women's Super League is a completely different level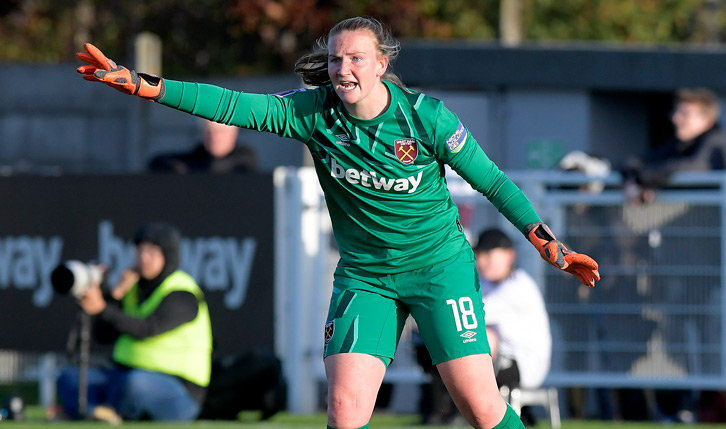 Courtney Brosnan talks life as a goalkeeper, competition for places, and her friendship with Martha Thomas…
How have you found settling into life at West Ham and in London? 
It's been really amazing. I'm feeling really settled here, both with the team and with the environment. I'm loving every bit of it so far. 
Being in a new country is awesome too. I've come to England before when I was younger but it wasn't for very long, so this is my first true experience with London. There's something different about being in Europe to being in the USA. It is teaching me a different perspective and I like the culture and the people here. It's really cool. 
How did Courtney Brosnan get into football? 
I started playing in a co-ed youth team when I was about five-years-old. It was just my local team and a chance for us kids to have a runabout really. At that age, you play any position. 
I did a lot of sports as a kid though – baseball, basketball, swimming, just to name a few. And I enjoyed basketball just as much as football, which I think ended up playing a role in me becoming a goalkeeper. My hand-eye coordination developed and I think from there, I decided to give playing in goal a try.
The role of a goalkeeper has changed a lot in recent years, hasn't it? 
Definitely. I think there's an expectation now that goalkeepers can play football with their feet too. There has been a shift in that regard. Goalkeepers aren't just the last line of defence; they are the first stage of the attack now too. It's now so important for 'keepers to be able to complete those passes going forward and help the team in that regard.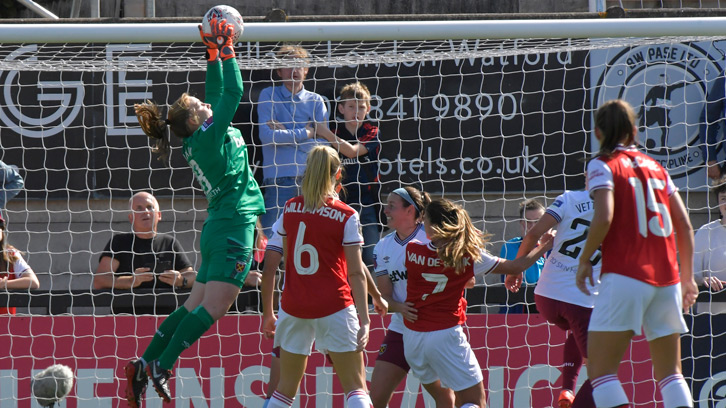 You were thrown straight in for our first Barclays FA Women's Super League match of the season. How did you find that experience? 
Matt Beard was really honest and up-front with both myself and Anna [Moorhouse] in that, at West Ham, we had two really good goalkeepers. He wanted to create an atmosphere with a healthy competition and that's been really good for us. 
I played a bit in pre-season and I think it was important for me to continue to work hard and show what I could do. It was great to play in that first game and get a feel for the Barclays FA WSL for the first time. 
How does playing in England differ to playing in France and America?
I love playing in this league. It's one of the top leagues in world football and, having been here for a few months now, you learn that every single game is really tough. It doesn't matter if you're playing the top team in the division or the bottom; it will be a hard game. I don't think that's something you necessarily find in other leagues. 
This is a different level of football. Everyone wants to play at the highest level and everyone wants to think they can do it too. When you get here, it's a learning curve. For me, I had to work hard and show I could compete for my spot and perform in the Barclays FA WSL.
What about the forwards you're now facing every match? 
I've played against good strikers before I came to England and since I came to England, and I feel like the forwards in this league only need one chance to score. The attackers in this league are a lot more clinical and dangerous. If they get one opportunity, then they make it count. It's so important to then deny them those chances and as a goalkeeper I have to be ready to deal with everything.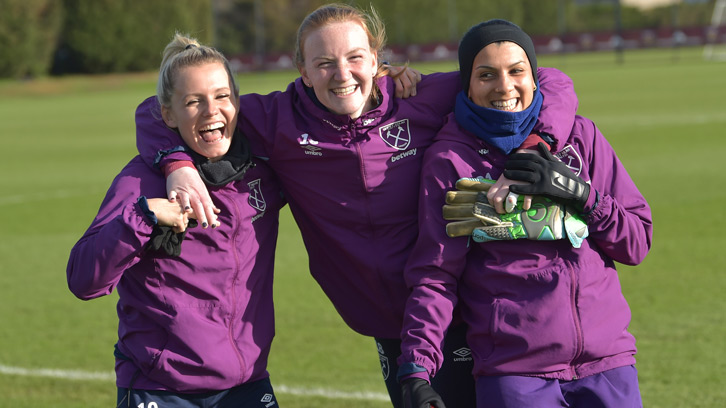 Do you and Anna work well together? 
Goalkeeping is obviously such a unique position, in the sense that only one of you can play. It's not like being outfield where there's a big chance of being subbed into a match either. It is a very one-off position to be in and it creates a unique bond between goalkeepers, because no one else really knows what it is like to be in that position.
I think it's great for Anna and I to have that relationship; work together, learn from each other, help each other and push each other. 
The goalkeeping coach, Billy [Stewart], talks to both of us a lot about being the team's goalkeepers and how Anna and I are the only ones in this team who could know what the other one is going through during a match. I've learned a lot from that and we want to be supportive of each other, even when you're not the one playing. I want to encourage her when she's in the team and she does the same for me.
How have you found working with Matt Beard? 
I really enjoy working with Matt. He is not only passionate about football in general, but this team and this Club too. He has brought us all together and it's amazing to have a head coach that has unwavering belief in everyone in this team. You can see every single day that we have a manager in Matt that backs us, supports us, and wants the very best from us and for us. For me, that's really important.
Matt talks so much about not just being a good player, but a good person too. He's helped create a family environment here and I feel very close to everyone involved in this team. It's a special, unique, situation and I really enjoy it.
You and Martha Thomas both came in from Le Havre in the summer. It must have been nice to share that?
I got to know Martha last year during our time together in France and I think she's a one-of-a-kind person. It was amazing that we were able to come from France to West Ham and England together. She's my best friend here and to see her grow as a player and a person is wonderful. I think the best is yet to come for her. She had a little injury but it's great to see her back. She's such a hard worker. 
I saw Martha said in an interview that she's convinced I put in a good word for her here. After I was recruited, Matt asked me if I knew anything about Martha and I had nothing but good things to say about her as a player and as a person. I don't think I really had anything to do with it, but I was thrilled when she signed here as well.