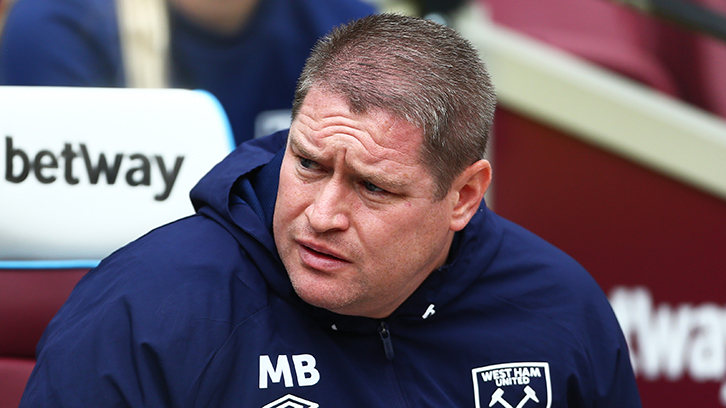 West Ham United's women team paid the penalty for their profligacy against Tottenham Hotspur on Sunday, according to head coach Matt Beard.
The Hammers' fell to a 2-0 defeat in the first-ever Barclays FA Women's Super League game at London Stadium, despite creating numerous opportunities to get something out of the game.
Even after Rianna Dean had given the visitors a first-half lead, West Ham created clear chances for Martha Thomas, Adriana Leon, Kenza Dali and Kate Longhurst in the second period, but they just couldn't find the finishing touch.
The result was sealed when Lucy Quinn slammed home a loose ball for Tottenham with seven minutes remaining, and Beard bemoaned his team's lack of a killer touch in front of goal.
"Unfortunately for us we're creating numerous chances and for whatever reason we're just not converting them," he said. "It's not as if they're half chances. We're creating really, really good chances which we should be putting in the back of the net. 
"Whether it's our final decision, or us making the wrong choice of finish, I don't know at the moment, but it's obviously frustrating from that perspective. We looked nervous, it was a big occasion for us today, and that's disappointing for us from our perspective because we knew it was going to be a battle."
 
I know it'll come. We've got to start converting because this is four games into our domestic campaign... I know once it clicks for us, the goals will come.

Matt Beard

The result leaves West Ham in eighth place in the Women's Super League table, with one win from their first three league matches.
Despite the scoreline, Beard was buoyed by some of the football his team played on the grand stage, and feels that it's just a matter of time before the side clicks into gear after a summer of transition.
"I can't keep saying to them it's okay that we're getting in the positions and we're creating chances," Beard continued. "But I know it'll come. 
"We've got to start converting because this is four games into our domestic campaign, and it was the same in pre-season. It's just a frustrating aspect at the moment. I know once it clicks for us, the goals will come."
While the result might have slightly marred the occasion, Beard also spoke with pride of the efforts of his players, the Club, and its supporters, who backed West Ham in fine voice throughout.
"We've had 20,000 plus today, which is fantastic," he said.
"It's a great football club. All the time that I've been there they've been so supportive of the team, and obviously being able to play here today and show that there is a market and people want to come and watch it was great.

"The Club deserve an enormous amount of credit, and it's a club that I'm proud to be part of."
West Ham United's next league match is on Sunday 13 October, when they travel to the People's Pension Stadium to take on Brighton and Hove Albion.