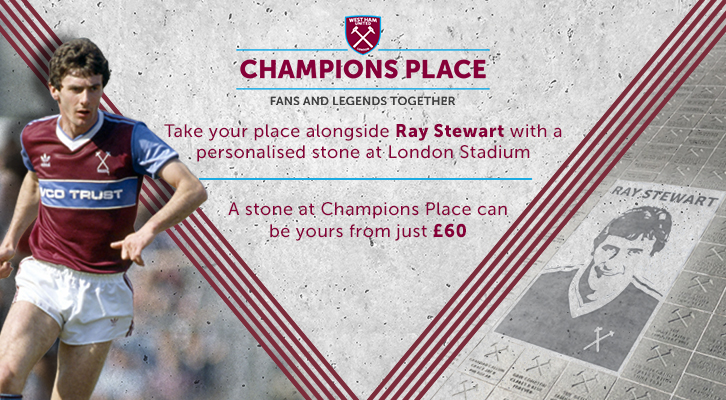 Ray Stewart is the latest West Ham United legend to be honoured at Champions Place.
As the 40th anniversary of our famous FA Cup final victory over Arsenal nears, we're celebrating the achievements of that iconic West Ham side, with Stewart joining a host of Hammers heroes with stones at Champions Place.
Champions Place is the home of thousands of supporters' specially inscribed stones at London Stadium, giving the Claret & Blue Army their opportunity to make their mark in history at the Hammers' home.
In addition to fans' personal tributes, Champions Place also honours some of the greatest players in West Ham history, with larger Legends stones, each dedicated to a Hammers hero or magical West Ham moment.
And you can join Stewart - who scored a crucial penalty in the quarter-final victory over Aston Villa en route to Wembley in 1980 - in owning a stone at Champions Place!
Champions Place provides a lasting tribute to all the players and fans, past and present, who have made West Ham United a Club loved across the world.
Personalised stones for future installation phases are available to order from just £60 – giving you the chance to make your mark at our home or purchase a unique Hammers gift.