Seat 443 on row 19 in Block 102 at London Stadium was not filled by its usual Season Ticket Holder for Sunday's 2-0 win over Manchester United. Instead, Kate Longhurst was at Kingsmeadow playing against Chelsea.
This Sunday though, the lifelong West Ham United fan will be walking out at London Stadium, making history as she features in the first-ever women's football match played at the home of the Hammers. 
For Longhurst, it will be an occasion the midfielder still cannot believe has been presented to her and her teammates, having been in attendance for the first West Ham United matches at the ground. 
"I've been a season ticket holder for years," she recalls fondly, looking out at the pristine London Stadium pitch as the sun sets over Stratford. "I come with my Dad and my Uncle. I think my first season was when Alan Pardew was manager and the Club was in the Championship.
"I came for the Europa League game against NK Domzale when we won 3-0. I sat in the Sir Trevor Brooking Stand. But the first game in this seat, with my season ticket, was the Bournemouth game when Michail Antonio scored late on. 
"I think I was at Liverpool then. I got back when I could to watch as many games as I could. It's a big part of your life, when you support a team. It's something you don't stop thinking about or stop doing. I always wanted to keep my season ticket, even when I do have to travel far. I get to away games when I can. It's part of being a West Ham fan, really."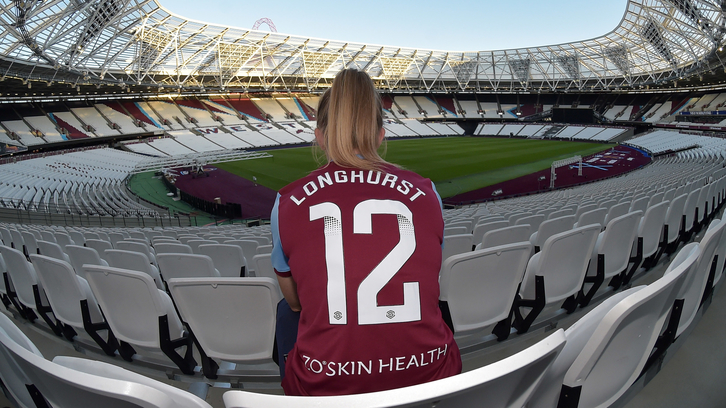 That first game at London Stadium, Cheikhou Kouyate scored twice before Sofiane Feghouli made the match safe. While the result went down in history, it was the beginning of the match that stuck with Longhurst. 
"The thing that stayed with me was hearing 'Bubbles' that night. The noise of 'Bubbles' that night made me think 'wow, this place could really be something special'. The volume of it was a real goose bumps moment for me.
"It makes my hair stand on end to think we're going to hear that for us. For a start, the speakers are louder! It's more encompassing. It will be amazing to have thousands of West Ham fans singing 'Bubbles' for us. 
"We heard it last year in the FA Cup semi-final away to Reading, when 800 fans were singing it. Even for those that don't support West Ham, they were saying what a good atmosphere it was. It's something I will never forget. It made the hairs on the back of my neck stand up. It's the song I sing to get West Ham going, so for us to hear it sang for us will be amazing."
London Stadium has been home to West Ham United for four years and Longhurst can recall all the big games, the significant moments, the historic goals.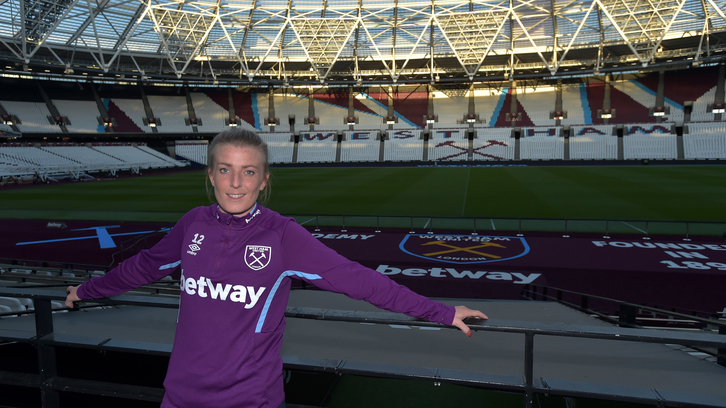 While West Ham United women's No12 may not have been physically at the ground for all of them, with her own football responsibilities sometimes hindering her ability to get to games, her enjoyment of those moments is not mitigated. 
She continued: "Unfortunately, I can't go to every game because we're playing or training. Manchester United at home last season, when we won 3-1, was one of the best atmospheres here and one of the best performances here as well. I was here for that, and that was incredible. 
"I've missed a couple of the good comeback ones. I was on the team coach when we came back to beat Huddersfield Town last season. I was cheering in the service station when we won that game.
"When we beat Tottenham too, in our first season here. Of course, every West Ham fan loves to put one over on Tottenham. That was a special moment as well."
Longhurst will have the chance to do exactly that next Sunday against the north London side, who achieved promotion to the Barclays FA Women's Super League at the end of last season. 
For the midfielder, Spurs will be the perfect opponents for a first-ever match at London Stadium.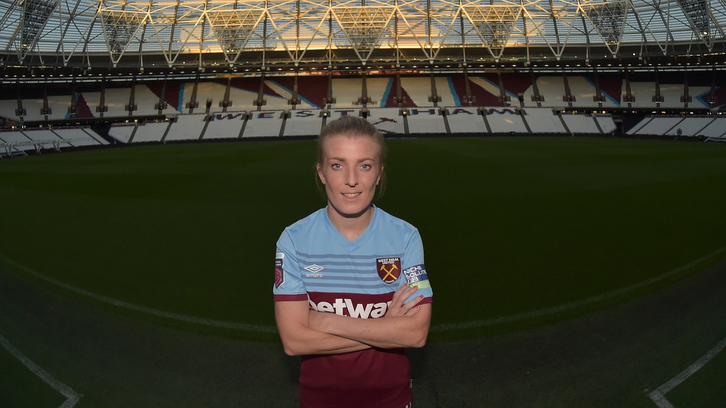 "It's the perfect opposition for us. It's a derby and it is two teams that want to go to battle," she explained. "Spurs are a team that, being a West Ham fan, I've always wanted to beat and do well against. There's always been that rivalry. 
"You want to see exciting football, but you also want to see people fight for the shirt. When you play against Tottenham, that's exactly what you have to do."
Excitement is building around the Club for the women's clash at London Stadium. It is an event Longhurst admits she never even dreamed of. The chance to step out at the home of the team she loves never even crossed her mind. 
Now Longhurst wants to use the opportunity to introduce more West Ham fans to women's football and show the quality in Matt Beard's team.
"Two years ago, you wouldn't have even thought about playing for West Ham," she added. "It wasn't a professional set-up here. But playing here is a big occasion for us and I really hope West Ham fans can get behind us and help us and help fill this stadium. 
"We want to show we're part of West Ham United and we want to do the Club proud. We need that support, especially in a derby game, and a really good atmosphere could help take us to that next level."