When the Claret and Blue faithful descend on Sunday, an eager wisp of anticipation will hang in the air for the first ever Barclays FA Women's Super League match at London Stadium.
Yet only one thought will linger in Gilly Flaherty's mind: victory.
West Ham United's tough-tackling captain has featured in a number of showpiece occasions throughout her career, capped off by a first season with the Hammers which culminated in her leading the team out for the FA Cup Final at Wembley in May.
While many of her fellow players speak with natural excitement about the fixture against Tottenham on Sunday, 28-year-old Flaherty ventures at it from another perspective: it's a day to be enjoyed, but above all, a day on which to win.
You don't want to remember it as the defeat that we had to Spurs at London Stadium, you want to get the win - and that has to be our focus.

Gilly Flaherty
"Every game I want us to win," she explained. "I remember when I was at Chelsea and we played against Wolfsburg in the semi-final of the Champions League. We played it at Stamford Bridge… and it just changed our game. The crowds affected the girls and we lost that night, 3-1. 
"We want to come to London Stadium and still play our normal game, like we do at Rush Green. It's obviously the home of West Ham anyway… but we want it to be a game where, regardless of where we're playing, we come away with the three points.
"It's lovely to play in front of hopefully thousands of fans, but you don't want to remember it as the defeat that we had to Spurs at London Stadium, you want to get the win – and that has to be our focus."
While the fixture is likely to feature the largest crowd many of West Ham's players will have played in front of, Flaherty speaks of composure above all else.
"[I'll be saying] just to stay calm," she reasoned. "I said that at Wembley as well; it's no different, it's still playing against eleven players. Regardless of where you're playing your game, you're still doing the same thing. They're just eleven players in another shirt. You can't get overwhelmed by the occasion. 
"It's going to be unreal to walk out there, your hairs will all stand up, but again it's all about getting the result."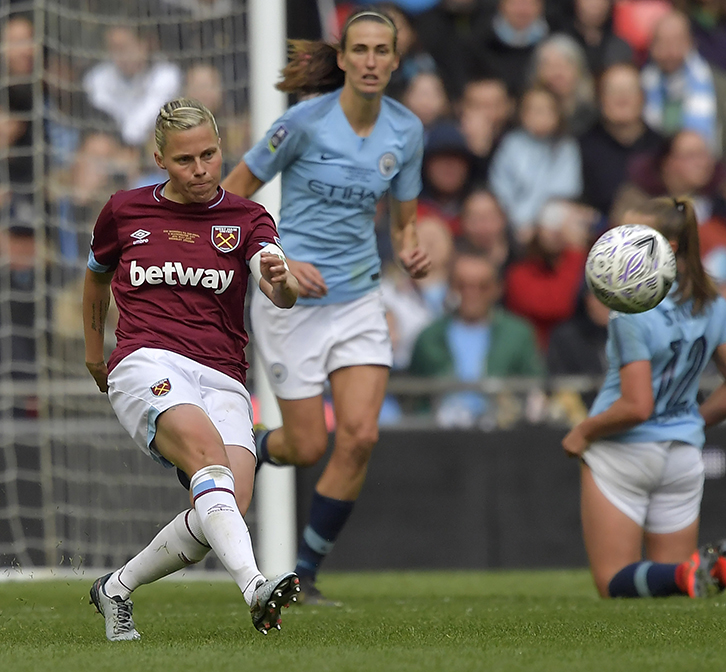 As for the opposition, Flaherty and West Ham both have recent first-hand experience of the quality they possess: Tottenham were the last team they faced in pre-season, falling to a 2-1 loss earlier this month.
Having relished that battle, Flaherty believes a similarly competitive encounter lies in store on Sunday – especially with local pride on the line.
"We obviously played them in pre-season, and it got a bit feisty!" she smiled. "I'm expecting a tough game. 
"They might be the newcomers to the league, but they've earned their right to be here, and they're worthy of their place. They're going to be physical, we're expecting that. They're not going to want to come here to a big stadium and lose to their arch-rivals as well - it's a London derby. 
"Again, I think we have to take away the occasion, take away the fact that we're playing here, and just focus on our game plan and the game itself, because ultimately that's the more important thing."
Through her thoroughly determined outlook on Sunday, will Flaherty allow herself a moment to enjoy the occasion?
"It will be a nice, special moment for me to remember as well," she admitted. 
"It'll definitely be something that, come the end of my career, I'll look back on and say: this was one of the memorable moments."