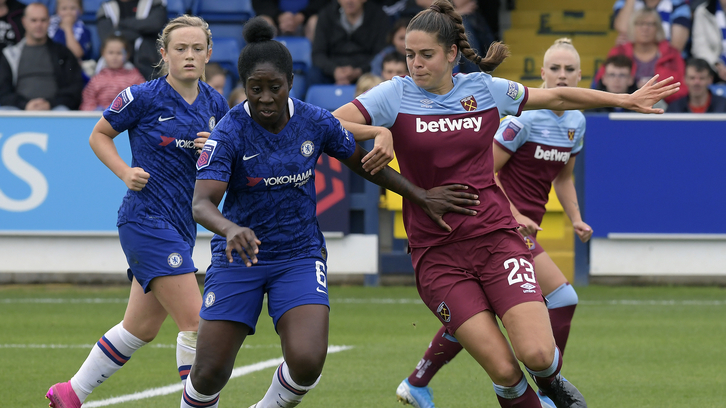 A valiant West Ham United effort was not enough for the Irons to hold off Chelsea, who defeated claimed a 2-0 victory. 
The Hammers' opening Continental League Cup match was decided by goals from Bethany England and Guro Reiten, while goalkeeper Anna Moorhouse made a series of stunning saves as well. 
Martha Thomas went close twice in the first period, when the match was still a goalless draw, but the home team claimed the victory in the second period.
Head coach Matt Beard made a number of changes to his starting XI for Sunday's cup clash, bringing in Moorhouse, Brooke Hendrix and Alisha Lehmann for their first starts of the season, while Cecilie Redisch Kvamme was also given her full debut after two substitute outings. 
Goalkeeper Moorhouse was called on early, denying Erin Cuthbert's strike from the edge of the area, before Martha Thomas went close to opening the scoring with a strike that was blocked; the ball bobbling agonisingly wide of the post.
A quick counter-attack by the away side almost led to Thomas' third goal of the season. Lehmann got away from her marker and played in the No9, who cut inside and drilled an effort with her left foot. The strike was just over the cross-bar. 
Cho So-hyun dragged an effort just wide while Bethany England missed from close range in an opening 45 minutes that West Ham would feel slightly disappointed to not have the lead from.
England would try again, moments after the second half began, with Moorhouse holding onto the strike. The No13 would then make an incredible diving save, denying Ramona Bachmann's low effort that seemed destined for the bottom corner. 
The Chelsea No9 would not be denied however and put the ball into the net on 50 minutes, squeezing home. 
Chelsea's lead was doubled on 70 minutes. A corner kick, awarded after Moorhouse made a save-of-the-season contender by denying Adelina Engman, was swung in by Guro Reiten. A deflection off the West Ham goalkeeper, and the home side had their second. 
The introduction of Jacynta Galabadaarachchi and the returning Leanne Kiernan added significant pace to the Hammers attack, as the Irons continued to drive forward in search of a way back into the game.
However the Irons were unable to break Chelsea's back-line, with their 2019/20 Continental League Cup campaign ending with a defeat.
Chelsea Women: Telford; Thorisdottir, Bright, Asante, England (Spence 78), Reiten, Eriksson (c), Andersson, Cooper, Cuthbert (Engman 69), Bachmann (Kirby 62)
Subs not used: Orman, Ingle, Carter, 
Goals: England 50, Reiten 70
West Ham United: Moorhouse; Redisch Kvamme (Simon 80), Flaherty (c), Hendrix, Vetterlein; Middag, Cho, Longhurst; Lehmann (Kiernan 73), Thomas, Leon (Galabadaarachchi 65)
Subs not used: Brosnan