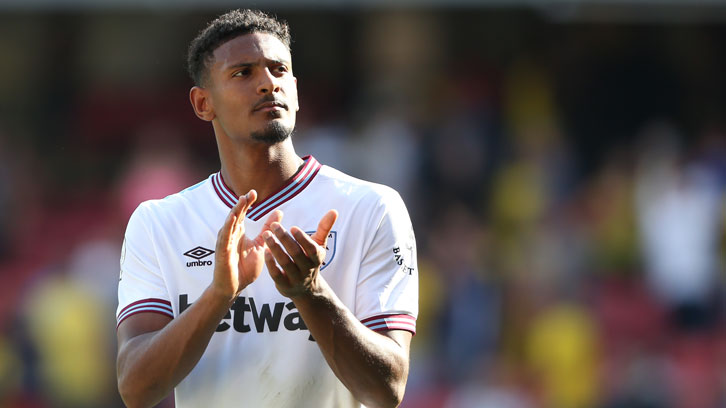 Of the dozens of players who arrived in the Premier League this summer, few have made better starts than Sebastien Haller.
The West Ham United centre forward has not just scored three goals in his opening four appearances in England, but he has also adapted seamlessly to the intense physical demands of football in this country.
Now, the Frenchman is looking forward to testing himself against one of the Premier League's biggest clubs, Manchester United, when they visit London Stadium on Sunday afternoon.
Speaking ahead of that game, the No22 talked about the challenge posed by the Red Devils, battling England centre-back Harry Maguire, his fellow countryman Paul Pogba and, following the birth of his second child, fatherhood…
Seb, you've played against a lot of big clubs in your career – Ajax, PSV, Bayern Munich, Borussia Dortmund, Inter Milan, Marseille – and now you will face Manchester United…
"Of course, it's a big club. Everyone who plays football, when you were young, you watched Champions League games and teams like Manchester United.
"It's a big team, but it's part of the game and part of the job to perform against those teams and it's also a good test for us because we need to know to what we can do against them. It's a good measure.
"You don't have to think about them too much so you just have to prepare for them like you prepare for the other teams because it's still three points. The points are not worth more because it's Man U, but it's a good test.
"In our minds, it's something nice to perform against those teams, so we're looking forward to it."
When you're playing against a big club, you don't play against the name, then…
"Well, when you play against a big club it's different because you know their players and you know your opponent well because you see them playing every three days.
"These are big names, so you need to perform more than you do against other teams because you know they have the experience and they have the talent to make the difference in every action, so you have to be even more prepared to face the best teams and the best players, because they will not need a lot of opportunities to succeed.
"You have to commit even less mistakes than you usually do."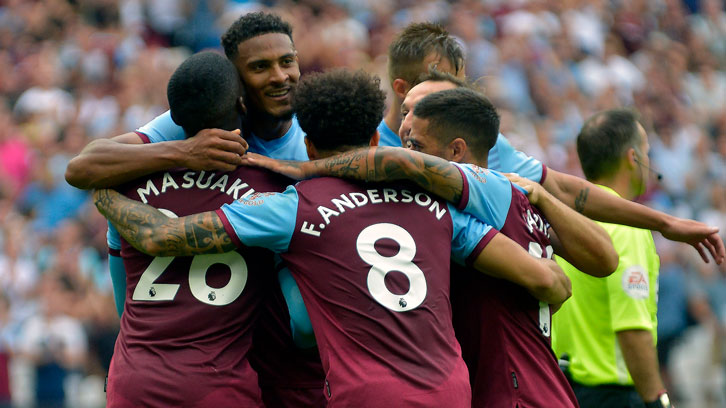 On Sunday, you will come up against England's Harry Maguire, which should be a good test…
"It's a big story and beautiful story but I like a challenge! I think also the club here paid a lot of money for me to come here and win these battles!
"I can't promise I will always win them, but I can promise I will give everything to win these battles.
"This is football, so you can win or lose against anyone but, as long as you keep your focus high and really want to win the battle at 100 per cent, I think it's a great thing."
Paul Pogba was a year ahead of you in the French national-team age-group set-up, but presumably you've followed his career? He's a top player and is always in the spotlight…
"Pogba is more than talented. He is a big player and he is not the only one, but for him there is even more pressure because everyone is talking his price, his return [to Manchester United] and the way he acts or even his looks.
"He is someone and he knows he is a star and when you're a star, everyone criticises you, even if you are good at what you are doing. People even criticise Messi and Ronaldo!
"It's normal. Everyone will look at him when they lose and everyone will look at him when they win, so it's part of the job and he signed up for it, but I think he also loves it, or otherwise he wouldn't play football. It's part of the game."
On a totally different topic, congratulations on becoming a father for a second time, so while football is your job, your family is the most-important thing!
"While I am fortunate that football means I can do a lot of things with my family and my children, you know that they will stay forever and they are the biggest responsibility you can have.
"I just feel happiness and pride and responsibility and so much love. People who don't have children yet can't realise how it changes your life. It just switches your point of view because when you don't have children you just live for yourself. The moment you have children, you are thinking only about them and their future.
"It's nice to have that responsibility and it helps you to achieve even more things and gives you extra power for the difficult moments, so it's something I wish for everyone."