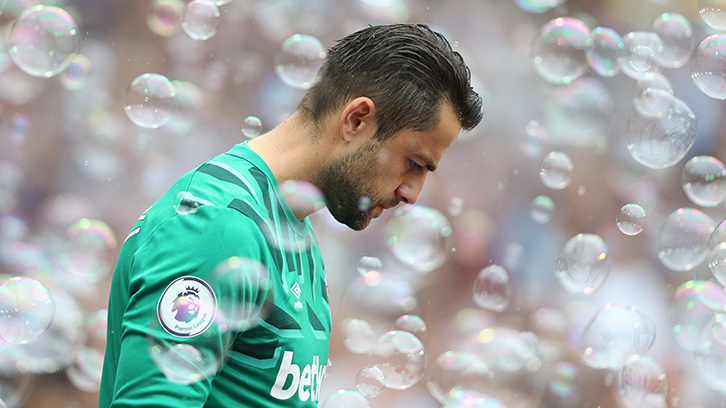 Goalkeeper Lukasz Fabianski claimed Sunday's result against Manchester United proves the Irons are capable of upsetting the established order this season.
The Hammer of the Year played an instrumental part in Sunday afternoon's victory at London Stadium, pulling off second-half stops from Scott McTominay, Harry Maguire and Dan James, before a late Aaron Cresswell free-kick sealed the 2-0 victory.
The result moves West Ham up to fifth in the Premier League table this season, albeit with only six games played, but Fabianski believes his side have the drive and determination to continue to vie with the big hitters for as long as possible.
"It was a massive win for us," he declared. "Our ambition is to get in and around the big teams. 
"We are very ambitious as a team and want to play for something more than just being a mid-table team, and step-by-step you can clearly see that emerging in our performances.
"Hopefully that win will just keep up our belief that we are able to do it, that we are able to join those bigger teams in the table if we just continue to work hard."
We were confident at half-time that we were playing well, that we were controlling the game, and just wanted to push on even more.

Lukasz Fabianski
West Ham restricted the visiting side to just three shots on target throughout the entire match, and Fabianski is pleased with the measure of control his team exerted in doing so.
"We felt pretty confident going in at half-time because not only had we scored a goal, but I don't think Manchester United created any chances in the first half against us," Fabianski explained.
"That's always something positive to take from the first 45 minutes of a match; it always gives you belief going into the second half. We were confident at half-time that we were playing well, we were controlling the game, and just wanted to push on even more."
As for his third Premier League clean sheet in a row – the Hammers' fourth consecutive in all competitions, the first occurrence of this kind since February 2014 – Fabianski believes that this defensive solidity is a product of his side's work on the training ground.
"In every game it's very important to keep a clean sheet as long as possible, because it always gives you a chance to get something out of it," he said. 
"When you look at the Manchester United guys they have such good quality going forwards. They have some skilful players, so you always have to be aware because they can surprise you – we had to be prepared for that.
"I'm happy with the clean sheet, and hopefully the defensive work that we do every day will just continue to pay off – or maybe get even better perhaps!"