Charities
West Ham United support Richard House Children's Hospice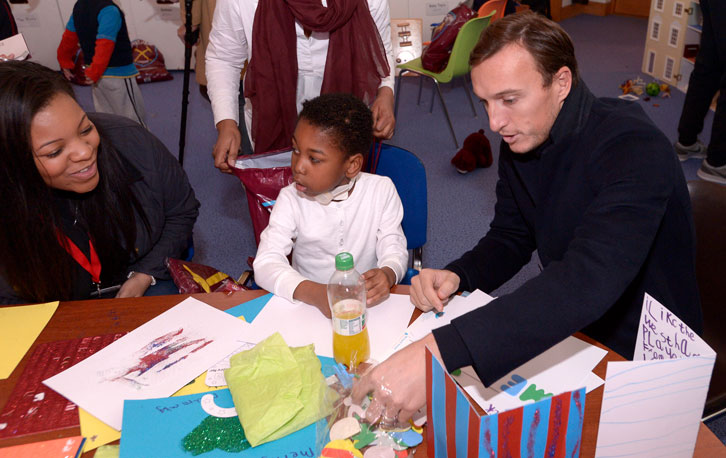 West Ham United are showing support and raising awareness for the Club's long-serving Charity Partner Richard House Children's Hospice at Sunday's Premier League fixture with Manchester United...
Richard House is London's first children's hospice, founded in 2000 by Anthea Hare, who saw that local children with life-limiting conditions and their families were not getting the care and support they needed.
Now, Richard House is needed more than ever, and children and their families remain at the centre of our work.
We care for over 300 life-limited children across east London and provide a range of therapies and activities to support the whole family. 
Skye, who is one of West Ham United's mascots today, is a playful five-year-old and has regularly been visiting Richard House over the past two years.
She has had Dravet Syndrome, a very rare form of childhood epilepsy, since she was four months old, and suffers seizures even in her sleep. Out of 500 children with her condition, only one, or at most two, children are likely to have this form of epilepsy. Skye needs 24-hour care and supervision, which had fallen mainly on mum, Susan.
Susan said: "Skye has become a lot more independent since coming to Richard House. She is a lot calmer too as her condition means that one minute she can be relaxed and the next, the complete opposite. Going two weeks at a time with very little sleep or rest can be the norm as Skye may have trouble sleeping throughout the night.
"You need to have a lot of patience when caring for a child with life-limiting illnesses and Richard House enables me to get some much-needed rest when Skye has overnight stays at the hospice, through their respite services.
"Richard House enables Skye to interact with other children too, which is great. Last year she had three comas and was told that she would be paralysed. Thankfully, she still walks and only uses a wheelchair for support. This year, she had four fits in the summer but despite her condition, Skye continues to be a lively, strong individual."

Another of today's mascots is ten-year-old David, who was diagnosed at birth and has been part of Richard House for almost seven years now.
David has short gut syndrome, speech and development delay. His mum, Jane, said: "My child is a very happy boy and loves music. Richard House has made a really big difference to me and my family, it's like my second home."
David, along with sister Mercy and the family, enjoy going on outings together, with the latest being a trip to Brighton beach with Richard House. Something as simple as leaving the house with a life-limited child can be a challenge and so family trips enable quality time be spent together, and for families to partake in activities they may never have had the chance to.
Richard House ensures that children receive the care and families receive the support they need, when and where they need it. But we receive limited statutory funding, meaning that £3 out of every £4 we need to spend, must come from donations.
There are many ways you can support us and local seriously ill children like Skye and David. Simply go to richardhouse.org.uk/get-involved
Thank you.