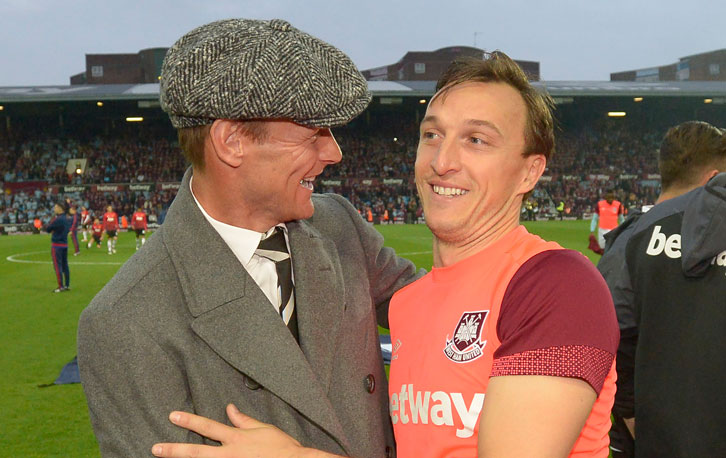 West Ham United introduced two substitutes in their 2-0 League Cup first-round win over Southend United on 24 August 2004.
The first was a 17-year-old Mark Noble and the second, eight minutes later, was a 38-year-old Teddy Sheringham.
Fifteen years on, Noble is still going strong at the age of 32, and will captain his boyhood club against another of Sheringham's former teams, Manchester United, at London Stadium on Sunday afternoon.
Speaking to the Official Programme, Sheringham is delighted to see his old teammate still excelling in Claret and Blue.
"I also like the fact that they're still being led by my man Mark Noble which is fantastic to see because he's some player," continues Teddy, who was already a 38-year-old veteran, when the current West Ham skipper – 21 years his junior – made his debut against Southend United in a Carling Cup second round tie in August 2004.
"I'd only just arrived at West Ham after signing from Portsmouth and we both came off the bench. Aged 17, he was still an old man – Nobes has never been a kid! West Ham are lucky to have someone like Mark because he knows the Premier League inside out and realises what makes West Ham United tick, too. Without doubt, he's on the same wavelength as Pellegrini in terms of what the manager's trying to achieve.
"Sure, he's not the quickest but intelligent players don't have to charge around because they can read the game," continues the 51-times capped England international, who led by example after playing until he was 42, making over 950 career appearances and scoring some 360 goals along the way.
"Right now, you can see that Mark's really enjoying his football and being part of this exciting West Ham team. He's certainly got the drive to keep himself at peak fitness levels and having been fortunate enough to steer clear of any serious injuries so far, hopefully he can keep that going."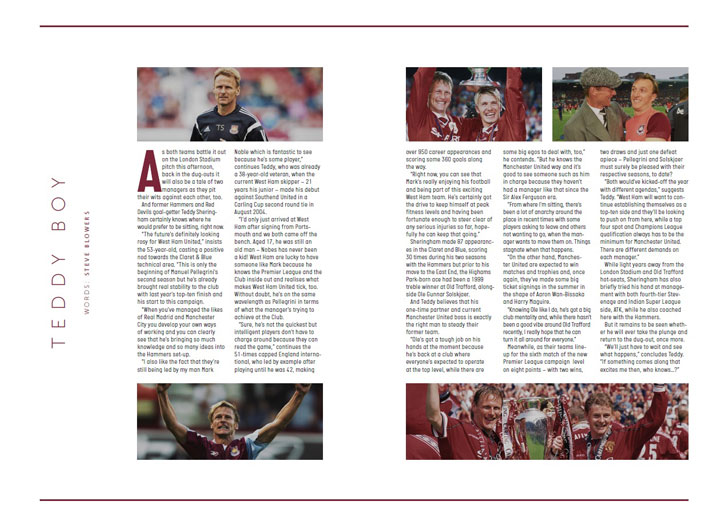 Felipe Anderson dons the cover of issue four of West Ham United's new-look 116-page Official Programme – Hammer – for the 2019/20 season.
The eye-catching publication sees the Club make a move away from the traditional format to produce a football magazine that will maintain supporters' interest long after the final whistle.
With cutting-edge design, exclusive interviews, attention-grabbing opinions and eye-catching photographs, plus the regular news, columns and statistics and insightful content from across all areas of the Club, Hammer is the definitive Claret and Blue publication for West Ham fans.
Priced at just £3.50, Hammer is also the best-value matchday magazine anywhere in the Premier League. Issue four for Sunday's Premier League meeting with Manchester United is available to order now online.
The only way to guarantee every issue is delivered straight to your door is by signing up for a seasonal subscription!
Whether you are planning to be at the match, watch at home or are simply a loyal West Ham fan or collector, the easiest way to get your copy each week is to subscribe. The deal includes all home Premier League, Carabao Cup and FA Cup home fixtures, so subscribe now!
Prices start at just £110 for UK delivery, and they can be shipped worldwide regardless of where you follow Manuel Pellegrini's men from.
Subscriptions can be bought via ProgrammeMaster's online store now here, or over the phone at 020 7121 5000.
Digital Programmes
If you can't make it to the ground, you can still flick through the programme on a matchday by subscribing to our digital version via the West Ham United official programme app.
Once you download the app from the AppStore or Google Play you can snap up a seasonal subscription for only £24.99, which will automatically be downloaded to your device 24 hours before kick-off. Individual copies can also be bought for £1.99.
These digital programmes can be read on any digital device, such as phones, iPads and tablets as well as desktop computers and laptops.