First Team
Mark Noble: We're relishing the visit of Manchester United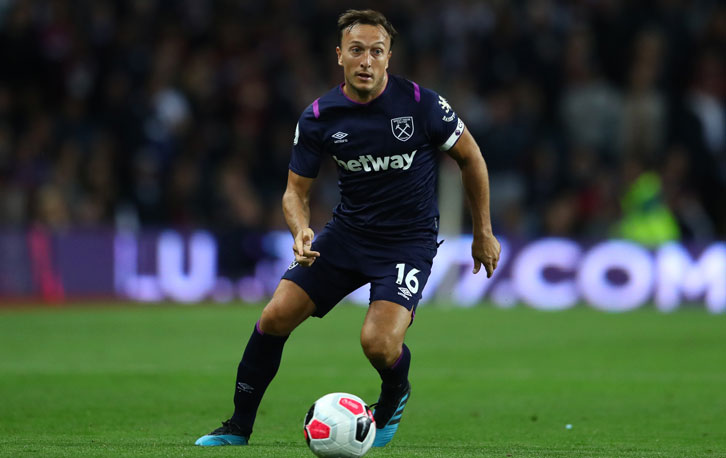 Captain Mark Noble looks ahead to Sunday's Premier League fixture with Manchester United at London Stadium, recalls unforgettable past clashes with the Red Devils, and is thankful referee Mike Dean did not send him off at Aston Villa...
Our draw at Aston Villa means we're unbeaten now in five games, including the Carabao Cup, and we've kept clean sheets in three successive matches.
So it's easy to understand why we're relishing the visit of Manchester United on Sunday. We've only lost once in our past nine League matches and been beaten only twice at home in 2019.
There's a feeling that the chance exists for a change and at least one different club to break into the top six this season.
I would even go one step further. I believe there is an opportunity for someone different to actually make it into the top four! The top two — Liverpool and Manchester City — look nailed on and Spurs are a very good side.
After that, you look at Arsenal, who could easily have lost at Watford last weekend; Chelsea, where Frank Lampard has done incredibly well to play young English players but are banned from signing anyone and have lost Eden Hazard; plus United, who are, let's say, in transition. Even Wolves, who did so well last season, are finding it tough with their Europa League commitments.
So clubs like Leicester, Everton and ourselves are saying: 'Do you know what? I think we have a chance this season.'
I really believe that is the case and if I didn't, I would not be doing my job properly as West Ham captain. If you can go on a roll and keep winning, then there is no reason why even third or fourth place are out of reach.
United are still the club who I associate with the best because of the players they had when I was coming through.
Two of my greatest memories in football involve them — Carlos Tevez scoring to give us a 1-0 win at Old Trafford to keep us up in 2007 and that final match at Upton Park in 2016, when we beat them 3-2.
I remember the game in 2007 because James Collins was constantly talking to me. When, with half an hour to go, they brought on Giggs, Scholes and Ronaldo, I heard him scream: "Flipping heck!"
Actually, they were not quite the words, but you get the gist. I understand we could have gone third if we had beaten Aston Villa on Monday night. I don't tend to look at the table too often — all we try to do is win as many games as we can.
Norwich's win over City took us all by surprise and I have been asked if that gives us extra confidence, as we had comfortably beaten Norwich in the previous match. It would have been different if we had beaten them at Carrow Road because promoted sides rely heavily on their home form, which is why it was a good result for us at Villa.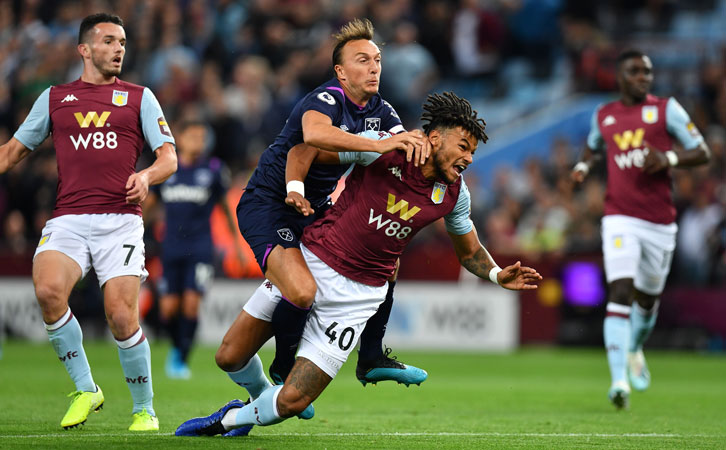 The atmosphere was intense, with their fans buzzing. We may not have had too many attempts, but we went there trying to win — as we do with every game. It was an important test, especially after Arthur Masuaku was sent off.
In the past two games, the pleasing thing is we have looked strong, especially as last season, we were rolled over a few times. There is a resilience about us now.
There was the suggestion I had taken a dive in the box and so, as I had already been booked, should have been sent off. If you replay the incident, you will see that my right leg gives way.
When I challenged for the ball, I was expecting the Villa player to kick me as he tried to clear it. As I planted my foot, it gave way and I hit the deck. I jumped up straight away and hoped the referee, Mike Dean, would see it for what it was. He did, which was fortunate for me.