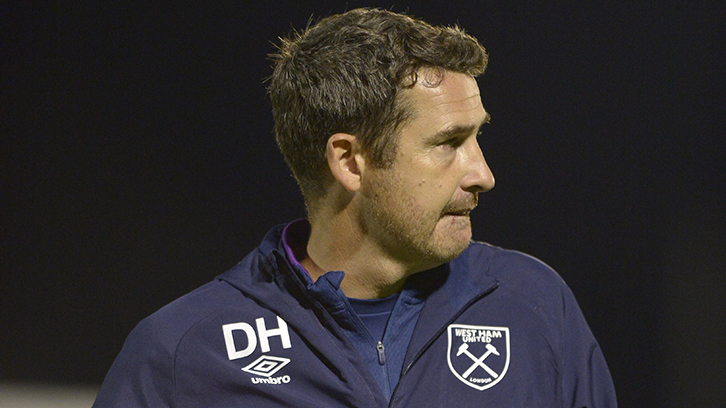 The level of quality within West Ham United U23s' ranks means they always have a chance of turning a game around, according to lead coach Dmitri Halajko.
The U23s looked to have lost their unbeaten run under their new coach after two quickfire goals at the start of the second half had given Middlesbrough U23s a 3-2 lead at Bishop Auckland FC's stadium.
That was how the score remained until 16 minutes from full-time, when Anthony Scully pounced on a loose ball to draw the Hammers level, before Dan Kemp converted a low cross with five minutes left to stretch the team's run to 15 fixtures without defeat.
 
Goals from Nathan Holland and Scully had leant the young Hammers the lead at half-time in a match which saw West Ham move top of Premier League 2 Division 2, now three points ahead of closest challengers Manchester United, who play on Monday.
"After two clean sheets in our last two games, we were disappointed to concede as many as we did," Halajko admitted afterwards.
"However, we always feel that we've got a chance. We were 3-2 down late in the game, but we always feel that we've got enough attacking quality in our side to go and turn it around."
 
We got a little bit sloppy, and that allowed them into the game, but then we turned it around and were able to dig it out.

Dmitri Halajko

Whilst managing to maintain their fine form, the U23s have played through an intensive fixture programme so far this month, with the visit to Middlesbrough their fourth match in the space of 20 days.
Halajko attributes West Ham's slow start to the second half to potential cumulative fatigue, but was pleased with their powers of recovery in turning the game around.
"I think we've played a lot of games in a short period of time, so I think tiredness can come into it," he admitted. 
"We played on Monday and we're playing again on Friday, so I think there were lulls in the game where we looked a little bit tired, and we took our foot off the gas. We got a little bit sloppy, and that allowed them into the game, but then we turned it around and were able to dig it out.
"We felt that in the last 20 minutes we could make a few changes to try and get the momentum back in our favour at a time when it was against us. That worked, and then we managed to push on to get the win."
Crucial to the U23s' latest win was left winger Holland, who not only opened the scoring on the night, but also set up Scully's first-half effort and Kemp's late winner.
Holland's slalom runs to draw in opposition defenders have been a regular feature of the U23s' attacking fulcrum so far this season, and Halajko was full of praise for his winger's contribution to victory in the North East on Friday night.
He said: "Nathan Holland was outstanding – he was the best player on the pitch. 
"I think he's quite possibly the best left midfielder in the league. He's in fantastic form. He scored a goal and had a massive part to play in all three other goals, and he's been doing that all season."