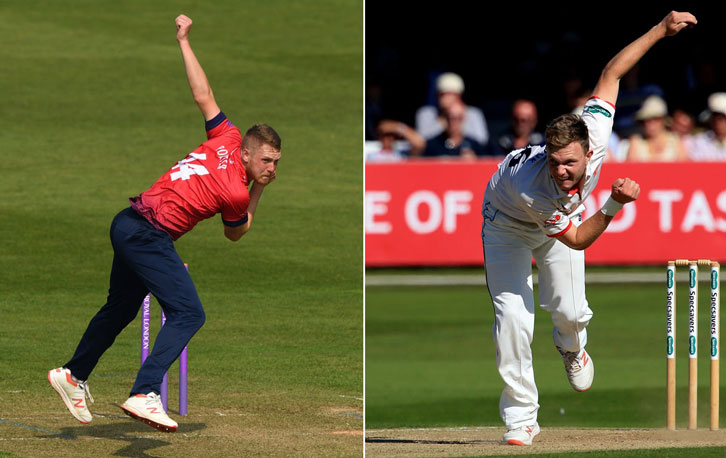 While West Ham United are the Academy of Football, Essex are quickly establishing themselves as the cricketing equivalent.
The Eagles are bowling into one of the biggest weeks in the club's 143-year history, starting with T20 Blast Finals Day at Edgbaston on Saturday, followed by a four-day County Championship decider with Somerset, beginning in Taunton on Monday. Should things go to plan, Essex would become the first county ever to win both competitions in the same season.
What makes Essex's success even more impressive is the fact that, playing at a relatively small, non-Test ground in Chelmsford, they have done so with a squad containing a vast majority of home-grown players.
Two of them, opening bowlers Jamie Porter and Sam Cook, have played a huge role in the recent rise to the top, taking 76 wickets between them to put their team on the cusp of a second County Championship crown in the space of three seasons.
In between their quest for trophies, however, West Ham United fan Porter and Manchester United supporter Cook will sit down together on the team bus as it winds its way from the West Midlands to the West Country to watch their respective football teams do battle at London Stadium.
We spoke to the pair to discuss title hopes, pre-match kickabouts and Sunday's Premier League showdown at London Stadium.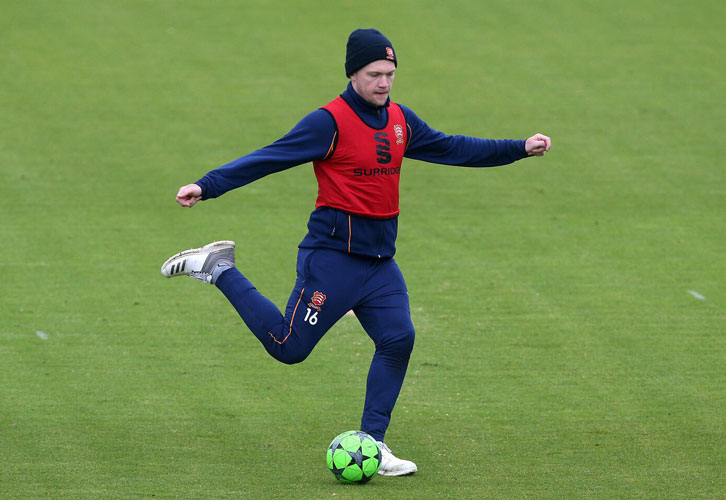 Let's start with the football, lads. So, why do you support West Ham and Manchester United respectively?
Sam: "When I was very young, David Beckham was an icon, so that was what got me into supporting Manchester United, then Wayne Rooney, Ronaldo and Ruud van Nistelrooy were all heroes of mine, so I tried to emulate them in the playground and on the Sunday League pitch!"
Jamie: "I'd have been homeless if I didn't! My Granddad, Dad, all my uncles and family are all Hammers so I didn't have much of a choice. You learn to love them. You appreciate the good days and every three points when you're a West Ham fan."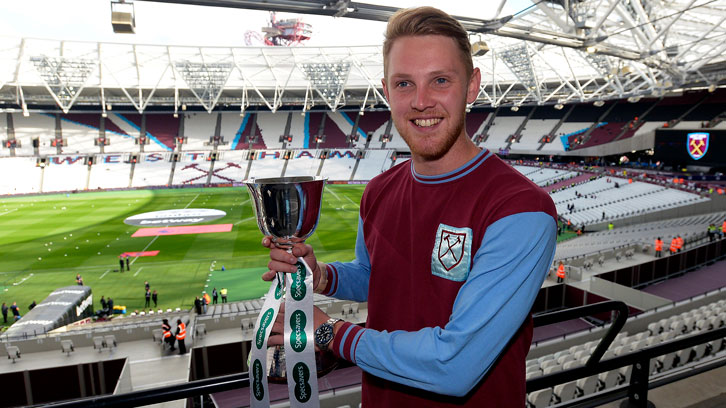 Was football ever an option, or has it always been cricket?
Sam: "Football was 100 per cent my main passion until I was 15. I loved it, but I never really played to a particularly high standard, just with my local team. I always dreamed of being a professional, like every kid, but it was never really an option, then I started playing cricket!"
Jamie: "Football was never an option as a career, but I played for Redbridge District when I was about 12 or 13, then cricket took over after that. I played a bit of local league stuff up until I was 20 or 21, but it was never an option to become a pro."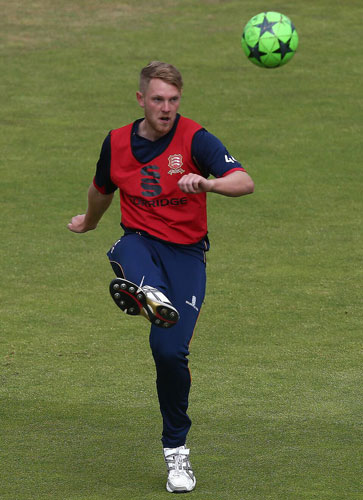 Pre-match kickabouts now seem to be a daily part of cricket training, though, so you still get to play football...
Sam: "The daily warm-up football match between the Youngies and the Oldies is probably the most-competitive part of the day, to be honest! We bought some seven-a-side goals this year and we wheel them onto the outfield! In the off-season, we try to work football into our training if we can, as running becomes a bit monotonous at times, but sadly we're not allowed to play any Sunday football."
Who in the Essex squad can play a bit, then?
Sam: "Ports thinks he's a bit of a tactician and he's not the worst player. Our coach Anthony McGrath, a fellow Manchester United, fan is probably he best, though. Little Adam Wheater, our wicketkeeper, is pretty steady too, but our No4 batsman Dan Lawrence is a shocking player!"
Jamie: "I'd agree with all of those! Aaron Beard is a decent player and so is Paul Walter. Beardy is lazy but very good technically on his left peg. Paul is a playmaker, a bit of a No10. When he's not having a bowl, he gets about, he's got a nice touch, can finish and can pass the ball as well."
Will you guys watch the game on Sunday? And how do you see it going?
Sam: "We go straight from Birmingham down to Taunton, so I'm sure we'll have it on, on the bus, and I can give Ports some stick when we win! I know we've not had the best start, but I think Ole Gunnar Solskjaer is taking us in the right direction, and I'm really enjoying the mentality of bringing people up through the ranks and former players back onto the coaching staff. We aren't making anything easy at the minute, but I've got my fingers crossed that we should get the three points."
Jamie: "Do you know what? I fancy us to get the three points! The way Man United have been playing, they've only been scraping through. They haven't been great for their standards. I think we're dangerous. We were a bit disappointed not to get the win at Aston Villa, because we've got real quality. Haller looks dangerous and will be a handful for their centre-backs and Felipe Anderson and Manu Lanzini can help us beat anyone."
Getting back to the day job, what Essex are achieving is special, isn't it?
Sam: "Throughout our history, we've been a successful club, but what we've achieved over the last three or four years has been special. We've got a unique group, compared to other counties. First of all, we're extremely fortunate to have the perfect blend of youth and experience, with one group who will hopefully be around for a long time, then the likes of Alastair Cook, Ravi Bopara and Ryan ten Doeschate who have performed at the highest level for a number of years. Our biggest strength is how well we get on as a group. We are all genuinely good mates, a lot of us live near the ground and that combination of factors, as well as the skills the boys are showing on the pitch, is why we are performing so well at the minute."
Jamie: "We've just got a ridiculous dressing room. Obviously, the talent is there, but the way everyone is, we've got such a good group of guys. Everyone is so tight. Everyone knows the badge is more important than the name on the back. We've got something special. It's more like a club than a professional team. We're virtually all Essex born and bred, so we're all mates. I don't look at anyone in the dressing room as a work colleague. As an example, I came back from injury and Beardy had taken my place and they didn't want to drop him and I was just happy he was doing well, rather than that I was fit and I wasn't playing. It makes it so much easier."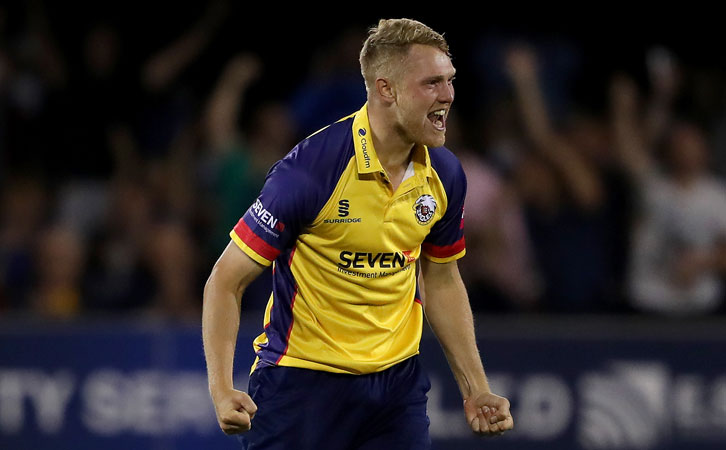 So, first up this Saturday is Derbyshire then hopefully either Nottinghamshire or Worcestershire at T20 Blast Finals Day…
Sam: "It's extremely exciting. It's the first time a lot of us have been involved in Finals Day and, after the way we started the group stage by winning only one of our first five matches, to get through shows we performed when our backs were against the wall. You'd probably say we're the favourites against Derbyshire, but they've done well to get there too, so we've just got to concentrate on what we do well and stick to our strengths and I think we'll be good enough. The atmosphere will be brilliant and we're all excited to get out there and enjoy it."
Jamie: "It's going to be bouncing. Finals Day is usually a good atmosphere so it's nice to be there, rather than watching it on TV. It'll be a good day out and it'll be a good way to build momentum going into the Championship game next week. Derbyshire are very consistent, so if we don't bring it, they'll hurt us. If we bring what we have in the dressing room, then we should win, but we won't take them lightly."
And then you go to Taunton, where it's a totally different game, and if Essex don't lose, you're County Champions again!
Sam: "Win or lose on Saturday, we'll have the same mindset going into the Somerset game. That's what has stood us in such good stead. We don't look too far ahead. We'll just try to win the game on what will be a result wicket in Taunton, as they have to win to overtake us, but we back our skills and they've put us in the position we're in. Fingers crossed, we can come out on the right side of it!"
Jamie: "We just go there and carry the momentum of the last few months. We've been so good in Championship cricket, aside from the first couple of games. If we go there, continue our form and play our best cricket, hopefully we will walk out of there as champions."