West Ham United and Pride of Irons were proud to co-host the third annual Pride in Football networking event, Call It Out 19, at London Stadium on Saturday.
Around 100 attendees came together to discuss the big issues that LGBT+ fans face when supporting their teams, and how best to collaborate to change attitudes of the small minority of negative voices, and raise awareness of equality and inclusion. West Ham United's Alisha Lehmann, retired boxer and Olympic medallist Anthony Ogogo, wrestler Brad Slayer, actor Charlie Condou and journalist Nicky Bandini headlined the event in a panel session to talk about their experiences. 
Speaking at the event, Di Cunningham, out-going Chair of Pride in Football and organiser of Proud Canaries said; "I'm a bit overwhelmed! One hundred people signed up for this; that's LGBT fans, plus other stakeholders in football who are interested in LGBT inclusion.
"That is 100 people putting their heads together to solve some of the problems we still have. It isn't all about celebrating how far we've come, we've still got to look at where we've got to go to. Events like today make me feel really, really good and hugely positive for the future."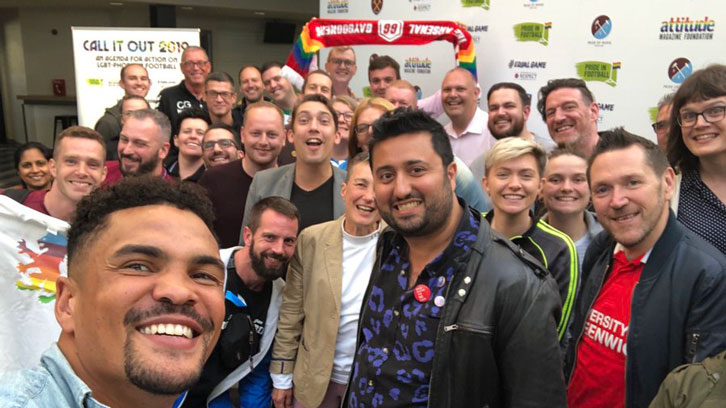 As a fully inclusive Club, West Ham United has been working closely with Pride of Irons since 2015 to support LGBT+ fans and their friends and families.
The supporters' club has grown rapidly since its inception and has this week been nominated in the Premier League category at the first-ever Fans for Diversity Awards - awards introduced by Kick It Out and the Football Supporters' Association to encourage, fund and support initiatives by fan groups to promote diversity and inclusion in football, and to challenge all forms of discrimination.   
Pride of Irons co-chair Jim Dolan said: "Our relationship has been recognised as one of the best between an LGBT+ fan group and a club in football, which is why Pride in Football asked West Ham to host Call it Out 19.
"The high-profile support given to various LGBT+ campaigns like Rainbow Laces and the Pride Parade by the club; the support of both senior staff and the players, and the appointment of out-gay staff to senior positions shows the club is driving awareness across football and beyond."
Alisha Lehmann, West Ham United women's midfielder added; "I thought it was a really good event, I really enjoyed it. It is really important to make stadiums inclusive and accessible. Without the fans we don't have anything, so to be able to come and do this is a really good feeling and I do this to inspire people in future." 
For more information on some of the fans groups at Call It Out 2019, and to get involved, visit Pride of Irons and Pride in Football's websites.